The Loop
Klein brings new spirit to UCF
It doesn't take long to notice something different as you watch Emilee Klein on the job at a college golf tournament. Take last weekend's Liz Murphey Collegiate Classic, where she could be spotted bouncing around the University of Georgia GC in Athens like she had just finished a third can of Red Bull. In her first full year as women's coach at the University of Central Florida, the 32-year-old has eschewed the golf carts her peers use to make their way around the course, choosing instead to walk—and sometimes run—to catch up with her five players, joining them each for a few holes during the round.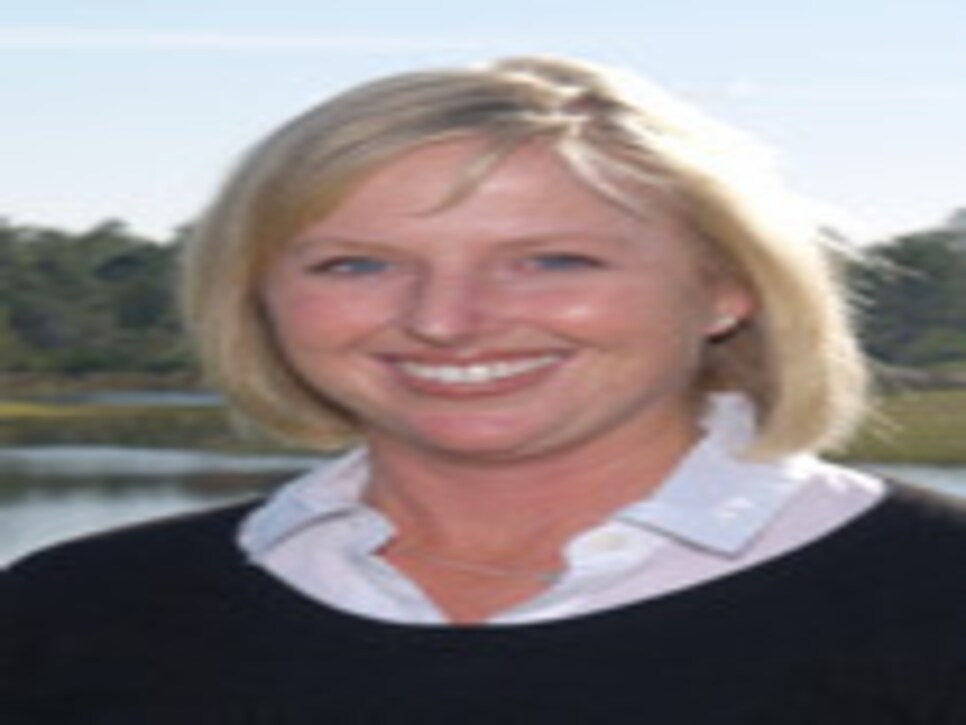 So it is that Klein has the Golden Knights playing one of the toughest schedules in women's college golf. Six of her team's eight tournament starts have been in events with at least one top-five team in the field (a schedule made possible in part by her name recognition as a former tour pro). Not surprisingly, Central Florida has struggled, finishing better than 10th only once and 12th or worse five times.
"It's been tough, but we talk about it as a team," says Klein, whose young squad has three freshmen (Sara Hurwitch, Leigh Crosby and Victoria Tomko) and a sophomore (Stephanie Connelly) in the starting lineup, all with stroke averages from 77 to 79.3. "They just have to understand that this is the only way we get better. I have such talented players who just don't realize it. [The finishes] aren't due to a lack of talent. They're due to a lack of playing in tournaments like this because they're not comfortable in them. It's a matter of putting in the time and effort. They've never put in the time in the past."
An understanding of what it takes to achieve success might be the best skill set Klein can offer since retiring after a 11-year career on the LPGA Tour (top win: the 1996 Weetabix Women's British Open) in the fall of 2005 and starting at Central Florida in January 2006. Prior to playing professionally, she was a two-time All-American who helped Arizona State win two NCAA team titles as a freshman and sophomore (1993 and 1994) before making the early jump to the LPGA.
Upon arriving in Orlando, Klein (photo above courtesy of Central Florida) has attempted to instill a refined work ethic with her charges, getting them to "practice smarter" so that they can maximize their time while juggling life as a student-athlete. In many respects it's more than just creating a new attitude but developing a whole new environment.
While breaking herself in as a coach, Klein has made a call or two to her former mentor, legendary ASU coach Linda Vollstedt, for guidance. The best bit of advice? "The one thing she's told me that I've found so true is that I'm going to learn more from them than they will from me," Klein says. "And it's so true. I sit back some times and think of certain things that happened and what you wanted to do differently, but I'm learning daily from them."
Klein, too, admits to learning quickly the need to treat players individually as they are motivated in different ways. "I was always so focused on my own game as a player I didn't really realize how people respond differently," Klein says.
Not far removed from her competitive collegiate days, Klein believes she can relate to what her players are thinking and feeling. However, this has come to extend beyond just the golf course. Klein is currently taking undergraduate classes to help finish up her liberal arts degree. At one point last year she even had the same class as a couple of her players.
In taking on the challenging tournament schedule, Klein hopes it not only will improve the level of play among her current team but attract top juniors to the program. "I just need to keep having girls take the leap of faith," Klein says. "If I can recruit hard, I believe that in the next few years we can be a very strong program."
Working in Klein's favor is the fact she isn't afraid of hard work, to the point where she needs to be careful of overdoing things. In preparation for hosting the inaugural UCF Invitational earlier this month, a tournament that had nine of the top 25 schools in the most recent Golf World/NGCA coaches' poll, she came away with walking pneumonia.
"I'm committed to getting things in order here, and when I'm committed I'm going to do everything in my power to make it happen," Klein says. "Sometimes too much maybe."
Long term, Klein believes the team can be contenders on the national level within five years, a new team practice area set to open next spring helping show the commitment the school is making to her and her squad. "It's not going to be easy, I don't mean to make it sound like that," Klein says. "But I think we can accomplish a lot here. We've got no reason why we can't be successful."
No doubt Klein has the spirit and energy to do it. All she needs now is a good pair of running shoes.