The Loop
On this sad day, let's remember the time Klay Thompson scored 37 points in a quarter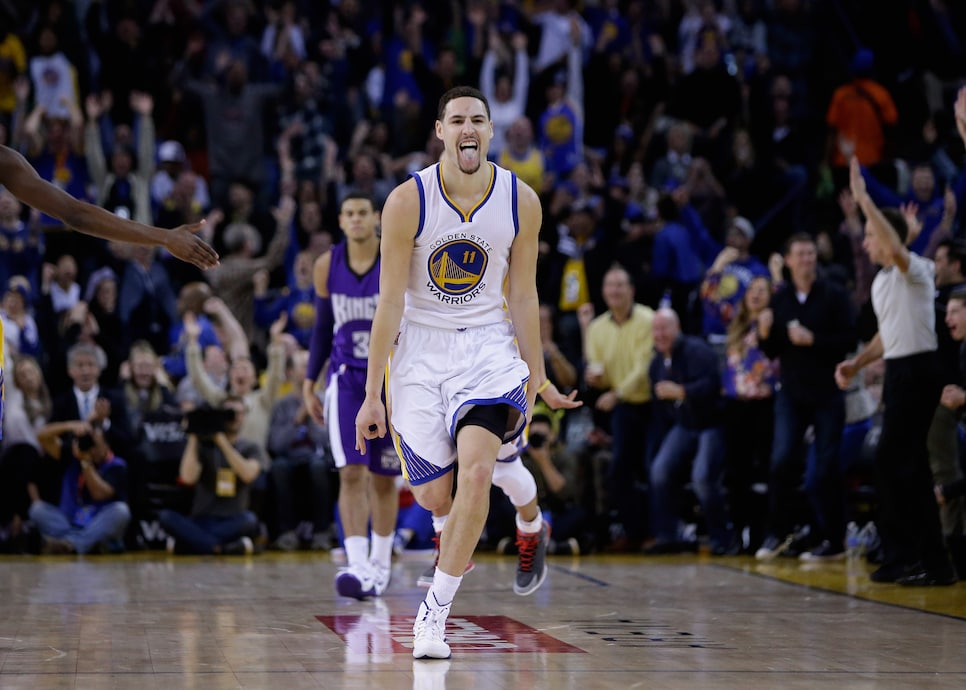 By now, you've probably seen this piece of depressing NBA news that became official on Thursday:
Thompson, of course, suffered a torn ACL in his left knee at the tail end of the 2019 NBA Finals, which kept him out all of last year and led to a long rehabilitation with the aim of playing again in the 2020-21 season. That's about as serious as knee injuries come, and this one isn't much better—the torn Achilles in his right leg will keep him out for another entire year at a minimum.
This would be sad for any player, but it's particularly depressing for Thompson, an electric player who, as Ray Ratto pointed out, is shockingly humble by NBA standards and almost universally well-liked. Depending on how well he recovers—and it goes without saying that blown Achilles on top of a torn ACL is godawful news for an athlete's career—it may cost him a spot in the Hall of Fame.
All of this—all of it—sucks. Yes, he's a millionaire, yes, he's set for life, but even as a casual fan who enjoyed watching the Warriors at the peak of their abilities, it was evident that Thompson was someone who loved the game, and was always just a moment from a jaw-dropping offensive barrage. To have a player like him running the court alongside Steph Curry is as transcendent as offensive basketball has ever been in my lifetime, and perhaps as good as it will ever be. In an NBA era which values and showcases natural scorers, he might have been the most natural of them all. I missed him last year, I'll miss him this year, and we'll always regret these lost years of his prime.
With that in mind, let's put the sadness aside for a moment and revisit a moment which showcased his unique brand of magic like no other. It's not the game where he finally broke the NBA single-game three-point record, though that was astonishing too. Nor is it the moment when he saved the Warriors with his one-man heroics against the Thunder in a road elimination game that seemed to tilt on the brink of disaster; a franchise- and career-defining act of competitive defiance. I'm thinking instead of the time he scored 37 points in a single quarter. It's the purest distillation of the sudden explosions, the breathtaking tears, that he could unleash at the drop of a hat. It happened in 2015 against the Sacramento Kings, and you can see it here:
I can't describe the goosebumps I still feel at that clip. How the energy in the crowd goes from impressed to excited to astounded to, eventually, something like ecstasy. What he accomplishes is unthinkable, and at some point you can feel where the fans and announcers both just suspend their disbelief and enter a different, transported state.
Mo Speights, who watched the whole thing from the bench, had a great take on it:
"The biggest thing I always told people was, 'Yo. He didn't score the first couple minutes. He scored with nine something on the clock.' Everybody say, 'For real?' I say, 'Yeah, yeah.'
"That's how basketball (fans) are. They see certain things but they don't pay attention to the details. And the details are, that man scored all those points in nine minutes and 45 seconds."
It's a good point, but how about this: With 2:30 left, the Warriors announcer (Bob Fitzgerald, I believe) marvels that Thompson has scored 22 points in the quarter. Twenty-two! They have no idea what they're in for in the next 90 seconds alone, or that there are a ridiculous 15 points left for Thompson to score before it's all over.
"If you're wondering what the NBA record is for most points in a quarter," said Fitzgerald later, when Thompson scored his final points at the foul line, "you just watched it."
It's a tremendous call for a tremendous moment. There's some solace today, with all the downhearted news, that no matter what happens in the rest of his career, Thompson has left his fans with memories that, even 50 years from now, will retain their stunning power.