U.S. Adaptive Open
Kipp Popert, Ryanne Jackson top list of inspiring champions crowned at U.S. Adaptive Open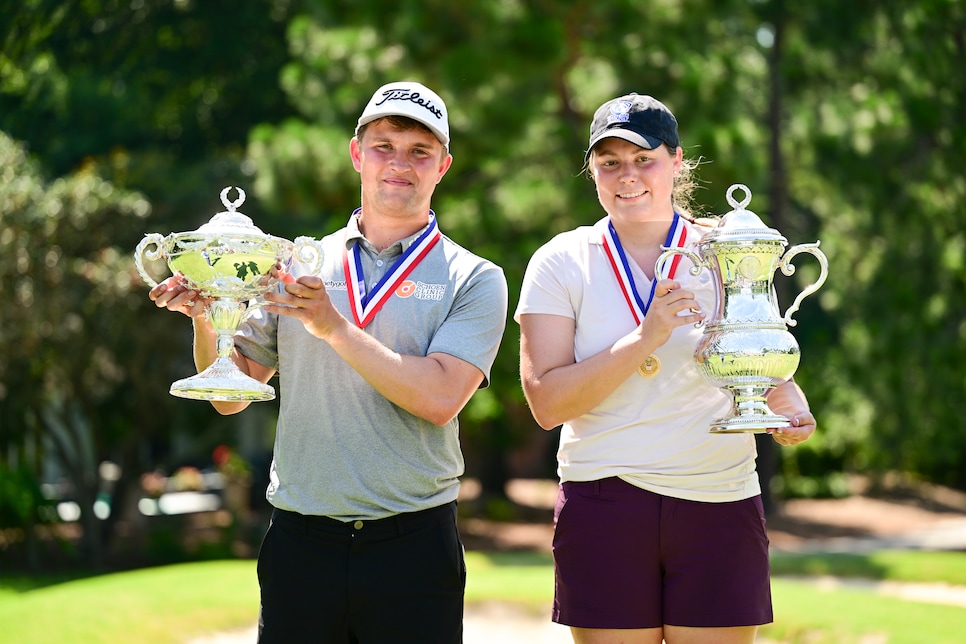 Kipp Popert and Ryanne Jackson hold their trophies after winning the overall divisions at the U.S. Adaptive Open at Pinehurst No. 6.
Robert Beck
PINEHURST, N.C. — Kipp Popert came to the 18th tee at Pinehurst No. 6 with the men's U.S. Adaptive Open well in hand, two shots ahead of last year's winner Simon Lee, but that advantage evaporated at the exact moment when he launched a drive down the right side, watched it roll into the trees, and then out of bounds.
Just like that, his advantage was gone, and he'd be starting even with Lee on the tee. His caddie asked him if he'd rather take a 3-wood for his second crack at it, and Popert had a quick answer: "Absolutely not."
Instead, he kept the driver in his hands, piped the second ball down the fairway and left himself 120 yards to the flag. After a pitching wedge to the green, he watched his bogey putt slip past the hole and he tapped in for a double bogey. Now he had to survive Lee, who had a par putt to send the tournament into a playoff. The minute Lee missed, Popert turned on his heel and marched to the back of the green, thrilled to have won but unable to express it in the face of Lee's disappointment.
"Didn't envision winning it with a double, but sometimes you got to win ugly," the 25-year-old from England said.
He finished with a 75, not up to the standard of his opening 70-69 on Monday and Tuesday, but just enough to finish at two under, edging out Lee and Conor Stone by a shot apiece.
As a baby, Popert developed a form of cerebral palsy called spastic diplegia, which limited growth and mobility in his legs. Today, he's the No. 1 adaptive golfer in the world and the closest thing to a superstar in his world. He finished second at the inaugural G4D Open in the U.K., the R&A's version of the U.S. Adaptive Open, he won the European Disabled Golf Association's Hero Open in Europe in 2021 and this year he became the first golfer with a disability to qualify for the British Amateur. Now, he's a U.S. Open champion.
Joining him is Ryanne Jackson, a 25-year-old high school history teacher from Florida who captured the women's crown. As a freshman at Eastern Illinois University, Jackson was diagnosed with scapuloperoneal muscular dystrophy and competes like Popert in the neurological impairment category. (It's common for players in this category, along with intellectual impairment, to win the overall title, as they have natural physical advantages over competitors in other categories such as arm impairment, leg impairment, multiple amputees, short stature, vision impairment, and seated players. That said, Max Togisala, a seated player, turned in what is widely recognized as the best round in the history of seated golf when he shot a 70 on Tuesday, while a competitor like Robert MacDermott, a multiple amputee, holds the course record of 65 at his home course.)
Jackson coasted to a five-shot win over last year's champion Kim Moore, shooting a 74 to finish at nine over for the tournament. She was most pleased with the way she hit her driver and how she coped with the heat—a massive potential impediment for a player with muscular dystrophy.
"I would say my fatigue is probably the biggest challenge for me, just getting tired," she said. "You can have a really great start Day 1, but then by Day 3 you could be hitting the ball with less distance. That's my biggest issue I would say."
But she was as solid as ever Wednesday, improving the scores from her first two rounds to hold off Moore and capture her first Adaptive Open title.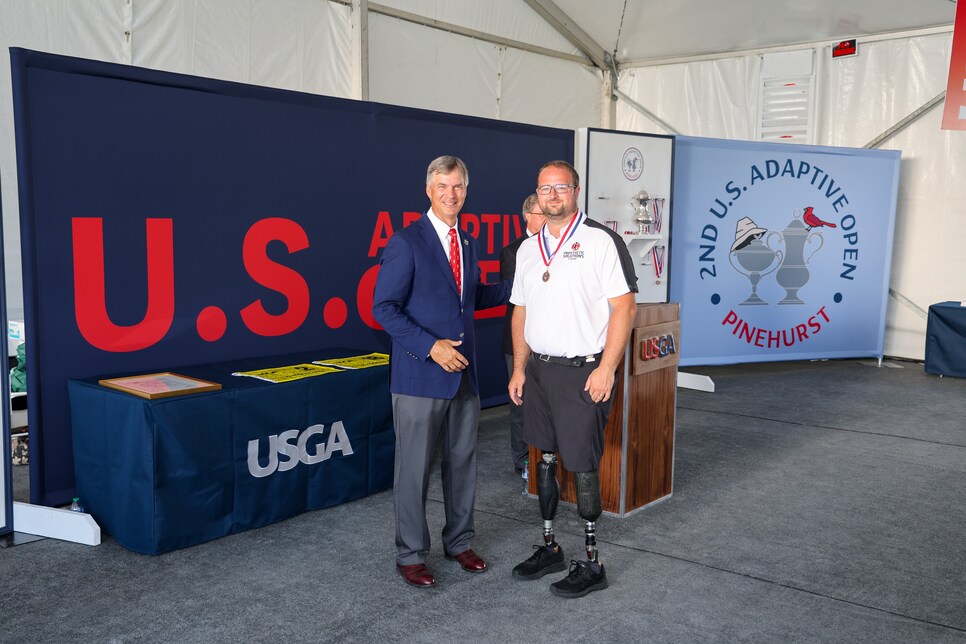 Evan Mathias took home the multiple amputee title at the U.S. Adaptive Open.
Jeff Haynes
* As Popert and Jackson held their trophies, medals were presented to the winners of the other categories.
Togisala, on the strength of his historical 70, won the men's seated division by 18 shots, while Canada's Kurtis Barkley won the short stature category, Kiefer Jones (also of Canada) won vision impairment, Evan Mathias took home the multiple amputee title, Mike Browne shot even par to win leg impairment, and Conor Stone and Simon Lee, who tied for second overall, won arm impairment and intellectual impairment respectively.
On the women's side, 60-year-old Ann Hayes, a librarian who was paralyzed from the waist down in a mountain biking accident at age 44, won the seated category, Hawaii's Amanda Cunha won the vision impairment category, Canada's Natasha Stasiuk played in the final group to capture the intellectual impairment title, defending champion Kim Moore won leg impairment, Abigail Davis arm impairment and Cindy Lawrence took home the medal in the multiple limb amputee category.
Kelsey Koch finished last in the leg impairment category, but that didn't matter to her in the slightest; at the completion of her round, her caddie and fiancee Josh White, wearing a full white caddie jumpsuit, dropped to a knee and proposed to her.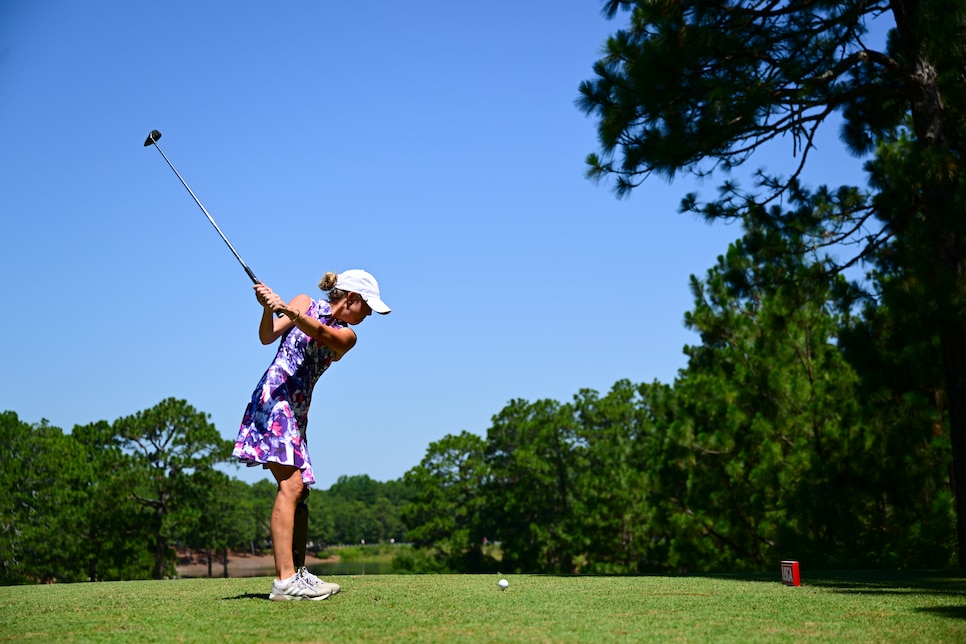 Kelsey Koch finished last in the leg impairment category, but her caddie Josh White, proposed to her afterward.
Robert Beck
Koch's left leg was removed at the knee when she was an infant—"I don't know any different and I don't want to know any different," she said—but has struggled with other issues including seizures and alcoholism. She's been sober for three years and as she showed off the ring to cameras near the scoring tent, she joked that she'd tried like crazy to keep the fingernails on her left hand intact all day. (White's proposal was one of those not-so-surprising surprises—"we love each other. We're going to be together forever. We've known that.")
White, who met Koch at a wedding two years ago, had a backup plan to propose, but when Koch qualified for the Adaptive Open, he knew the final green would be the right moment to propose. They described each other as "fire and ice," Koch the fiery yoga teacher with endless energy who could talk your ear off, White the steady, calmer presence at her side. They hadn't even spoken about the kind of ring she wanted beforehand, but according to Koch, he nailed it.
While a USGA representative waited nearby with a non-alcoholic bottle of champagne as a gift for the couple, Koch, whose last name is pronounced "Cook," contemplated taking her future husband's last name with great pleasure.
"Everyone's going to pronounce my name normal for the rest of my life," she joked.
When you've been through as much as she has, the little things really add up.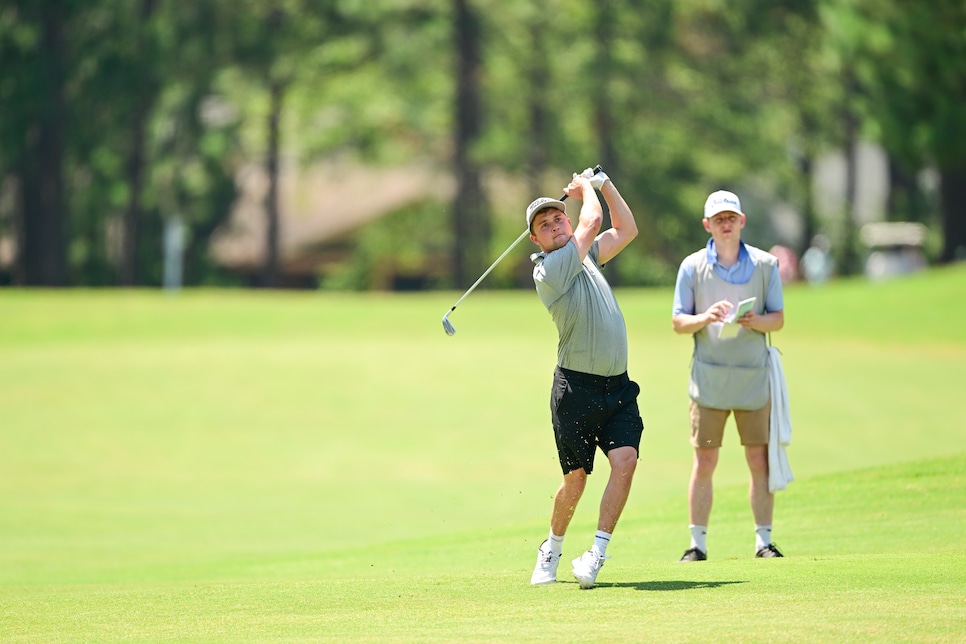 Kipp Popert plays a shot on the 17th hole during the final round of the U.S. Adaptive Open.
Robert Beck
* Sometimes you ask a question that feels innocuous as it leaves your lips but goes off like a bomb. That happened to me toward the end of the interview with Popert. The entire session had been mostly funny and informative, Popert fielding questions while his friends held his Miller Light so it wouldn't be seen on camera. Then I asked about the person in his life most critical to his success.
"I'll get emotional," he began. "My dad for the first 21 years and then Archie. My cousin passed away four years ago … so I was a nobody four years ago, and I've had a lot of wins since. Just trying to get as many as I can for him."
The words don't quite convey what was happening in the overheated room. As he spoke, he paused several times and began to sob in his chair. That ended the press conference, and when he walked out, his interview with the Golf Channel had to be paused because he was bent over crying, thinking about his cousin.
I wanted to ask more about Archie, but the time wasn't right. In any case, we can live without the details. Like so many stories from the Adaptive Open, this one clearly had a lot of love, a lot of sadness and gifts that were never expected. These players all have their Archie; something that was taken from them, but managed to give so much even after it was gone.