U.S. Adaptive Open
Unbreak your golf heart at the U.S. Adaptive Open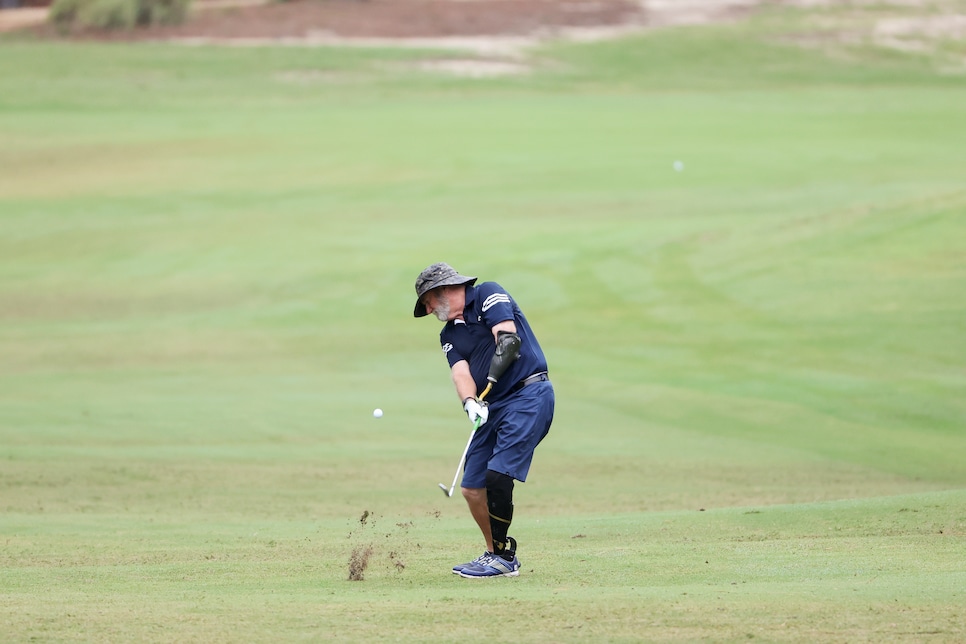 Robert MacDermott plays a shot on the 11th hole during the first round of the U.S. Adaptive Open at Pinehurst No. 6.
Jeff Haynes
PINEHURST, N.C. — Within minutes of arriving Tuesday at the second U.S. Adaptive Open, after talking to approximately no one and seeing a bare minimum of actual golf, I was embarrassed to find myself in tears, and my only goal in the moment was to hide it from the USGA officials behind me.
I sat at the front of the media center, the glass front wall providing a kind of segmented picture window overlooking the 18th green at Pinehurst No. 6, and maybe I hadn't quite prepared myself for what I was about to see—in my head, this was a brief two-day stopover an hour from my home after my brother's wedding and before a trip to Liverpool for the Open Championship—but the sight of players without legs, without arms, some riding motorized Solo Rider carts, combined with the short and heartbreaking bio blurbs emailed to me by the USGA's Jonathan Coe, brought on the flood. I kept my head forward, put in some eye drops as a kind of disguise—"no, no, these aren't tears, it's just BioTrue"—and thought to myself, get it out now, because the players will misinterpret it as pity, and they certainly don't need some weepy journalist in their faces.
There are 96 golfers at the Adaptive Open, and 96 stories of almost unbelievable resilience—some of which Luke Kerr-Dineen recently covered here at Digest. The problem with that, as with all the redemptive sports stories we've seen in our time, is that they take on a kind of sameness; the pattern becomes familiar and we become inured. How many terrible things can happen to people, only for them to discover the strength to carry on in dire circumstances that we're sure would bury us in clouds of depression and grief and resentment, before you stop being so affected by each one and they fall into a kind of dismissible rote-ness? It doesn't help, of course, that in an effort to simplify the affecting power, sports media often portrays these stories in the most lachrymose ways, using tropes that can't help but make you roll your eyes as they try to extract your tears through practiced emotional coercion. It is easy and probably necessary to rebel against the weepy theatrics of TV journalists we won't name, but the big problem comes down to the old cliché about the baby and the bathwater; the cynicism we have every right to develop also can wipe out what's moving about the actual story.
For instance: You're at your computer or on your phone, reading this, and I present you with two of the biographical blurbs of Adaptive Open players that came in the email from Coe:
Robert MacDermott, 67 (MLA)
Farm accident electrocution, en route to hospital ambulance crashed and flipped over, contemplated suicide
Has won multiple "able bodied" club championships
Max Togisala, 19 (Seated)
Paralyzed in ski accident in Feb. 2022, still plays pickleball, does trick golf shots, does adaptive skiing
What do you make of all that? If it can't puncture whatever defenses you've built up—if it doesn't resonate in the course of your busy day, or if you have to put it quickly aside because while your problems might not be so drastic, the challenges not quite so steep, you still have problems and challenges of your own—I can't blame you. Sitting at home, I'm no different. The next tab is waiting.
All I can say is that when you're here in person, when the stunning spectacle presents itself and you start to fathom the enormity of what they're doing—when you look out on the 18th green after reading Togisala's story, and he's there in the flesh, in his cart, as though reading his story conjured him up—you start to wonder why you're crying. It isn't pity, you'll realize, but rather a kind of awe at how they triumphed by sticking it to the brutal turns of this life, of not simply moving on and continuing to exist until death's deliverance, but resolutely attacking and succeeding in a display that combines the most radical kind of defiance/acceptance/god-knows-what-else. Then, in the thick of those emotions, you conclude that these are the only kinds of stories that actually matter. And that even though life goes on, and we can't sit around lost in the pathos of every person who endured, it's worth doing whatever you can not to become habituated to the stories that delve into the extremes of human suffering.
Easier said than done, but maybe we can agree on this: If you get electrocuted in a farm accident, resulting in multiple amputations, and then on the way to the hospital your ambulance flips over, and you have the natural thought after a brutal recovery that maybe you should just kill yourself, but instead you become one of the world's best adaptive golfers and an almost unbelievable example of how human beings can overcome the most ridiculous string of life-ruining bad luck...well, we can safely say that you are a badass—one of those jaw-dropping, semi-historical badasses—and that your story should be heard.
* Fresh off shooting an 84, Robert MacDermott was slightly disappointed. He's one of the oldest players in the field at 67, and when he stands before you with his white beard and gray eyes, his physical presence has the odd effect of obscuring that his left arm and left leg are amputated at the joint, and that his right thumb too is missing. He's clearly in tremendous shape, not just for his disability but for his age, and the matter-of-fact Canadian prairie accent of his birth emphasizes his resolute bearing. He was a golf junkie from the time he took up the sport at age 30, and enough of an athlete, with the inevitably hockey background, that within two years he was a 7-handicap. That year, on Aug. 23, 1987, he made the choice to help out his father and brother on their wheat farm in Saskatchewan rather than play in what would have been his first club championship. While operating a cultivator near a power pole, he got too close and snapped the pole. It popped up between the shanks of his cultivator, and when he lifted it out, the strength of the line stood it up in front of his tractor.
"At that point, I said, 'I still need to do what I need to do,'" he remembered, and he attempted to move the pole again.
This time, he got hit with 14,500 volts of electricity. It's the last thing he remembered, but when he was found, his body was literally smoking—"where the electricity goes in, it's gotta come out"—his pants had caught fire, his right thumb was blown off, and he was rushed to a local hospital. They weren't equipped to save his life, so he was moved via ambulance to the university hospital in Saskatoon, but the ambulance blew two tires and rolled into a stubble field, which resulted in a split lip, more injuries to his head, and dirt in the wounds that had been meticulously cleaned to avoid a disastrous infection. Another ambulance came by in about 15 minutes, and he spent a week near death, recovering only with multiple skin grafts (imagine your body being peeled, but over and over) and follow-up surgeries.
Along with his right thumb, he lost his left arm below the elbow and his left leg below the knee. He couldn't work as a drilling consultant as he had before, so after a nine-month recovery, he went back to school, earned his rehabilitation services diploma, and get a job with the Alberta government. His goal was to be "severely normal," and part of that process was golf. He quickly found a way to make it work, and today, he holds the course record at Belvedere Golf and Country Club in Sherwood Park, Alberta (a 65), and has won 10 club championships—all against able-bodied competition. He has three children (his son Dayton is caddying for him this week, and his daughter Shannon just got married), and three grandchildren.
The question this tidy narrative ignores is, what gets you from part A of that story to part B? For many of us, the moment when he went into his basement and came close to ending it all with his .30-30 rifle would be understandable, but the resilience that takes you through to the other side harder to grasp. Words cannot always clarify, at least totally. To hear him explain it, it's a matter of stubbornness and the knowledge that to bail out would have been selfish. That, plus his upbringing—his competitive nature with his brothers, his athleticism—gave him the internal motivation to fight his way to something better. And you're left to wonder what else there is that neither MacDermott nor anybody else could explain.
The path he took is the one spreading about before Max Togisala. Last February, at age 18, he fractured his spine in a skiing accident in Sun Valley, Idaho, and is now paralyzed from the waist down. Unlike MacDermott, who competes in the multiple limb amputations division, Togisala is in the seated division, and plays while riding a SoloRider cart with which he can line himself up with the ball. On Tuesday at the Adaptive Open, he shot a two-under 70. According to Anthony Netto, the founder of the Stand Up and Play Foundation, it's the best tournament score ever by a seated golfer, and perhaps the best score period.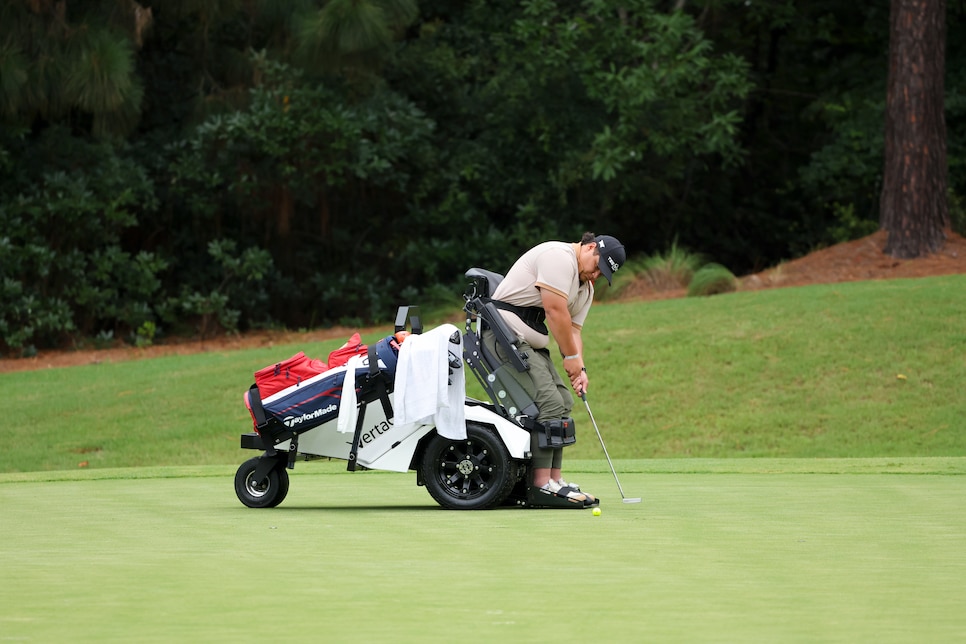 Max Togisala plays a shot on the seventh hole during the first round of the U.S. Adaptive Open at Pinehurst No. 6.
Jeff Haynes
Togisala, who is half Samoan and a massive Tony Finau fan (he calls Ogden, Utah home), credits his recovery to his faith. He was a scratch handicap before the accident, and clearly hasn't lost his ability to score, but he recalls the day during his recovery when he would chip in his hospital bed, longing for the day when he could play again.
"After my accident I kind of realized that I can't take life for granted," he said. "And we don't get ... we don't know how the future's gonna hold for us, and so I'm just gonna live day by day and enjoy it as much as I possibly can."
In a story I had read, he had a quote that I found particularly mind-blowing—if he had the opportunity to go back and change things, he said, he "probably wouldn't." When I asked him Tuesday if he meant it, he nodded.
"I wouldn't go back," he said. "It's brought so much joy in my life and I've come closer to many other people and I've built a better relationship with God."
His explanations are short and succinct (including about golf—when asked how he played what might be the best round in the history of seated golf, he answered "fairways and greens"), but that belies an obvious strength and an underlying positivity. He's a student at Weber State now, and he's armored by the love of his family and an encompassing faith, but the road ahead of him is anything but simple. Yet in different ways from MacDermott, he seems just as equipped to handle a moment of life-altering devastation, and carry it the distance.
* It's almost absurd that I came to the Adaptive Open on the same morning as the hearings in Washington, D.C., played out. The two disparate faces of golf on display feels almost too on-the-nose for words, and I'm resisting drawing the obvious contrast or waxing on about what might restore one's faith in humanity and sport. But you can only resist so much, and I have to say that if golf is a capricious entity capable of becoming a vehicle for many different people with many different motives, give me the vehicle driven by Robert MacDermott and Max Togisala every time.
* It's 90 degrees in Pinehurst. The tears are gone, no longer needed, somehow even more embarrassing and pointless now, after witnessing the strength of these players. The sun is shining. Another group finishes in front of me. One man is missing an arm, another a leg, another is classified as "short stature" and then there's Amanda Cunha, a once-promising junior from Hawaii who is now legally blind but is going to finish the day fourth in the women's flight anyway. Tomorrow we'll know if she wins, but who cares? Whether someone you don't know wins a golf tournament only truly matters if winning a golf tournament is all they have to offer the world, and people like Amanda Cunha are offering a hell of a lot more.
In the midst of this, I am actively forgetting the literal and figurative death marches of our bodies, our souls, our planet, and drawing from these players their great gift, which is nothing less than joy through strength, and the message that is prone to such doubt: we don't need perfection, we don't need pure happiness, we might not even need the promise of the various shining heavens. To nurture hope—these athletes say it with every step, with every shot—persistence is still the best drug that won't kill you.