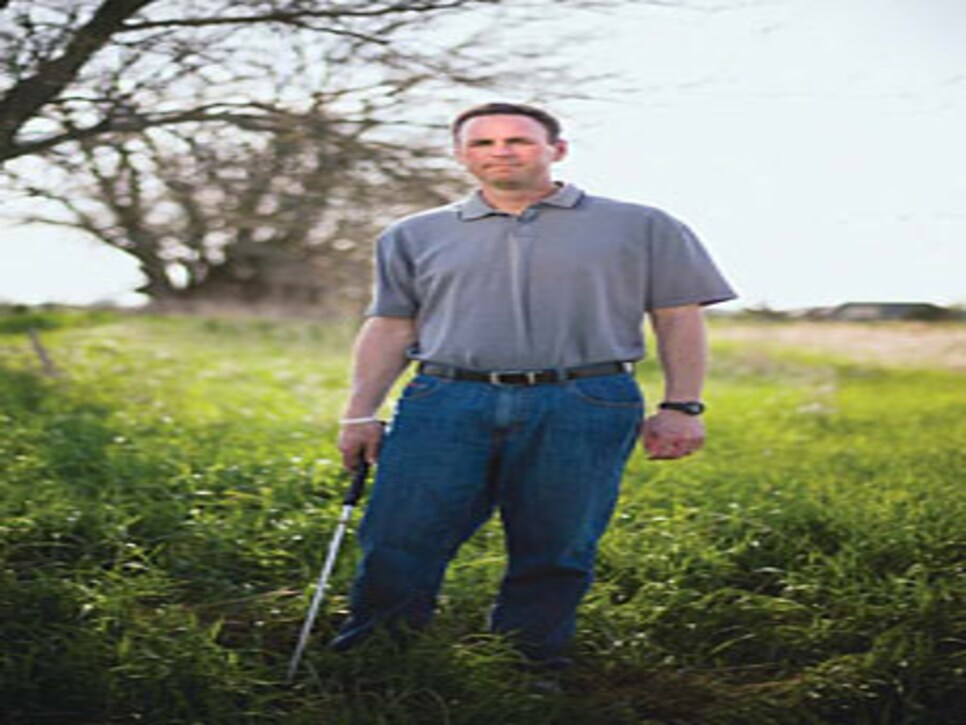 John Atkinson beat out 56,373 for the chance to play a U.S. Open setup.
It's sunny and 33 degrees on an April morning at Indian Creek Golf Course, a public course near Omaha, $35 on weekends if you're walking. We're on the seventh hole of the Gray Hawk nine. Our hero, the winner of Golf Digest's U.S. Open Contest, John Atkinson, stands in the left-side fairway bunker, considering how heroic he wants to be. What he does, using a hybrid from 185 yards to an elevated green, is catch the shot a little thin, maybe two grooves down. Uh-oh.
It could plug in the lip. It could burrow into a grassy knoll in front. Instead, the ball caroms off that berm at a steep angle, like a missile at launch, and achieves a suborbital trajectory that is breathtaking in its majesty.
Or, as caddie Terry Beutler is shouting, "That is the ugliest shot I have ever seen in my entire life."
Only to interrupt himself with this laughing update: "And it's coming down next to the hole!"
Atkinson might have fired the caddie, except for four things.
One, he wasn't paying him; the good buddy was helping out pro bono. Two, there's the love-ya-man lifetime exemption for trash talk. Three, skinning a hybrid out of a bunker off a berm to four feet meets all the qualifications for being so ugly it's beautiful. Besides which, you can't very well fire a caddie for laughing when you're in LMAO mode yourself.
Which brings us to the matter of a little essay.
Terry Beutler wrote it and sent it to Golf Digest, and only afterward did he tell John Atkinson he had written it and sent it.
The magazine received 56,374 such essays. Golf Digest, along with the USGA and NBC Sports, had developed a contest to find one amateur golfer to play the U.S. Open course. That man would play with three celebrities the week before Torrey Pines South humiliates the planet's finest. The big names are "Today" co-anchor Matt Lauer, Dallas Cowboys quarterback Tony Romo and pop singer/movie actor Justin Timberlake.
Tiger Woods' comment was critical in developing this idea. After the second round of the Open at Oakmont last summer, he said no 10-handicapper could break 100 on that torture track. As for Torrey Pines this time, if it's set up Oakmont-style, Woods says, "No way."
Still, readers wrote all those essays nominating themselves, their husbands, their sons, their best friends.
Here's what Beutler wrote: "Can I break 100? No. Do I want the chance? Yes, but not for me. You see, my best friend since sixth grade was diagnosed with Stage IV lung cancer last April. He has never smoked, and it's just one of those life things. He is a wonderful father, husband, friend and son. Last summer he had a double treatment of chemo and walked 18 holes the next day and shot a 76. He's a 5-handicap. The statistics aren't on his side, but, like John says, they have never done a study of 100 John Atkinsons."
You can either give up or you can continue to fight. I've got a beautiful wife and three kids. I will never quit fighting.'
The caddie's essay needed a fix or two. The diagnosis was done in March 2007. The day-after-chemo score was 82. And Atkinson is an 8. The point is unchanged. Who better to walk in the California sun than a good man trying to walk from the shadows of "just one of those life things"?
Atkinson still didn't know about his friend's essay when he decided, on a December day in 2007, to write one himself. It could be only 100 words. Three sentences in the middle danced with truth and laughter. They are:
" ... I've enjoyed golfing through my chemotherapy. Golf gives me great pride, inspiration and strength as I continue teeing it up with friends. Nothing's better than taking your buddies while on chemotherapy! ... "
Then things happened. More of "those life things." Only happy ones.
The essays made Atkinson one of the contest's 11 semifinalists who gathered in Dallas for interviews with Golf Digest editors. When the field was narrowed to five, Atkinson made that cut, too. The winner would be determined in an online vote. In a video for golfdigest.com, Atkinson talked of the lung cancer discovered when he complained of persistent pain in his right shoulder. He was 38 years old, 6-feet, 180, once a three-sport athlete, always healthy, never smoked. He looked into the camera and said the diagnosis of inoperable cancer" ... just completely throws your world upside down. And there are two things you can do: You can either give up or you can continue to fight. I've got a beautiful wife and three kids. I will never quit fighting."
"Can I break 100 out there? I think to myself, If I can beat America's deadliest cancer, then I can definitely break 100 at its Open."
Soon enough, as the contest gained attention, along came teaching pro Bob Scott, from The Players Club at Deer Creek in Omaha, offering to help the local finalist. They convened regularly in Atkinson's basement, where Scott put down a grid designed to guide footwork. At every meeting, they concentrated on fundamentals of alignment, pre-shot routine and relaxation under pressure. In time, Scott promised, Atkinson might even leave the basement to take a full swing. One day, a phone call. A member at Dismal River Club. Hey, John, if you need to play a great course with Open-like conditions, come on out. Dismal River is an exclusive golf destination in the Sandhills of central Nebraska. Absolutely, he'd do that. Only a five-hour drive from Omaha. No, no, we'll send a plane for you.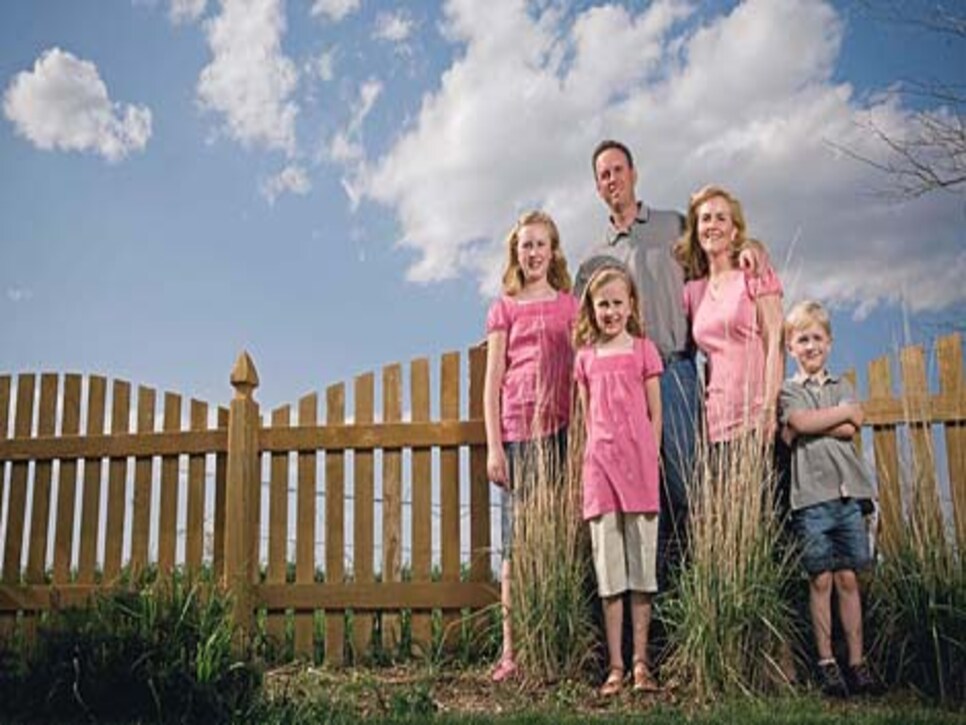 Scott and Atkinson had never talked about Open conditions, but the pro knew the first sight of Torrey Pines could intimidate any 8-handicapper. So he said, "Before, you ought to go play some place like Dismal River." That gave the smiling Atkinson reason to say words he'd never imagined saying: "Guess who'll send a plane for me."
Atkinson is a medical-devices sales representative who plays once a week, Saturday mornings at Indian Creek, 6:45 a.m., with a regular group of Dave Leahy, Ted Plugge and John Knicely. His golf season is short, "28, 29 rounds a year," because winter comes early and stays late in Nebraska. Besides, there's another irresistible force of nature every Saturday in the fall, Cornhusker football. ("We got 80,000 for the spring game.")
Serious about golf while attending college, Atkinson first played at age 13 with his father, Ed, an 8-handicapper. John's younger brother, Kevin, a golf-course architect, says his handicap "bounces from 0 to 2.5." (Nice bounce.)
Early voting in the contest showed an unmistakable trend: Everyone loved John Atkinson. He won in a landslide.
So, the day after the other finalists play a round at Torrey Pines without NBC cameras and celebrities, Atkinson will join Lauer, Romo and Timberlake in a round filmed for a show from 2-3 p.m. EDT June 15 on NBC immediately preceding the final round of the Open.
That day will close the circle on a series of events set in motion last December when Atkinson went to a basketball game.
Since the diagnosis in March 2007, he had been lost in darkness. "Almost 24/7," he says, he thought of cancer and death.
Then he and a friend had a good time with their sons at a Nebraska-Oregon game in Omaha. "I caught myself thinking, It'd be great to come back here in March for the NCAA games."
First time he'd thought ahead.
Then he remembered the Golf Digest contest.
"I decided,* Let's start living." *