Masters
The case of the missing green jacket
They knew what it was. But you put something in the closet, you forget it's there. "Years fly by," the man said. So Horton Smith's green jacket—given to him as winner of the first Masters in 1934—was "just hanging in a moldy old closet, not doing anybody any good," to further quote its co-owner, Michael Lackovic.
Now it's out of the closet and it goes on the auction block Tuesday, a piece of golf memorabilia remarkable for its historical value and its back story. Ryan Carey, whose auction company takes online bids at Greenjacketauctions.com until Sept. 7, said, "This is the green jacket that didn't exist anymore."
Augusta National Golf Club first gave the Masters winner a green jacket in 1949. Sam Snead won it. That year the club also awarded jackets retroactively to the nine men who had won the previous 12 tournaments. Smith won twice, in '34 and 1936. The other winners: Gene Sarazen, Byron Nelson (twice), Henry Picard, Ralph Guldahl, Jimmy Demaret (twice), Craig Wood, Herman Keiser, and Claude Harmon.
"Of the so-called 'Original 10' jackets," Carey said, "all were accounted for except Smith's. We had kind of given up ever finding it."
Carey's company three years ago sold Doug Ford's 1957 green jacket for $62,967. Heritage Auctions two years ago sold a green jacket that may or may not have been worn by Bobby Jones for $310,700.
Lackovic, 76, a mortgage dealer in suburban Atlanta, and his brother, Tom, kept the Horton Smith jacket after the death of their mother, whose second husband had been Renshaw Smith, Horton's brother and also a professional golfer. On Horton Smith's death in 1963, the jacket passed to Renshaw, who died in 1971. For the 42 years since, the jacket has been in the Lackovic brothers' closets.
"We knew it was part of golf history," Michael Lackovic said. "But we never made a big deal out of it."
Lackovic said he called Augusta National Golf Club maybe 15 years ago to see if the club wanted the jacket for display.
"They expressed a real interest the first time we talked," he said. "But when I called back to check again, they were cold as potatoes. We weren't looking for money. We just thought it would be nice to showcase it; Horton would've liked that."
Here he laughed. "And if Augusta wanted to give us patron badges, that would've been nice, too."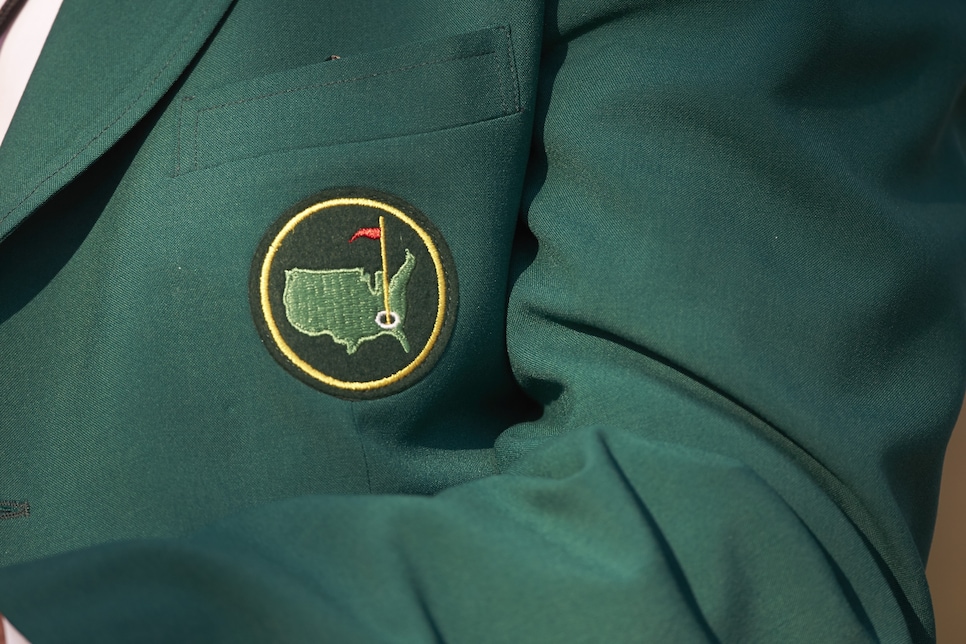 Sports Illustrated/Getty Images
"So we put it back in the closet."
There it stayed until this summer. Then the Lackovics read about the 1966 PGA Championship winner, Al Geiberger, consigning memorabilia to Green Jacket Auctions—including the Ping putter he used in the PGA Tour's first round of 59. The putter sold for $7,222 and is now on display at Ping headquarters in Arizona.
"I called Mr. Geiberger," Lackovic said, "and he told me he was so happy to see the putter displayed at Ping. So my brother and I decided to call the Green Jacket people."
"Mike Lackovic called out of the blue and said, 'We have something you guys are looking for,'" Carey said. "They knew what it was—it had been in the family 64 years—but they didn't know how valuable it had become."
Because Green Jacket had been offered a "blatant fake" green jacket recently, Carey flew to Georgia to examine the Lackovic piece.
"This one is the real thing," he said. "There's no better way to keep a jacket in good condition than to just hang it up. It's never been worn, and it's perfect."
Why are the Lackovics selling?
"I'm about to be 77 and my brother's about to be 80," Michael Lackovic said. "We decided it's time to find the jacket a good home."