No More Doubles
1 crucial mistake that turns good rounds into bad rounds—and how to avoid it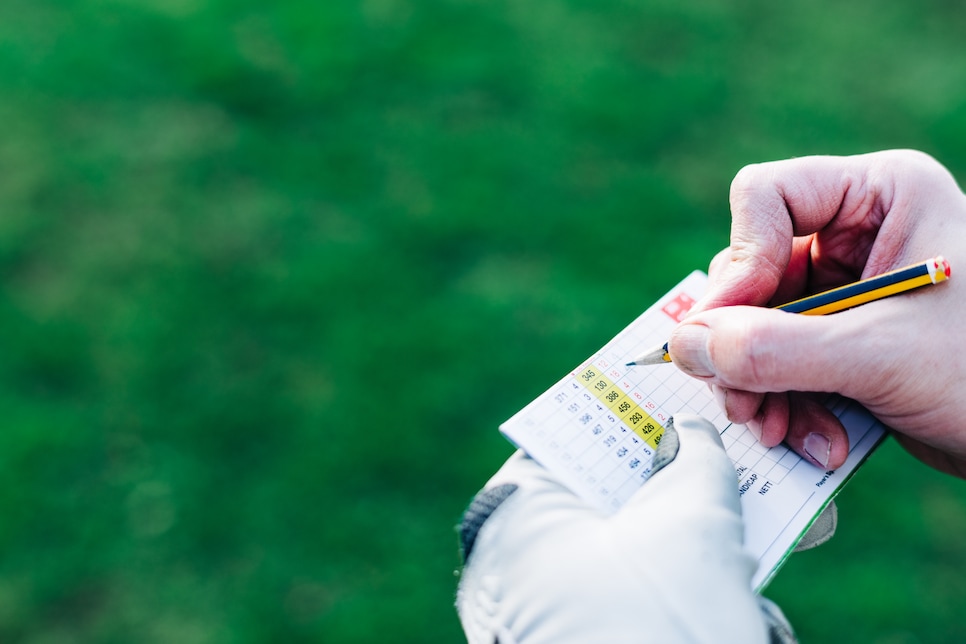 Take a moment, right now, and visualize you playing a good round of golf.
Your career-best round, even. What does it look like?
If you're like me, you're probably seeing yourself ripping drives down the middle of the fairway, flagging your irons and dropping putts from all over the place. But it's quite funny, but when you actually see a good round of golf being played, that's not what happens. I was reminded of this the other day, re-watching the highlights of Jordan Spieth's win from the RBC Heritage earlier this year, as one does.
Around a tight, tricky golf course, Spieth shot four rounds in the 60s en-route to a 13-under total and subsequent playoff victory. Yet in the video below, you'll notice some pretty bad shots. A few end up in the trees, among other questionable spots.
It's a solid reminder: Good rounds aren't made with good golf shots.
So what are good rounds actually made of? That's something our friends at Arccos have studied. They looked at their database of 5-handicap golfers, and what they look like when they shot 75, compared to what they do when they shot 85.
What's different? A few things, actually.
You DON'T need to make more birdies
In the 10-shot difference between a 5-handicap shooting 75 and 85, only about a shot-and-a-half is made up by making more birdies. It underlines the first, and most important point: If you want to shoot lower scores, it's not about making more birdies.
Why? Because put simply, golf is really hard, and you're never going to make enough birdies to make up for the bogeys and doubles. Pro golfers, after all, only make about four birdies per round.
You DO need to avoid big numbers
Think about bogeys like calories. They're a fact of life, but when you're trying to lose weight, it's virtually impossible for most of us to burn off huge amounts of calories from exercising. Instead, you're better off not eating all those calories in the first place.
And that's the mistake that turns good rounds into bad rounds: Those 5 handicaps, when they shoot 85, make three more bogeys and two more double bogeys or worse. It's those double bogeys and other big numbers that wreck your scorecard and make it effectively impossible to come back from.