News
Kevin Tway's victory in the Safeway Open is a father-son affair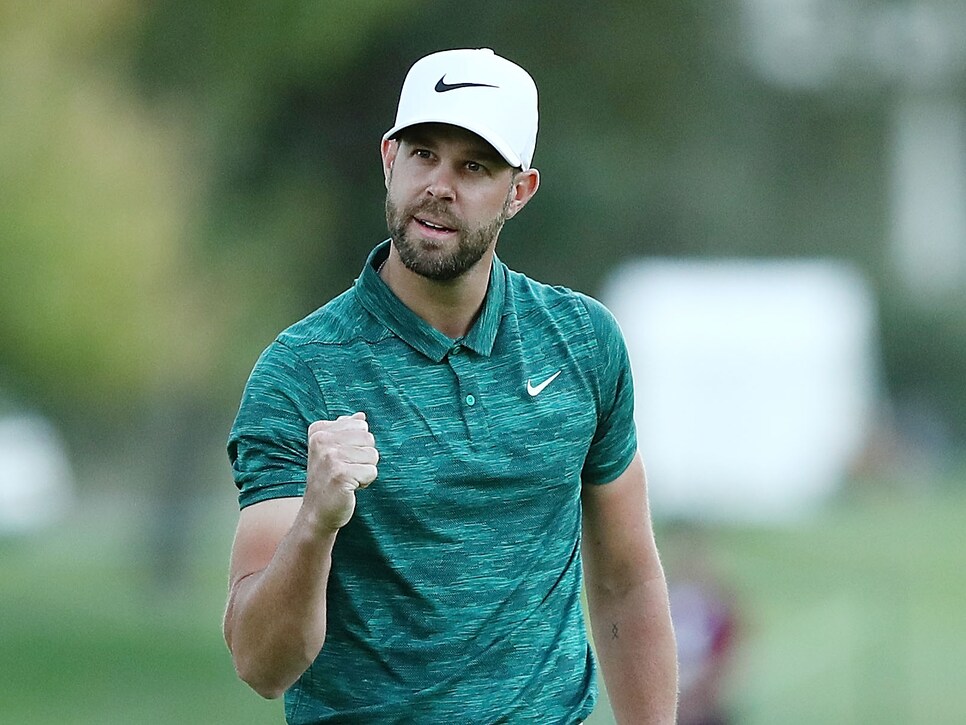 Kevin Tway plays golf with a voice in his ear, one capable of alternately cajoling or critiquing or even cursing, and, on this day probably, crying. The voice has a name, too. Tway calls him Dad.
Father Bob Tway was the winner of the PGA Championship in 1986, the most memorable of his eight career tour victories. He holed a bunker shot on the 72nd hole to beat Greg Norman by two strokes.
"I always have him right here on my shoulder," Kevin said at the Northern Trust Open in August. Kevin taps into his father having "played at the highest level for 30 years," calls it "a good tool to have."
They talk every night, he said, though on Sunday night, Kevin might have left him speechless.
Kevin, 30, won the Safeway Open with a closing series of clutch golf, including his holing a 12-foot birdie putt on the third playoff hole to beat Ryan Moore at the Silverado Resort in Napa, Calif., after making birdies on the 17th and 18th holes in regulation.
It was Kevin's first PGA Tour victory, coming in his 91st start. He had never finished better than third before.
"He always told me I had the talent," Kevin said of his father. "I don't think I believed him until now."
Golf is a sport in which fathers pass down their passion, playing with their sons and daughters, but in the history of the PGA Tour only 10 fathers and their sons have now each won tournaments. The Tways become the first since Kevin Stadler won the Waste Management Phoenix Open in 2014 to join dad Craig Stadler as tour winners.
"I think he's probably crying, to be honest," Kevin said when asked what his father's reaction might be in the immediate aftermath of his son's victory. "He's pretty proud of me. It's been a long road, but this is why you work hard right here."
Other factors are involved, too, and on a windy Sunday, Brandt Snedeker was among them. It was his tournament to lose and he did just that, squandering what once was a five-stroke lead on the back nine, shooting a final-round 74 and winding up in the playoff with Tway and Moore. The latter two each birdied the first playoff hole, the par-5 18th, while Snedeker parred it to end his bid.
Tway and Moore again birdied the 18th, the second playoff hole, and moved over to the par-4 10th. Each hit the fairway, but Moore's second came up just short of the green and he made par. Tway, outwardly calm, unnaturally so for one in uncharted territory, followed with his winning birdie putt, his fifth straight when you add the two to finish regulation and three in the playoff.
"It felt amazing," Tway said afterward. "I wanted to do a little more, but thought it might look weird with a fist pump."
He did a small one. Act like you've been there before, they say in sports, and Tway did so, perhaps guided by the demeanor with which he plays.
"Honestly, I was just trying to hit good shots," he said. "Trying not to think about it. I stayed patient in the regular round. Kind of got hot at the end. Birdied the last five holes, actually [two in regulation, three in the playoff]. That always helps. I'm kind of at a loss for words. I'm pretty happy."
That makes two of them, Kevin and the man he listens to more than any other, the man on his shoulder with the voice in his ear.