Cologuard Classic
Kevin Sutherland upends Mike Weir's bid for first PGA Tour Champions victory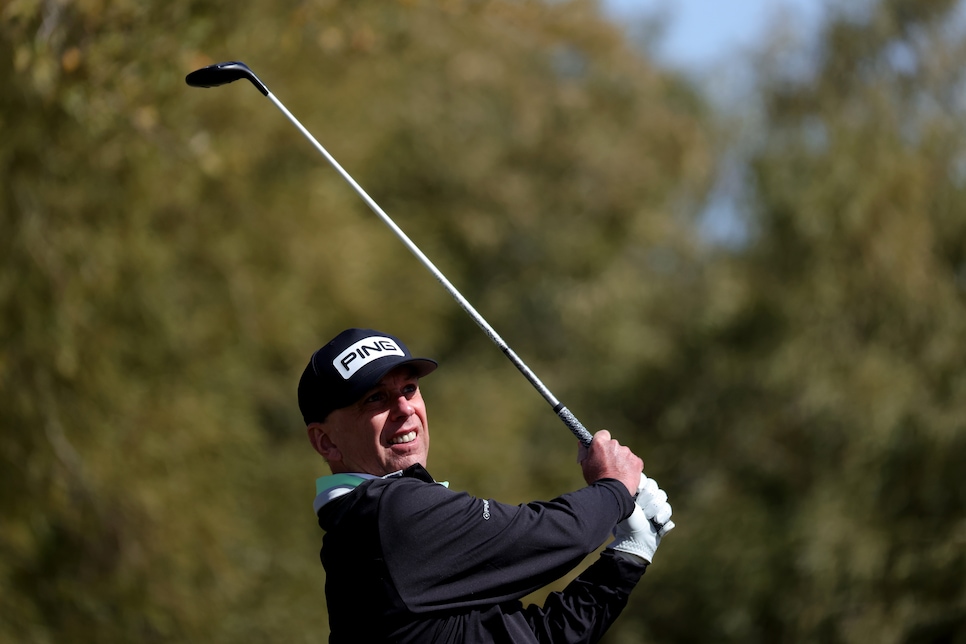 A Mike Weir victory seemed to have had an air of inevitability about it this week, notwithstanding golf's predilection for not following a script, as it did again in the final round of the Cologuard Classic on Sunday.
Weir, whose eight PGA Tour victories include a Masters title, appeared destined to make his first PGA Tour Champions win a wire-to-wire one until he stalled en route to the trophy presentation and Kevin Sutherland slipped ahead to win it by two.
"I've got to think about it," Weir said. "I need time to refresh and take some time to digest it and think about the little adjustments probably I need to make, but there wasn't a lot to do different out there. I clearly didn't strike it quite as good as the first two days, but I didn't strike it poorly either. I just didn't really get much out of it."
The victory was the sixth on the senior tour for Sutherland, 56, who began the final round trailing Weir by two. Sutherland shot a four-under 69 in the final round to Weir's even-under 73 at Omni Tucson National.
The turning point came when Sutherland birdied the 16th and 17th holes and Weir bogeyed the 16th to fall one behind, then bogeyed the 18th, too.
Weir, whose last win came in 2007 in the Fry's Electronic Open, had introduced victory as a possible inevitability by virtue of what now is five top-10s in 12 senior starts, as well as the lead he took into the final round that increased to four over Sutherland through eight holes.
But Weir played the last 10 holes in three over and Sutherland played them in three under, a six-shot swing.
"I just kind of hung in there on the back side and I wasn't swinging my best at it today," Sutherland said. "I was struggling a little bit with the wind, my rhythm was all off and everything.
"All of a sudden I made a couple birdies, and then the chip-in on 16 was huge. It just kind of flipped everything. All of a sudden we're tied and then I started making really good swings."
Phil Mickelson, meanwhile, stumbled to his worst round of the week, an even-par 70 that included a triple bogey on the ninth hole when he hit his tee shot into water. He finished at four-under-par 215, 11 shots back of the winner, in this his failed bid to become the first in senior history to win his first three starts.
"I'm frustrated obviously," he said. "I haven't played well for a little while, and yet the parts seem like they're there when I'm home. I have great practice sessions, but I'm not putting it together on the course and it's been frustrating."