The Loop
Kevin Na is feeling so good after his win that he's dropping dad jokes in pressers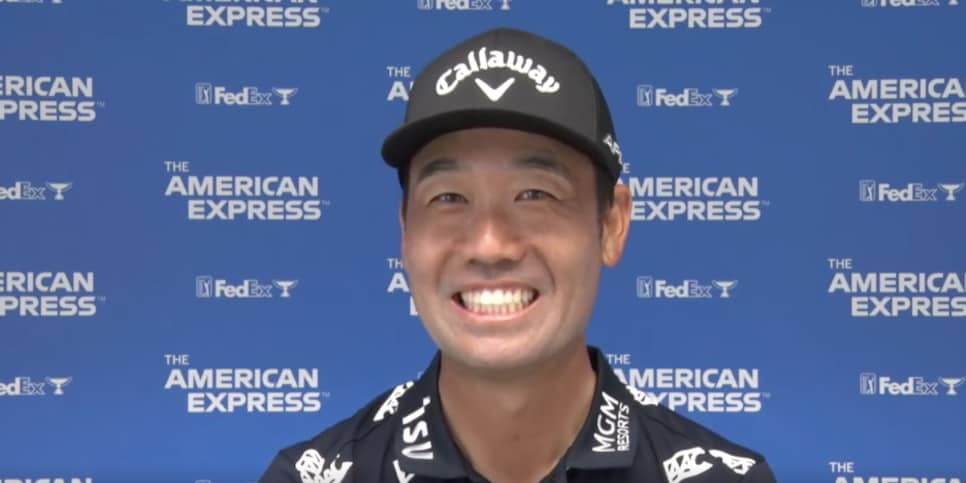 Thanks to Tiger Woods' back and Justin Thomas' mouth, there's been a lot of negativity on the PGA Tour to start 2021. Golf fans have been left looking for a feel-good story to root for and an entertaining character to rally around. Fortunately, we have Kevin Na.
The 37-year-old is suddenly the toast of the golf world following his Sony Open victory on Sunday. The win gives him four PGA Tour titles in his past 55 starts after winning just one time in his first 369 times teeing it up on tour.
Suddenly, Kevin Na—the guy who used to have problems even pulling the trigger under final-round pressure—is one of the game's great closers and one of the more popular players. And boy, is he certainly feeling comfortable these days.
Case in point, Wednesday's presser ahead of the American Express in which Na seemed to take particular delight in dropping a dad joke in public. Here was the exchange with a reporter.
Q. You said last week after you won that every year you expect to win and you hope to win on the right golf courses. Do you think these are the right golf courses this week for you?
KEVIN NA: So the answer I'm going to say is "nah." (Laughing.) You can interpret that as the whatever how you want it.
Q. Well, I asked because you've had some --
KEVIN NA: It is my last name, so you interpret it how you want.
When you have to explain the joke, that's usually not a great sign. But we'll let it slide, Kevin. You can watch the exchange below starting at about the 2:40 mark:
Also, just look at that shirt! That many logos would be a bold look even for a NASCAR driver. Plus he's been wearing a logo of his signature move of walking in a putt as well. So yeah, Na is really feeling it right now.
And he eventually pointed out that he has contended here a few times, most recently with a T-3 in 2016. Still, he followed up on what Kevin Kisner and Brooks Koepka have said in recent days in regarding to still having a nice paycheck to play for even when you don't think you have a chance of winning.
"Kisner stole my answer," Na said with a laugh. "And Brooks too. There's some great answers."
But do you actually think a guy with as much confidence as Kevin has right now actually believes he's not going to win? Na a freaking chance. Good luck to the rest of the field.