News
Kevin Kisner and 'one of those shots you dream about'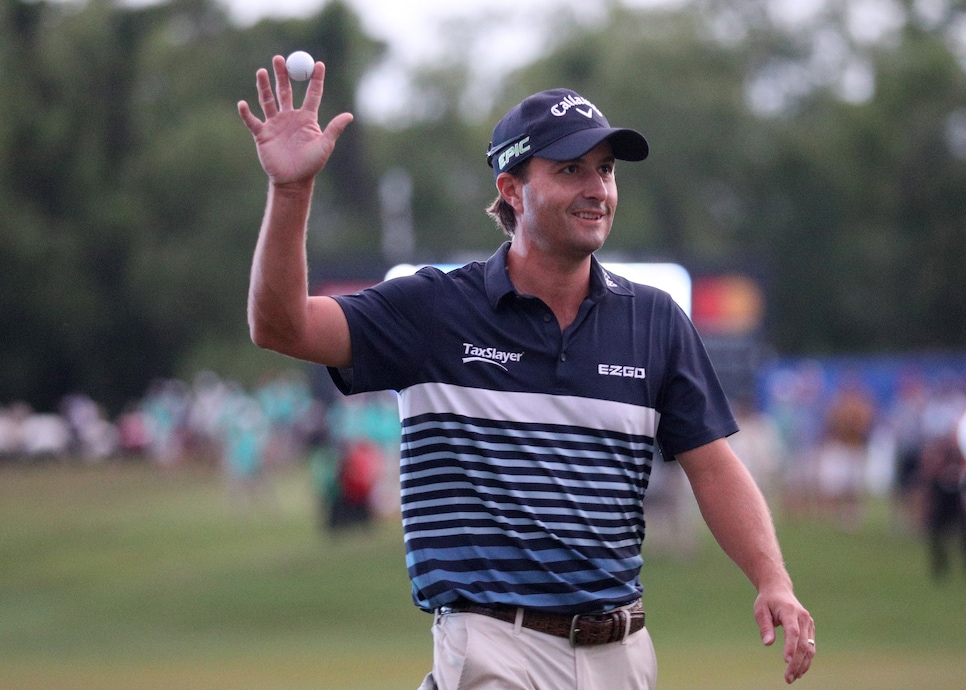 AVONDALE, La. -- Ninety-four feet, six inches. That was the distance between Kevin Kisner and the flag on the final hole of regulation in the engulfing darkness Sunday at TPC Louisiana.
With Cameron Smith already a foot away from an easy birdie, Kisner needed to hole his shot for eagle for him and partner Scott Brown to force a playoff with Smith and teammate Jonas Blixt at the Zurich Classic of New Orleans, being played for the first time in a team format with two rounds of alternate shot and two rounds of fourballs on alternating days.
In the glow of a nearby scoreboard across the water that runs along the par-5 18th, Kisner's pitch shot from short of the green raced toward the hole, hit the stick and fell in.
The four players will return to the course for a sudden-death playoff on Monday at 9 a.m. (EDT). The format will remain the same as it was in the final round—fourballs—and they'll begin where they ended, on 18.
"We knew we had to have it," Kisner said. "All I was trying to do was make sure I didn't leave it short.
"It's just one of those shots you dream about."
It was a dream final round for Kisner and Brown, too.
The eagle capped a Sunday 60 to end regulation at 27-under 261 for the two long-time friends born less than a year apart who have known each other since they were 10, both living in Aiken, S.C.
At one point on Sunday, it looked like they might even go lower than that.
Kisner and Brown birdied their first eight holes in the final round with Kisner doing most of the damage with his typically hot putter. He also had a chip-in on the third hole, and on the sixth, he rolled in a 60-footer from just off the green to give the duo the lead by one over Blixt and Smith, the 54-hole leaders by four.
Then the horn blew for a fast-approaching storm. Play was halted for more than six hours. When the round resumed, Kisner and Brown picked up where they left off, making two straight birdies to extend their lead to two.
Two more birdies came at 10 and 11 before they inexplicably went cold, making six straight pars.
"The greens slowed down so much after that rain, it was hard to almost get the ball to the hole," Kisner said. "We kept talking about just hit it hard enough to get it there."
Blixt and Smith, who played all 72 holes this week without a bogey and closed with an eight-under 64, kept pace. They birdied three straight to open the back nine and added two more birdies at 16 and 17 to take a one-shot lead going to the last, where Smith hit a terrific chip with the ball below his feet in the rough to set up what looked like a win.
Until Kisner holed another from off the green.
"I didn't really expect that," a shocked Blixt said. "But that's part of golf. You've got to expect the unexpected."