News
Kevin Dougherty, who missed qualifying for PGA Tour by an inch, 'didn't look at it as a negative,' soldiers on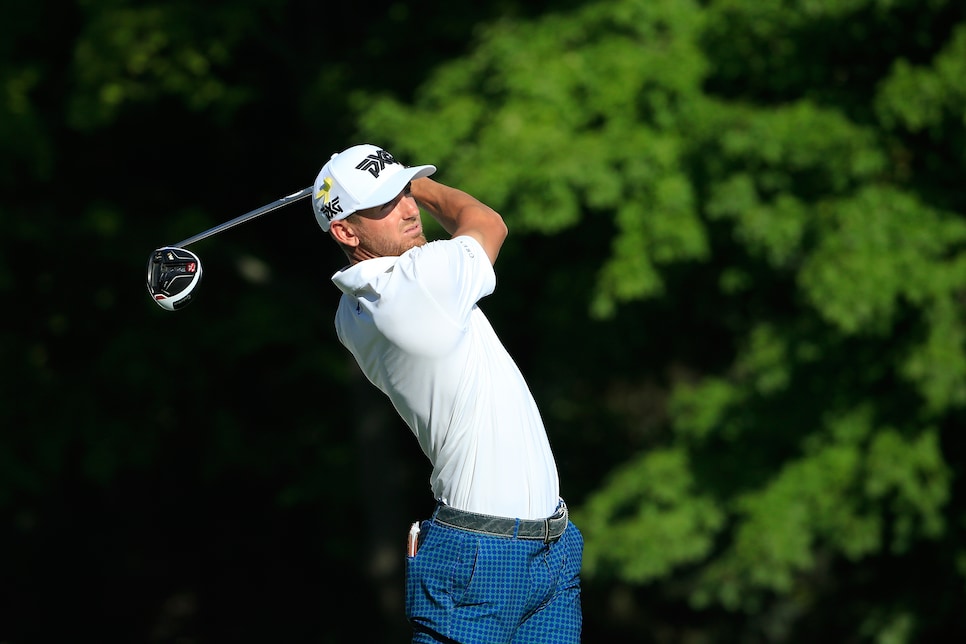 COLUMBUS, Ohio — It seemed like rather suspicious timing that Kevin Dougherty would be targeted for drug testing Thursday at the Nationwide Children's Championship one week after coming up an inch short of earning his PGA Tour card.
Hey, the guy got over it within a few hours, no medicinal help required. Although you wouldn't have blamed him for at least slurping down one stiff drink after such a monumental disappointment at Pumpkin Ridge Golf Club in the final round of the WinCo Foods Portland Open.
The highlight reel on websites and social media has been worn out practically on the 60-degree wedge shot Dougherty executed on the 18th green at Pumpkin Ridge Sunday afternoon. Sensing that he needed a birdie on the 72nd hole to climb into a tie for fourth place, Dougherty eschewed the putter in favor of the wedge with his ball just short of the green. The shot looked perfect—until it veered left just a revolution shy of the cup and died an inch away.
"I didn't look at it as a negative. I left everything I had out there, so I could be content with my effort," Dougherty said Thursday at Ohio State University's Scarlet Course, site of the opening event of the Web.com Tour Finals. "I literally was over it that night. I didn't lay in bed counting every shot I could have saved this year. I haven't looked back. I'm not even on social media, so I don't know what the reaction out there has been."
The reaction has been "OMG" to use the text/social media vernacular.
Dougherty, 27, from Murrieta, Calif., finished 26th on the Web.com Tour money list with $165,091 in earnings, which was $1,923.00 shy of No. 25 Hank Lebioda, the last man to earn his PGA Tour card via the season-long money list. The difference in prize money between a T-4 finish and the T-6 that Dougherty registered was $5,266, more than enough to leap ahead of Lebioda.
It wasn't meant to be for the former Oklahoma State player, who counts among his close friends Rickie Fowler, a fellow Cowboy who hails from the same hometown.
They talk and text several times a week. In fact, before he played his opening round of The Northern Trust, the first FedEx Cup Playoffs event at Ridgewood Country Club in Paramus, N.J., Fowler sent Dougherty a photo of his new car, a Porsche, that was meant to get his friend revved up.
"He wrote that he hoped it would fire me up for today," Dougherty said.
The inspiration went for naught. Dougherty struggled to an opening five-over 76 on the difficult Scarlet Course at Ohio State, close to the bottom of the scoreboard among the 137 players scheduled to compete.
Dougherty couldn't blame his struggles on a Portland hangover.
"I was ready to play. My irons were a little loose. I hit three bad irons that cost me five shots," said Dougherty, who was even par through 10 holes before suffering three bogeys and a double bogey in an inward 40. "I mean, other than those I didn't play badly at all, late in the day, greens firming up. I played OK."
He isn't giving up on this week, even though he likely needs a heroic round to make the cut, and he isn't panicking with three more Finals events ahead. The guy is starting to understand what it's like to play with pressure. He earned his Web.com Tour card in last year's Web.com Tour Qualifying Tournament by making birdie on his final two holes at Whirlwind Golf Club in Chandler, Ariz.
That told him a lot about where his game is headed. So did the effort at Pumpkin Ridge, where he arrived having missed the cut in eight of his last nine events. His first full season on the Web.com Tour was hit and miss, with a runner-up at the Nashville Golf Open Benefitting the Snedeker Foundation in late May his best hit.
He broke par in each round last week, and he birdied the 17th hole on Sunday to give himself a chance. He knew exactly what he was playing for when he sized up that chip shot, telling his caddie Greg Dyne, "this is for a PGA Tour card."
To come so close and now have to venture out for up to four more events to join his pal Fowler on the PGA Tour has to be a punch to the gut, but Dougherty showed no frustration at having to undertake the extra work or the slow start to his playoff run.
"My game is in a good place. I just struggled today," said Dougherty, who has surrounded himself with a solid team, including James Sieckmann, recently chosen PGA Teacher of the Year, who assists with his short game. "I think I've done pretty well. Me and my team just talk about getting better each day, and if it happens this year that I make the tour, great. If I don't, there's next year, and I'm going to do better. It's all stepping stones."
Too bad he couldn't have saved himself a few steps by rolling in that pitch shot.
"It's not the end of the world," he said with an earnestness that made you believe that he believed that. "It's just golf. My time will come, sooner or later."
Hopefully sooner. So that inch doesn't feel like miles.