News
Meet Chris Thompson, the PGA Tour's newest 42-year-old rookie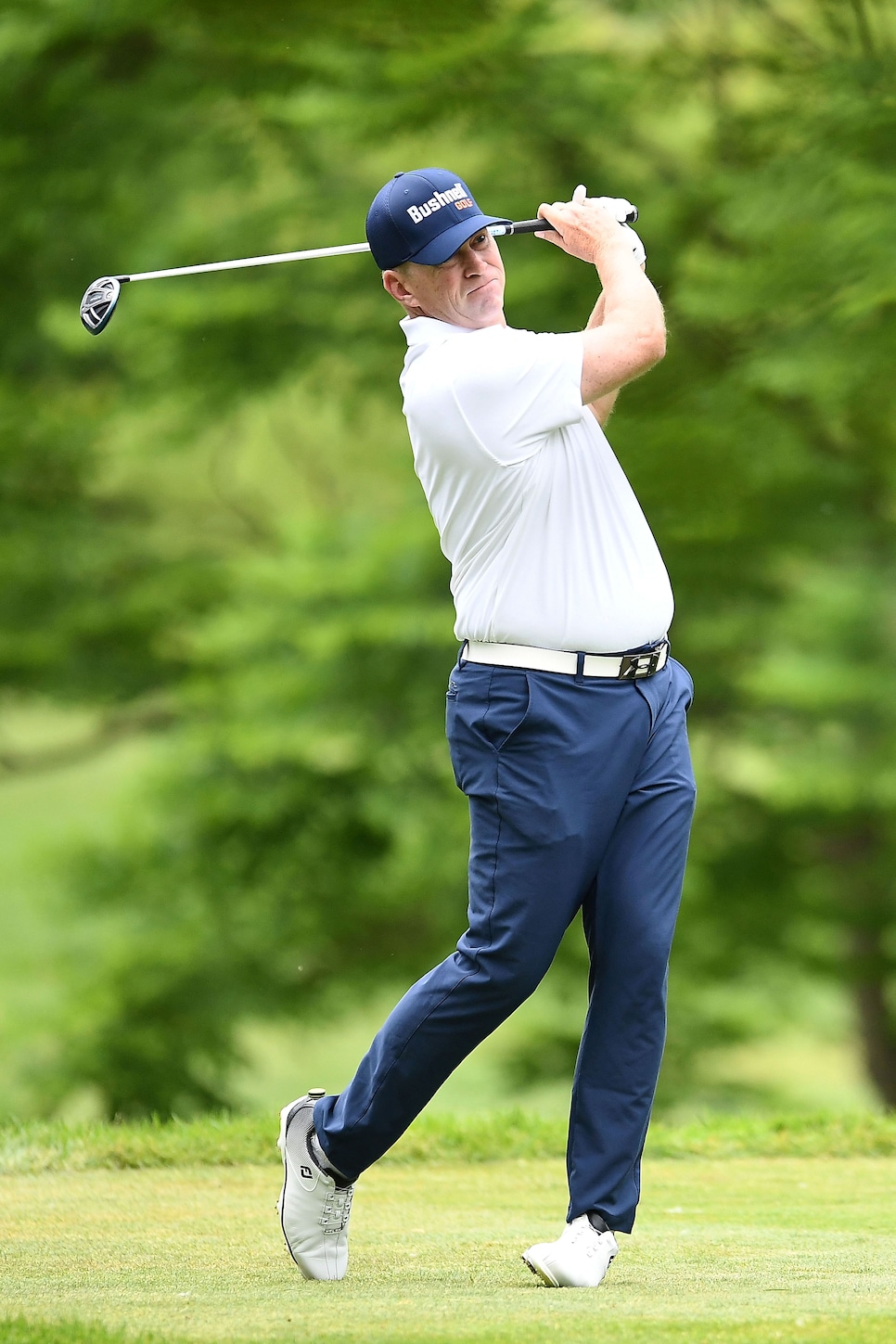 Photo By: Stacy Revere/Getty Images
Dreams die hard in professional golf, stubbornly kept alive by dreamers unyielding in their conviction that next week will be better than last week, next year better than last year. Then the years become decades, and the thought begins to occur that what they've been digging out of the dirt might be a grave for a future that never was.
"You do this for a few years, you think it's going to happen," Chris Thompson, among their legion, said last week. "Five years go by, then 10 years, then 15 years and it hasn't happened yet. And Q school is always at the end of the year, and when you don't make it, you're wondering, Is it time to move on?"
Logically, yes, though logic seldom is a consideration for those who have spent a lifetime in pursuit of a singular goal—to play the PGA Tour—because there's always this:
Sometimes dreams do come true.
Thompson is their newest exemplar. For nearly 20 years, he traveled the backroads of tournament golf, the mini tours and state opens and Monday qualifiers, always missing the on-ramp to the PGA Tour (and usually to the Web.com Tour, too). He has called his career a two-decade work in progress.
Now at 42, an age when established players often see their games begin their descent, Thompson will become a PGA Tour rookie. With a timely boost from a neophyte tour caddie named Chevy, Thompson became one of the Web.com Tour's most productive players in the last two months, when he had the best three finishes of his career. In succession, he tied for third and fourth at the Price Cutter Charity Championship and KC Golf Classic, and finished third at the Ellie Mae Classic.
Thompson concluded the Web.com's regular season on Sunday at the WinCo Foods Portland Open, finishing in 20th place overall with $181,738 in earnings and becoming a member of what the tour calls "The 25," the top money winners who are rewarded for their efforts with PGA Tour memberships for the next season.
"Obviously it means a lot," Thompson said. "It's certainly not an easy task to accomplish and gets harder the older you get. I just wanted one more chance to have full status [on the Web.com Tour] to see if I was good enough. I felt like my game was good enough. I had a great support system around me that allowed me to keep playing."
Thompson gained full Web.com status for 2018 by virtue of finishing T-16 in its qualifying tournament last December. Starting the new year, he had two top-10s in his first eight tournaments, setting a tone that differed from his off-key efforts in too many years gone by.
But it wasn't until he happened upon a caddie who proved capable of helping Thompson navigate the subtleties of greens that aren't flat that he finally found his way to the promised land.
Charles Hartzog, 25, a native of Gaffney, S.C., was born near Christmas, 1992. His father, also Charles, was a fan of Chevy Chase and "National Lampoon's Christmas Vacation," so to eliminate confusion over the shared first name, he gave his newborn son the nickname by which he is known today.
Chevy became a decent NCAA Division II golfer, the captain of the golf team at Mars Hill (N.C.) University, and later became an assistant golf coach at Coker College in Hartsville, S.C. An aspiring tour caddie, he put his name in the caddie pool for the Web.com Tour's BMW Charity Pro-Am in South Carolina and was assigned an amateur, Thompson's friend and pro-am partner Donnie Simpson.
"At dinner one night I told Chris this is something I've always thought about doing and if you're ever out there and want a caddie to give me a call. Two weeks later, he called."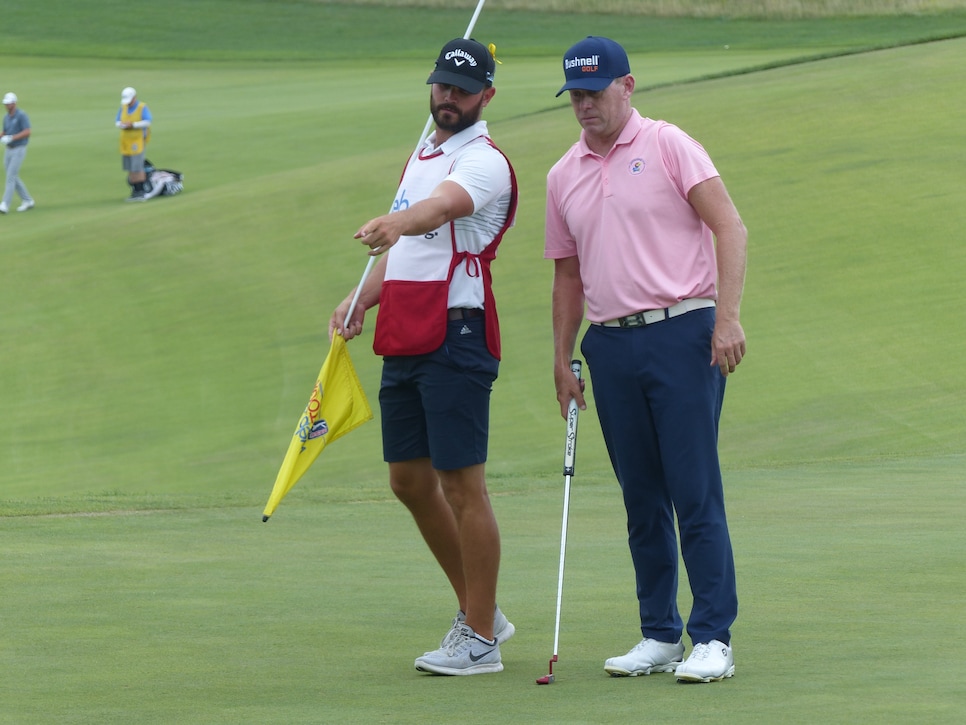 It was serendipitous. "I like to tell people I'm better at telling someone what to do rather than doing it," Chevy said. "I was never a good putter, but I always knew I could read them really well."
Chevy joined Thompson at the Wichita Open in June. "I don't think it's a coincidence that I started really playing well when he came on board," Thompson said. "Just to have confidence in where you're aiming with the putter. I think I was in the mid-50s in putting the week he started. I checked last week and I was seventh for the year [he finished 10th in putting average]."
"He is a good green reader and a good player in his own right. It's hard to putt well when you're not reading greens right. Green-reading is a skill I felt like I never had. I have a lot of confidence in him, and it's a skill he does have. I putt with so much more confidence now. I feel can make the one coming back when I miss it. All I have to worry about is speed."
What Thompson no longer has to worry about is whether he's on a treasure hunt with a bogus map. Twice an All-American at Kansas and a resident of Lawrence, Kan., Thompson turned pro in 1999. He did not qualify for the Web.com Tour until 2007, played 30 events less than successfully, made 16 starts in 2008, and then the lean years set in.
"When you have nothing," he said, speaking of Web.com Tour status, "that's when it's tough."
Yet his support at home—from wife Jessica, who works for the Golf Course Superintendents Association of America in Lawrence; son Henry, 10; and daughter Landry, 7; and a group of individual sponsors—never wavered, even when he provided reasons to do so.
One of them came in the final stage of the Web.com Tour Qualifying Tournament in 2015. There, Thompson shot 78 in the final round, 43 on the back nine, though had he birdied the 18th hole he would have earned a full exemption.
"That was a heartbreaker," his teacher Greg LaBelle, a Butch Harmon protege, said. "The next year he missed the finals. So it was one of those times maybe he's thinking, 'didn't get there last year, had a golden opportunity and failed. This year was not a good run, so what am I going to do?' I don't think we ever had that talk, but it came to mind wondering if that was what he was thinking.
"I'm glad he didn't," LaBelle continued. "I still saw a fantastic player. He was playing so good the whole year, It was right there with nine to play and he tripped coming in. The last few years he missed by a shot here, one putt here and there, and it came down to getting on a roll and momentum. And I think he finally believes that he belongs. It comes from confidence breeding confidence."
Thompson, incidentally, is revered in Lawrence ("there's nobody more loved there," LaBelle said), and his ascension to the PGA Tour led the Lawrence Journal-World sports page on Monday. Though nice guys sometimes do finish last, or at least down the leader board, they don't always stay there. "In terms of perseverance, he exemplifies what he preaches to his kids," LaBelle said. "That's such a cool thing to watch."
Though time is never an ally for professional golfers in their 40s, neither does it have to be an obstacle. LaBelle has reminded him of the success former PGA Tour player Michael Allen enjoyed later in his career. His breakthrough came at 45, and the bulk of his $6.3 million in earnings came over the next five years before going on to an even more lucrative PGA Tour Champions career that included eight victories.
"I always remind [Thompson] that if you're healthy and still hitting it long enough, and he does, and can still get it around, you can still have a fantastic career the last seven years until you're 50," LaBelle said. "And why not? Obviously you're not going to win a 100-meter dash against these guys, but golf doesn't require running to get to your golf ball."
Maybe not, but a leisurely pace is not in his immediate future. Thompson has the Web.com Tour playoffs on his schedule the next four weeks, followed by a week off before his initial PGA Tour season begins Oct. 4 in the Safeway Classic in Napa, Calif.
"It's a quick turnaround," he said. "But it's an opportunity I've been waiting for for 17, 18 years. There's no time for fatigue or excuses."