The Loop
Kenny Golladay had one of the greatest six-catch games you'll ever see from a receiver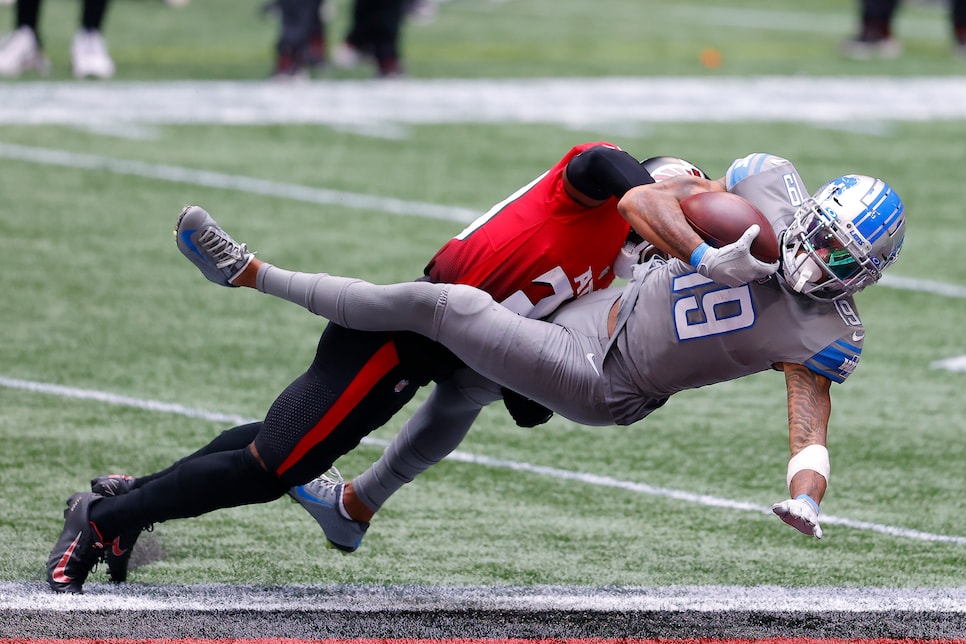 If we started listing the top wide receivers in the NFL right now, it might take us awhile before we even mentioned Detroit Lions wideout Kenny Golladay. Rightfully so, to be frank. He's not the fastest, nor the tallest, and he's not going to ever lead the league in receptions or yardage.
But there is one area where Golladay is perhaps the most underrated receiver in the league, and that's the "go up and get it" area. When he's being contested by a defender, there are few receivers better than Kenny G, as his performance on Sunday against the Atlanta Falcons showed.
Golladay, who is set to become an unrestricted free agent this offseason, had six receptions for 114 yards, including an absolutely crucial snag at the end of the Lions' game-winning drive. Solid numbers, but not numbers that are going to cause anybody to fall out of their chair. However, when you see how Golladay caught each of those six balls, you might fall out of your chair. This is one of the greatest and grittiest six-reception games you'll ever see from a WR:
Some of these are borderline impossible to complete through the ground, which is required in today's NFL. Golladay had zero issue with any of them. All six were contested. All six included contact before and immediately after the catch from a defender. Each one was more difficult than the last. This one was legitimately insane:
He's officially put himself in "just give me a chance" territory, something Lions quarterback Matthew Stafford hasn't had since, dare we say it, Calvin Johnson. No, we are NOT comparing Golladay to Megatron, but he does have similar ability when it comes to catching balls in traffic.
More performances like this are just what Golladay needs, as the 26-year-old is set to get paiiiiid this offseason. Hopefully, for Stafford's sake, the Lions pay that man his money.