News
Kelsey Chugg wins U.S. Women's Mid-Amateur, defeats Mary Jane Hiestand in battle of generations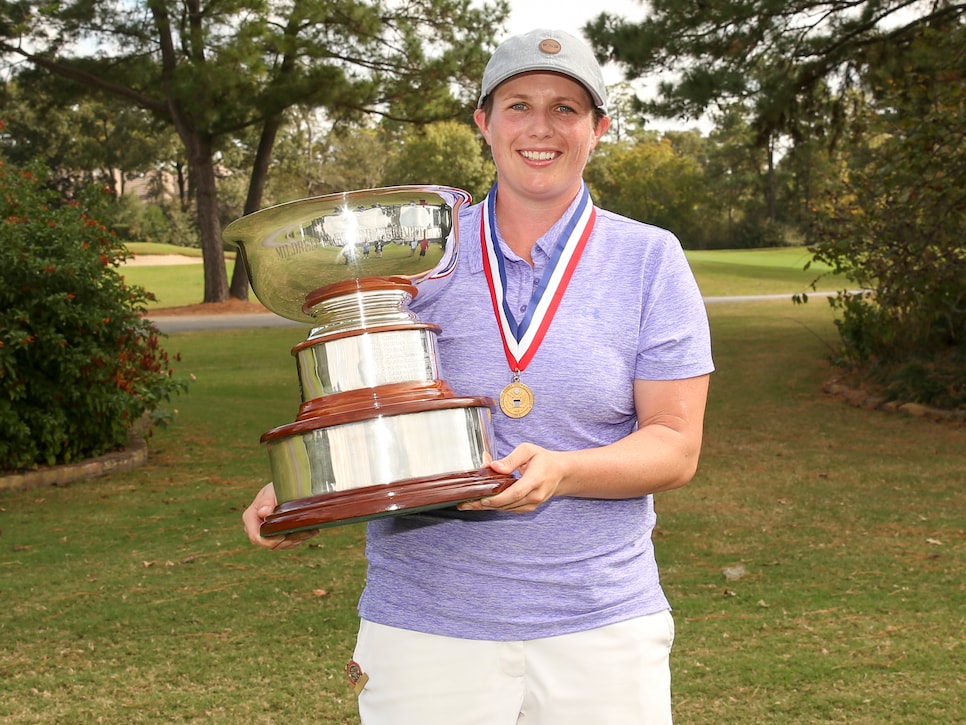 Golf, as is generally known, does not get easier with age, notwithstanding Bernhard Langer's quest to prove otherwise. So it was that when the U.S. Women's Mid-Amateur Championship came down to a battle of generations, youth prevailed.
Kelsey Chugg, 26, a four-time Utah Women's State Amateur champion, took down her 58-year-old opponent, Mary Jane Hiestand, 3 and 1, in the final on the Cypress Creek Course at Champions Golf Club in Houston on Thursday.
"Incredible," she said. "It's just been a crazy week, and just really a lot of fun to be out here at the Champions Golf Club. I can't believe I pulled it off."
The victory gives Chugg an exemption into the U.S. Women's Open next year. "This is a dream," she said. "I don't even know how to explain it. It's so cool. I am so pumped to go to the U.S. Open. That's been a lifelong goal. I'm just looking at the trophy over there. Like that's so cool."
The loss, meanwhile, deprived Hiestand of that as well as an exemption into the first U.S. Senior Women's Open in 2018.
At least, Hiestand exceeded her own expectations by reaching the Women's Mid-Am final, as she noted on Wednesday. "I didn't expect to be here," she said. "The Mid-Am, I was going to give it up for a while, and I went to qualify because it was in Naples, and here I am in my first final ever."
A home game became a road trip for Hiestand, who lives in Naples, Fla. Originally, this Mid-Amateur was scheduled to be played at Quail Creek Country Club in Naples, five minutes from Hiestand's house. But Hurricane Irma forced the championship to be moved, and Champions Golf Club owners Jackie and Robin Burke stepped up and volunteered their course.
Aside from spotting her opponent 32 years, Hiestand also spotted her a 4-up advantage through 13 holes, a difficult and ultimately insurmountable obstacle in the 18-hole championship match. Hiestand won the 14th and 16th holes with pars, but three-putted from about 65 feet on the par-4 17th hole, then conceded Chugg's short par putt to end the match.
"I made nothing," said Hiestand, who was trying to knock off 2008 winner Joan Higgins as the oldest winner, by six years. "It was totally the difference. It's a putter's golf course. For me not to make anything is amazing, but you have those days. She made everything today. Kudos to her, because that's what it takes to win a championship. She's a real solid player."
None of the golf from tee to green qualified as memorable. Neither player made a single birdie, so the six holes that Chugg won and the three that Hiestand won were all secured with pars.
Hiestand, incidentally, broke to the lead by holing a 22-foot par putt on the first hole. But Chugg quickly took control of the match by winning the second, third and fifth holes with pars to go 2 up. She won the 10th hole with another par to increase her lead to go 3 up.
Given her age advantage and handicap, Chugg was a likely favorite anyway, notwithstanding Hiestand's experience. Chugg, the membership director at the Utah Golf association in Salt Lake City, plays to a +2.1 handicap index at Schnieiters Riverside Golf Club.
Hiestand, who plays to a +0.2 handicap index at Hideout Golf Club in Naples.
Chugg also follows in interesting trend at the Women's Mid-Amateur, where the last four winners have been at least the minimum 25 years of age to compete, but none has been older than 28.