PGA Tour
Keith Mitchell gets off to scorching 7-birdie start, and boy did he need it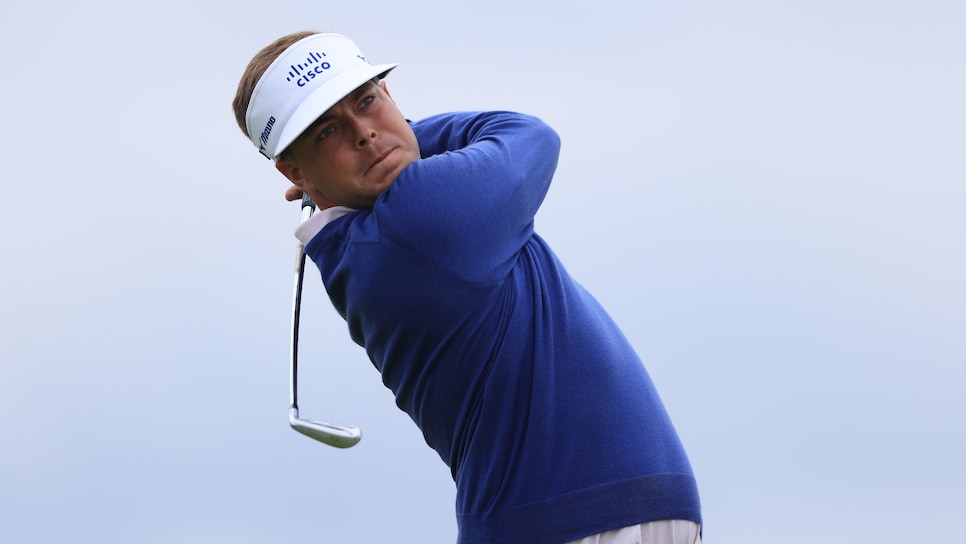 SANDWICH, ENGLAND - JULY 15: Keith Mitchell of The United States tees off on the 5th hole during Day One of The 149th Open at Royal St George's Golf Club on July 15, 2021 in Sandwich, England. (Photo by Matthew Lewis/R&A/R&A via Getty Images)
Matthew Lewis/R&A
If you've got your phone, tablet or TV handy and need a break from the Olympics, Saturday's back nine of the 3M Open is probably worth taking a look at. Yes, because Rickie Fowler is among a tight pack at the top of the leader board, looking to build on a chance to win his first tournament in more than two years.
But there's also the Keith Mitchell 59 Watch, which had some real potential, even if he did blow a great chance on his ninth hole of the day—the par-5 18th—to "only" make par to shoot seven-under 29 at TPC Twin Cities. (He then bogeyed the first as we wrote this, so the jinx is on.)
It's a perfect day for scoring in Minnesota and Mitchell was all but perfect over his first seven holes. He birdied all of them. Seven in a row. According to the PGA Tour, no one had done that to start a round since Joe Durant in the final round of the 2005 Honda Classic.
The irons and putter were on fire. The birdie distances: six feet, 31 feet, eight feet, 10 feet, nine feet, 11 feet and four feet. With a chance at No. 8, Mitchell lipped out from 24 feet. Then at 18, he powered a fairway wood right over the flag and into the light rough at the back, but managed only a so-so chip and had to settle for par.
What makes Mitchell's run crazier is that it backed up a wild effort on Friday. On the same back nine, the 29-year-old one-time tour winner shot a 35 that included two double bogeys and five birdies. Boring, he is not.
This has already been a big turnaround week for Mitchell, who'd missed five straight cuts heading into the 3M. He's 112th in the FedEx Cup standings and projected to rise 21 spots if he can keep more double bogeys at bay.