Amateurs
World's No. 1-ranked amateur lives up to his billing with share of lead at Asia-Pacific Amateur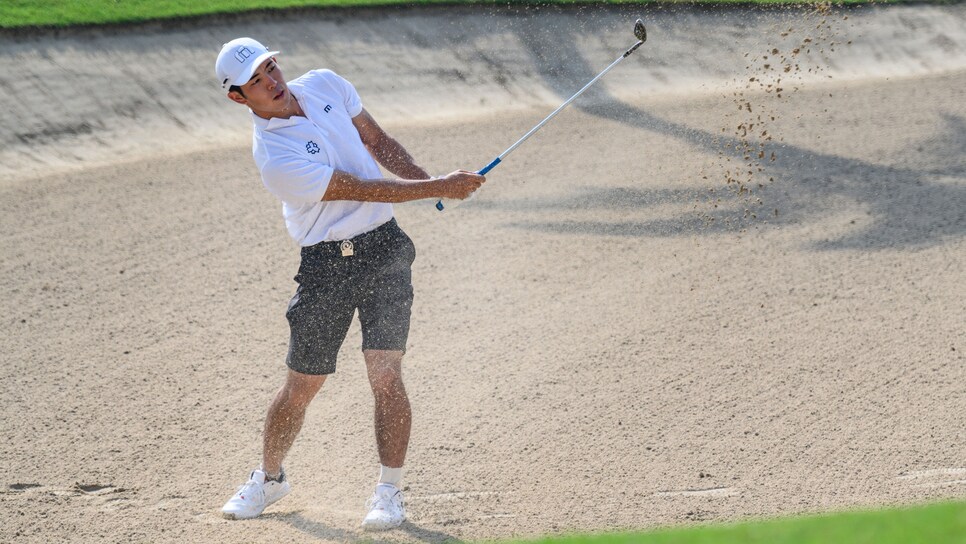 Keita Nakajima of Japan plays the ball out of a bunker during round 1 of the 2021 Asia-Pacific Amateur. The No. 1-ranked amateur in the world shot a 67 to grab a share of the early lead.
Graham Uden
DUBAI, U.A.E. — This was a good day to watch Keita Nakajima play golf. No, the world's top-ranked amateur isn't leading with one-quarter of the Asia-Pacific Amateur Championship in the record book. Not all by himself anyway. With a four-under-par 67, the 21-year-old from Japan shares that honor with six other golfers, including defending champion Yuxin Lin of China and former U.S. Mid-Amateur champion Lukas Michel from Australia. Four others got round the 7,203-yard Dubai Creek lay-out in 68 on a day when 33 players broke par.
But it is Nakajima's early presence atop the leader board that will have the rest of the field thinking he might just be the man to beat over the next three days.
Which isn't exactly news, or indeed surprising. Quite apart from the fact that no amateur on the planet is Nakajima's statistical peer—in recognition of which he will receive the Mark H. McCormack medal as 2021's top men's amateur during a ceremony on Friday—he is the only man in the 93-strong field with a professional victory on his ever-burgeoning résumé.
Less than two months ago, the Tokyo-based Nippon Sport Science University student became only the fifth amateur to win on the Japan Golf Tour when he claimed the title at the Panasonic Open. And even more recently, he finished a creditable T-28 in his PGA Tour debut at the Zozo Championship. Nakajima's level-par score for 72 holes matched the likes of Xander Schauffele, Joaquin Niemann and Charley Hoffman and was better than 44 professionals.
So Nakajima can play, as the seven birdies dotting his opening effort here signaled all too clearly. But that's not to say he was perfect. A badly pushed 3-wood tee-shot at the 407-yard par-4 second hole sailed out-of-bounds, the ball finishing almost hard by the fence separating the course from the constant traffic on the adjacent Sheikh Rashid Road. The almost inevitable double bogey soon followed. Thereafter, although he spurned promising birdie chances on each of the last two greens, Nakajima was pretty much smoothness personified as a series of putts disappeared below ground. The only lapse was a three-putt bogey on the 203-yard par-3 16th.
"My tee shot on the second came from sweat on my right hand," he said afterward. "It wasn't something that worried me though. It was too early. I thought just keep going. I did make some putts, but I am feeling bad about the misses on 16-17-18."
Nakajima also took time to play down any thoughts of this event turning into a head-to-head shoot-out with Lin, who he played beside and will do so again in Round 2 on Thursday. Not yet anyway.
"I very much enjoyed playing with him," Nakajima said. "He made good birdies, which made me follow him. It is a little too early to say he is the man I have to beat. It is more important that I am competing with him in three more days."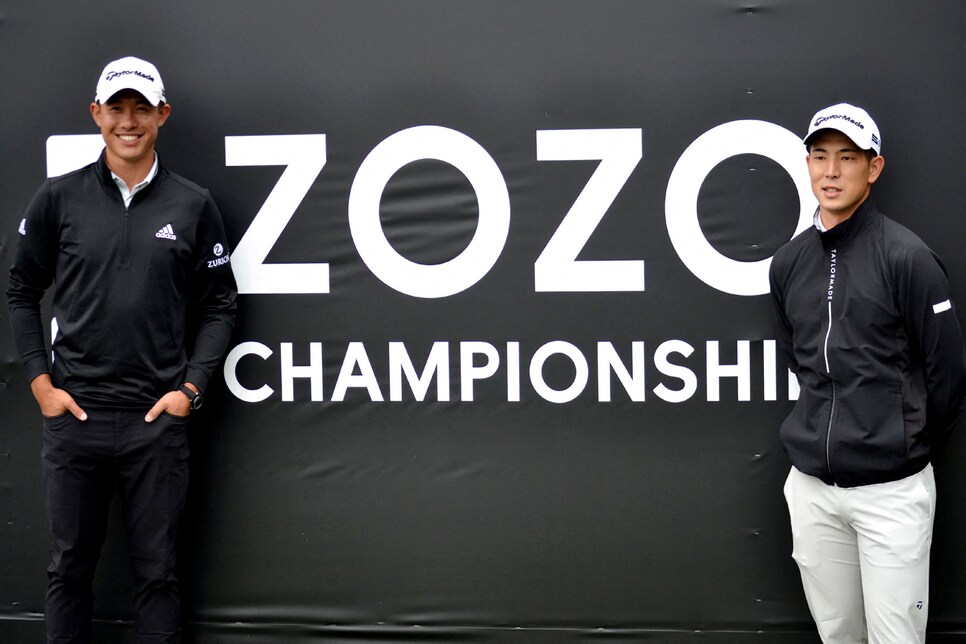 Nakajima made his first start in a PGA Tour event last month at the Zozo Championship in Japan, playing a practice round with Collin Morikawa and finishing T-28 for the week.
STR
So he was playing it cool, no easy task in temperatures that soared up to 90 degrees. Or given the fact that Nakajima has much to live up to. The third Japanese native after Hideki Matsuyama and Takumi Kanaya to be hailed the No. 1 amateur on the planet, Nakajima is desperate to follow their lead for a second time by winning this championship.
"Takumi has become a good friend and mentor to me, and we played on the National team together for some time," Nakajima says. "He once told me to 'confront yourself and keep challenging.' I really like that and will try and follow his advice."
Still, adding to an already considerable pressure is the knowledge that, should he emerge victorious here, Nakajima would go to the Masters next year hand-in-hand with Matsuyama, the defending champion at Augusta National. Given how huge that would be at home in golf-mad Japan, even the accompanying exemption into the 150th Open Championship at St. Andrews has no doubt been reduced to second place on the Nakajima priority list.
First things first though. For now, Nakajima has a seven-way tie to break and a nearby crowd to disperse.