Asia-Pacific Amateur
Asia-Pacific Am is crossroad for collegian with exciting but uncertain future as pro
Hong Kong's Leon D'Souza has several pro options he's exploring but how he fares this week in Dubai might help narrow his choices.
Power Sport Images
DUBAI, U.A.E. — Although the same is surely true at almost every professional or elite-amateur tournament across the globe, perhaps nowhere is the inherent variety of agendas within the field more apparent than at the Asia-Pacific Amateur Championship. There are 93 golfers competing this week at the Dubai Creek Golf and Yacht Club, with a range of ambitions as wide as the nearby Persian Gulf.
Some players, like 15-year-old Rizq Adam Rohizam from Malaysia and the 63-year-old Akl Rachid of Lebanon are simply here to take part. Others—the ever-present 12-time participant Vanseiha Seng being one—see success as making the halfway cut. Then there are those at the sharpest end of the proceedings, defending champion and two-time winner Yuxin Lin from China and World No. 1 Keita Nakajima from Japan. For them, anything less than victory will be at least mildly disappointing.
Somewhere in the middle of all that sits Leon D'Souza. The 23-year-old Hong Kong native—his father is from Portugal; his mother hails from the Philippines—is a senior at the University of Southern California and one of 37 members of the field here currently attending college in the United States. This will be his sixth appearance in the AAC, his best finish so far T-24 in 2018. For him, the event is something of a crossroads. Win and turning professional ("long-term, my goal is the PGA Tour") will be delayed until he takes advantage of the Masters invitation and Open Championship exemption that come with the AAC title. Anything less and he has various options to consider.
"There are so many choices when you turn pro these days," D'Souza says. "My coach is based in Europe, and I am in the process of getting a Portuguese passport, so I'm hopeful that the European Tour Q School will re-appear next fall. I could also play on the Mackenzie Tour as a way to progress in the States. Or I could go to the Sunshine circuit [in South Africa]. That's a good route onto the European Tour. I have to decide all of that in the next couple of months."
More immediately, D'Souza is in the majority when it comes to just what victory this week would mean. Calling it "the biggest reward of my amateur career," the prospect of competing at Augusta National and St. Andrews already has him fighting one of competitive golf's biggest "no-noes:" the ever-present urge to imagine the rewards of a victory not yet achieved.
"I'm trying not to think about winning," he says with a smile. "It's never a good idea to put that kind of pressure on yourself. It's such a big mountain to climb. But I've done the work. My coach, Jonathan Wallett, always tells me that I should go into every event with high ambition but low expectation. I agree with that philosophy. The more you think about winning, the more you put expectations on yourself and get ahead of yourself. It's not conducive to good results. Easier said than done, of course."
Still, D'Souza is well used to taking his time about things. All set to attend UNLV after high school in Hong Kong, that option closed when one of his academic credits failed to transfer. Two years at South Mountain Junior College in Phoenix then became his route to USC, where his game prospered amidst a string of high finishes in college events.
"My golf has improved so much technically," he says. "When I came to the U.S., I was working on very different things to what I am now. And I've seen so many different courses. It's all about experience. I've played in so many big events and can draw on those this week, for example. My development is as much mental as it is physical. Technique and physical skill can only take you so far. Mentally, I have so much more to work with, which will benefit me more in the long run. To me, that's the biggest thing I've learned from my time in America."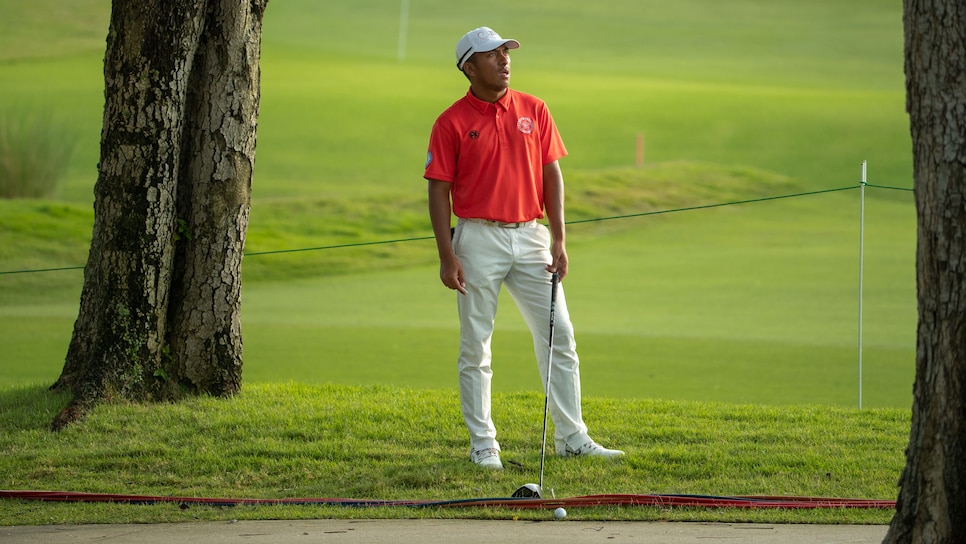 D'Souza is playing in his sixth Asia-Pacific Amateur with his best finish a T-24 in 2018.
Moon Liu
A further boost to D'Souza's morale came recently when an old college adversary, Sahith Theegala out of Pepperdine, gained his PGA Tour card through the Korn Ferry Tour finals. As is so often the case, the thought, "well, if he can do that, why not me?" entered the economics major's mind.
"I played a bunch of events against Sahith," D'Souza says. "We had a really good contest at the Southwestern tournament. It was intense and taught me a lot. To see where he is now shows me that I have what it takes. It certainly gave me a boost to see him get his card. Again, that is mental. As my coach always tells me, it's all about progressing one percent each day. And seeing Sahith do so well has certainly helped my confidence and belief."
What all of the above translates into over the next four days remains to be seen, but D'Souza is already savoring the experience. He recognizes the wider benefits the AAC brings to golf in the vast Asia-Pacific region.
"This is an unbelievable event, one that helps so many players at so many levels," he says. "It is always played on a great course. And outside of the event, what Augusta National and the R&A are doing to grow golf in Asia is amazing. The game is expanding in places where it was almost unheard of, say, a decade ago. Which is hugely important.
"I love to look around at this event and see guys who will only ever play in amateur events. For them, this must be such a special tournament, one that might just change their lives. This is one of the best weeks in amateur golf anywhere. For me, too, this is an important time. I'm basically transitioning between amateur and pro golf. But it might just turn out to be the best week of my life so far."