PGA Tour
Keegan Bradley feels right at home in the downpour, leads Wells Fargo with Brookline in sight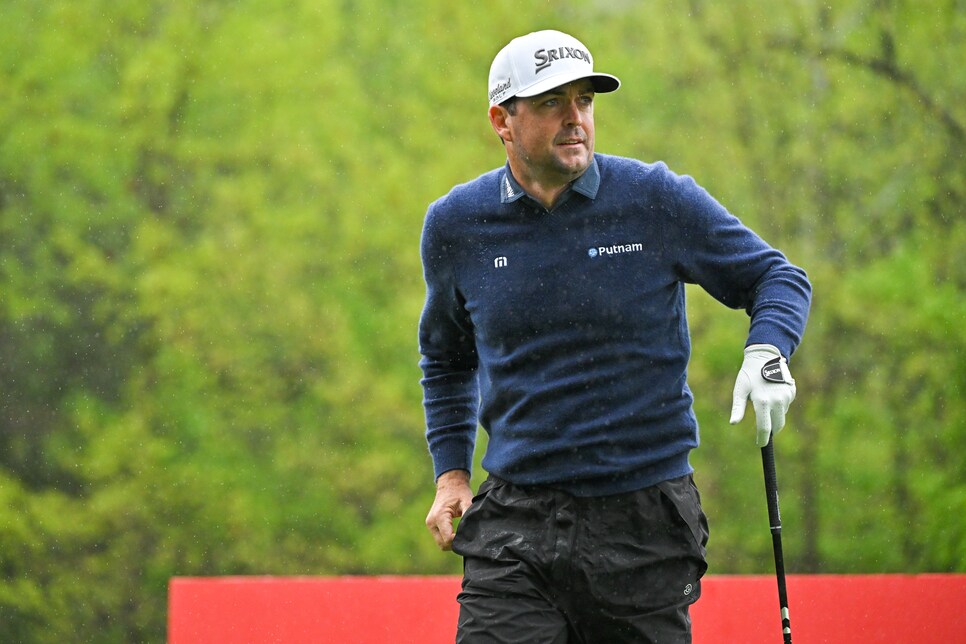 Keegan Bradley watches his drive on the 11th tee box during the third round of the Wells Fargo Championship.


Ben Jared
They were out there because they are paid to be. There was no other justification for playing golf on Saturday outside Washington, D.C., at TPC Potomac, which was pounded with a ceaseless downpour for the second consecutive day—only this time, the rain brought the cold and the wind with it. The vast majority of fans opted against ruining a perfectly good pair of shoes, resulting in such quiet that James Hahn was distracted by a man eating a potato chip. This wasn't about enjoying yourself—just ask 36-hole leader Jason Day, who shot nine over—it was about stringing together pars and racing to a hot shower.
"I hate being out there while [the weather's] there," said Matt Fitzpatrick, whose one-over 71 saw him climb the leader board considerably. "But you see everyone else and they hate it a little bit more."
The man who hated it least lives in South Florida, as so many do, but learned the game on these types of mid-40s, gray-as-hell, why-are-we-out-here afternoons in his native Vermont.
"It felt like a Patriots playoff game out there, in December," Keegan Bradley said after a three-under 67, the best round of the day and the catalyst for the two-shot lead over Max Homa he'll carry into Sunday's final round of the Wells Fargo Championship. "I mean, it's been a long time since I've lived here, but I played in a lot worse than this. I know how to play in it, I know the routine of bad weather.
"When the conditions get like this, I find a sense of calm just because I'm sort of worried about other things, keeping my clubs dry and my bag dry."
Bradley did both those things during a nearly six-hour round—the cruel irony of professional golf in terrible weather is that you want to finish as fast as possible, but play slows to a grinding halt—and played his final 11 holes in five under par, a remarkable finishing flourish on a day when the scoring average was more than 3.5 shots over par, the highest single round total since the final round of the 2020 U.S. Open at Winged Foot. The famously fidgety 35-year-old now finds himself in excellent position to pick up his first win in nearly four years on Sunday, when the cold is expected to persist but the rain is not.
The 2011 PGA Championship winner and two-time Ryder Cupper has regressed from that level in recent years, his putting proving an Achilles heel after he was no longer able to anchor his belly putter beginning in 2017. But his ball-striking has remained world-class, and he's quietly put together a rather strong first half of 2022. He teared up after a top-five at the Players Championship—his fire burns hot, and he desperately wants a fifth PGA Tour title—another event plagued by rain, rain and more rain. He posted another top-10 in his last individual start, at the Valero Texas Open but did not qualify for the Masters. While he's exempt into the upcoming PGA Championship at Southern Hills, Bradley is not currently in the field at the U.S. Open at The Country Club in Brookline, Mass., outside his beloved Boston. Bradley is currently ranked No. 64, with the top 60 players in the world on May 23 getting into the year's third major. A victory would surely do the trick.
"I'm trying not to think about it, but you reminded me," he said of the Brookline. "It's on my mind. I know what's at stake. A lot of good things can come with a good round tomorrow."
Homa enters Sunday two back after a 71 that must've felt even better after watching his playing competitors struggle so mightily—Day posted 79, and the third member of the group, Luke List, could only manage a 74. Anirban Lahiri and James Hahn are four back, with Fitzpatrick rounding out the top five.
There were 24 rounds of five over or worse in total on Saturday, and anything under par sent one skyrocketing up the leader board. Defending champion Rory McIlroy needed to make a nervy seven-foot par putt just to make the cut on Friday afternoon, but a two-under 68 on Saturday took him all the way to the outskirts of contention at T-6, six shots behind.
"Six shots is still six shots," McIlroy said of overcoming his deficit. "It depends what the weather's like tomorrow. I'd like it to be pretty tough. I know it's probably not going to be as wet. It's going to be quite cold. I don't know what the wind's going to be like. I can't imagine tomorrow being any tougher than today was."