News
Keegan Bradley tops Justin Rose on first playoff hole in BMW Championship, his first win in six years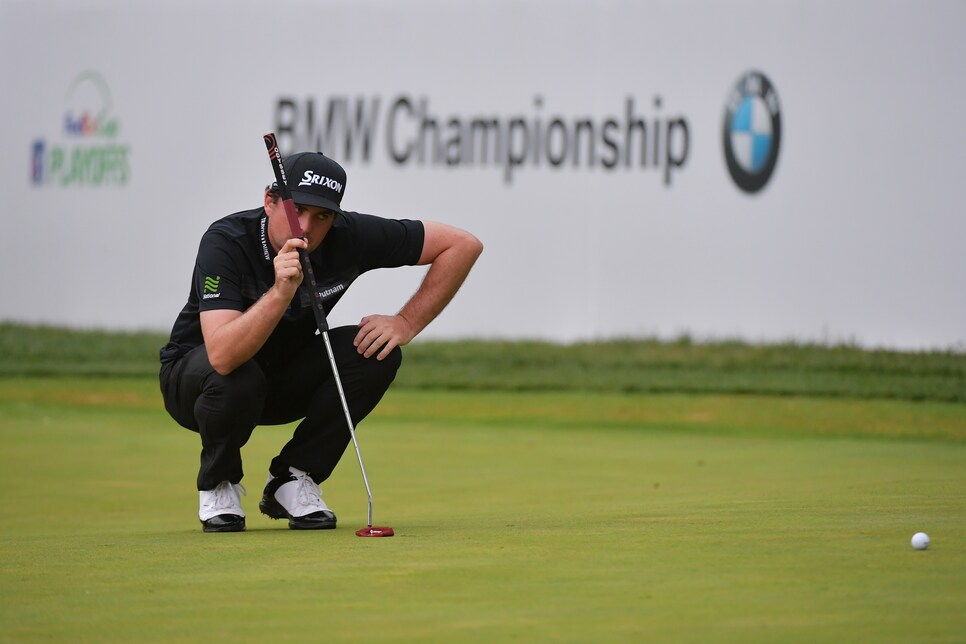 It hasn't been a famine economically, but Keegan Bradley has been chasing more than money in recent years, playing also to rejoin the game's elite. He took a major stride toward that goal at Aronimink Golf Club on Monday.
Bradley, 32, won the BMW Championship with a par on the first playoff hole with Justin Rose. It was his first victory since 2012, when he finished the year No. 13 in the World Ranking, marginally off a career-best 10th in the world.
"It's so hard [winning]," an emotional Bradley said. "This is just incredible. This has been a hard road back. I just can't believe it. It's so great."
Bradley was tied for the lead with Rose and Billy Horschel when he separated himself from them with a two-putt birdie from 53 feet at the par-5 16th hole and a 10-footer for birdie at 17. But he made a mess of the 18th, when he hooked his drive, hit his second into the bleachers, took a free drop, hit a poor chip and missed his par putt.
Rose, playing behind him, also birdied the 16th and 17th holes and could have won with a par at 18. But he, too, botched it by missing the green short, hitting a poor pitch shot and lipping out a 16-footer for par.
On the playoff hole, the par-4 18th, both players missed the green behind the hole, Rose doing so with a charitable bounce off the bleachers. Bradley's birdie effort with the putter stopped a foot away from the hole, while Rose left his birdie effort, also with a putter, five feet short, then powered his par putt past the hole. Bradley won with a tap-in par.
The victory enabled Bradley, who closed with a six-under 64, to move from 52nd to sixth in FedEx Cup points to earn his first start in the Tour Championship since 2014.
The consolation for Rose, who shot 67, is that by finishing alone in second he overtook Dustin Johnson for No. 1 in the World Ranking.
"That's an amazing achievement, and something I'm extraordinary proud of," Rose said. "Obviously I'd love to have gotten there by winning. That's what I've been saying for awhile. A poor playoff, oh my God. Under read the putt a little bit. It is what it is."
Tiger Woods, meanwhile, made an early move on the leaders, got to within one of the lead, but ultimately came up two strokes short. He closed with a five-under-par 65 and tied for sixth.
"Got off to a quick start, didn't do anything in the second round and kind of hung in there until Monday," Woods said. "I've played a few tournaments where I've come close at the end, but didn't get the W, but at the end of the season to say that I made it back to the Tour Championship after what I've been through is a pretty good accomplishment."
Jordan Spieth tied for 55th and failed to qualify for the Tour Championship for the first time in his young career.
"I was in control of my own destiny and didn't have it this week," he said following a round of three-over-par 73. "Riding some momentum but all in all, just game kind of got a little off."