Takeaways
Keegan Bradley's resurgence, Rory McIlroy's hiccup, Adam Scott's Atlanta quest while Bubble Boys fall flat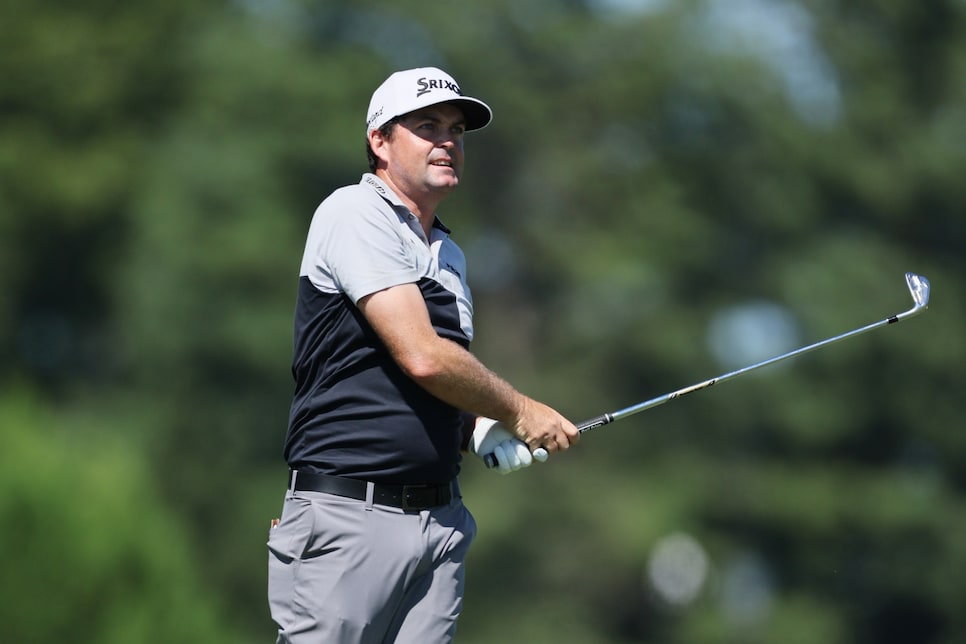 There was nothing to suggest Keegan Bradley would be leading the BMW Championship after the first round. Despite a successful season in which he's garnered more than $3.5 million in earnings, the 2011 PGA champion had been limping to the finish line like a marathon runner out of gas. Three missed cuts and a T-44 in his last four events left him in need of a big week to get to East Lake G.C. and the Tour Championship.
Thursday provided a good start. A seven-under-par 64 (his sixth straight opening round in the 60s at the BMW) was fueled by a front-nine 29 that saw Bradley roll in a 13-footer for birdie at the first and proceed to keep pouring them in. Seven more birdies (he made one bogey) followed, including bombs from 31 feet at the sixth and 39 feet at the ninth. Bradley, who came into the week 90th in strokes gained/putting, paced the field in that stat, picking up nearly four shots on the field. Not bad for a guy that was supposed to be a victim of the ban on anchoring. But when you make a season-high 149 feet of putts, well, there you go.
Bradley didn't rely solely on flat stick wizardry, though. Looking more like the player that has six top-10 finishes on the year including a fifth at the Players and a T-7 at the U.S. Open, Bradley hit 10 of 14 fairways and 15 of 18 greens, making for a relatively stress-free round on a day when he should have been feeling some heat to play well.
As is his way, though, Bradley preferred to stay focused on the present rather than looking ahead.
"I made a nice putt on the first hole and just kept it going," said Bradley, who's last win was the 2018 BMW. "I never look to see what I have to do, because whether I play in this tournament or Sony or any tournament, I always want to do the best I can, whether it's 35th instead of 36th or first, whatever it is. I never feel like [looking ahead] helps me, I feel like it hurts me, actually."
For one day, at least, that strategy worked. Come Sunday, that might not be so easy for a guy needing to move up 14 spots to play next week in Atlanta.
McIlroy continues early BMW horsepower despite hiccup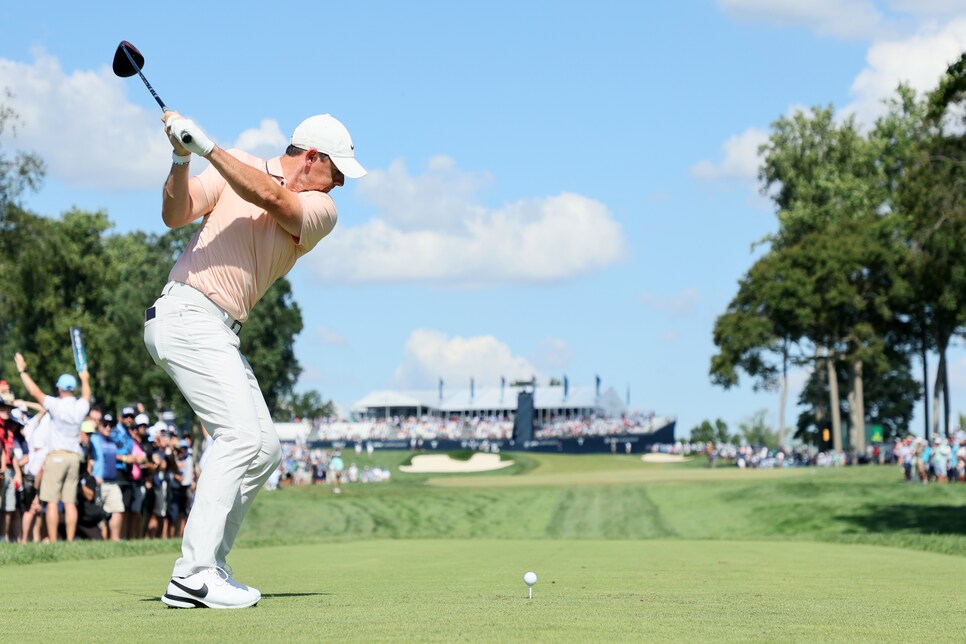 We'd haul out the old saw about there being "horses for courses" as it relates to Rory McIlroy and his penchant for getting off to fast starts at the BMW Championship, but the tournament has moved around so many dang times since McIlroy first played it in 2010 that we'd just look silly.
Instead, whether it's Cog Hill, Crooked Stick (where he won in 2012), Conway Farms, Cherry Hills, Aronimink, well, you get the idea. When it comes to this event, McIlroy acts as if he's America's Guest, playing each venue as if he's on a first-name basis with each blade of grass. In 11 prior first rounds at the BMW McIlroy's stroke average was 68.91. Take out two duds in 2010 and 2013 and it lowers to a gaudy 67.11.
That trend line continued Thursday at Wilmington C.C. where McIlroy shot a three-under 68 despite one major hiccup. As usual, the driver was a weapon. Despite a little wildness off the tee, McIlroy hit seven tee shots more than 330 yards, including two bombs in excess of 380. Although the course is a first-time PGA Tour venue, McIlroy got a few extra looks at the setup prior to Thursday and liked what he saw of the sprawling, but fairly open, layout.
After missing the cut in the first FedEx event in Memphis, McIlroy opted to head to Delaware rather than join his family who were in upstate New York. "I got here Friday night after the missed cut, and I've been here, so I've been on the course every day since Saturday," he said. "But it's been good. It's nice to get back out and prepare and get to know a new golf course, get a little bit of a head start on everyone else."
Although McIlroy will take the score, it could have been even better. A towering 3-wood from 266 yards on the par-5 third stopped eight feet from the hole but the eagle putt didn't fall. At the short par-4 11th he wasted a mammoth 365-yard tee shot by looking like a weekend schlub and dumping the approach in the front bunker (he did not look like a weekend schlub in getting up and down from said bunker). Then there was the dunked tee shot (after a bit of a wait and a in between club choice) into the water on the par-3 15th that wrecked a clean card, leading to a disastrous triple bogey.
"Yeah, just that one tee shot on 15," McIlroy said after the round. "I felt like I had probably half a club too much, so I was trying to hit like a cut in there over the water, and I just double-crossed it and then compounded that by the three-putt. … [I was between a] 5- and 6-iron. I tried to hit like a high, soft, cut 5 and just double-crossed it. … I've just got to reset tonight and forget about that swing on 15 and go again tomorrow."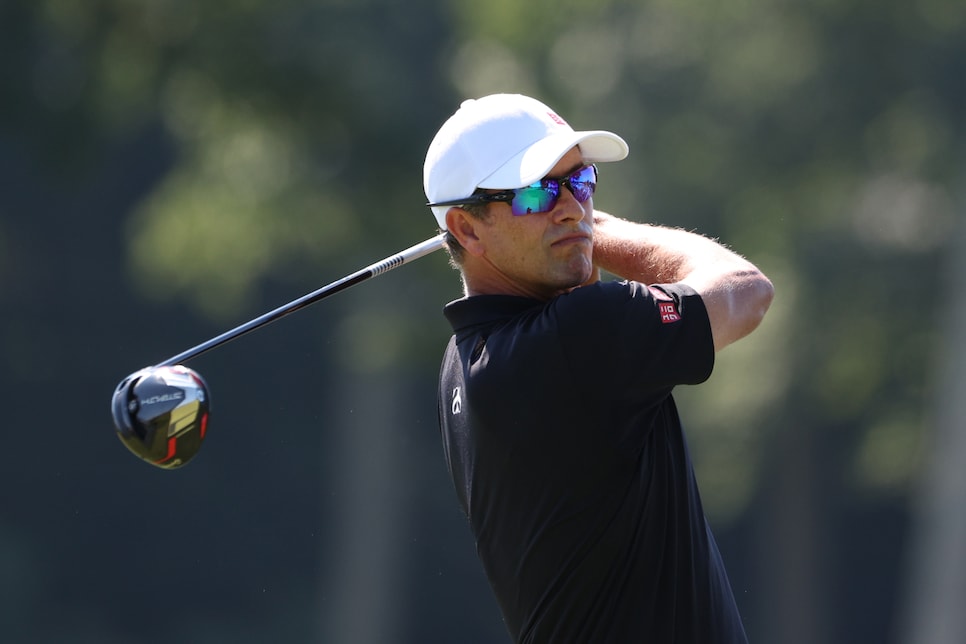 If Adam Scott is off to LIV Golf as has been rumored, he doesn't seem to be in any hurry to get there. Standing 80th in the FedEx Cup standings starting last week, a T-5 jumped him to 45th and into the field for the BMW Championship. Now, after a first-round 66, it appears as if the Aussie might hang around another week if he can continue his good play.
History says Scott should probably book a ticket to Atlanta. One of only two players (Matt Kuchar is the other) to qualify for all 16 FedEx Cup Playoffs, Scott has made the Tour Championship eight times in the FedEx Cup era. And if he makes the 30-player field, the 42-year-old Scott doesn't plan on just enjoying being there.
"One of the beauties of the playoffs is that there is enough volatility that you can have a couple good weeks and get yourself right in the mix," Scott said. "No matter where, if I was at East Lake starting 10 back or five back or six back, I'd be there thinking I've got a chance to win the whole lot."
Certainly it's a lot easier to think that way coming off a round where Scott hit 15 greens despite only finding the fairway 28.57 percent of the time (four of 14). A hot putter, however, made up for any stray shots as Scott picked up 3.657 strokes on the field on the greens.
Playing with Keegan Bradley, who shot a seven-under 64, Scott did not deny the pairing had a positive effect on his play.
"I think I was drafting off him," he said. "He shot six under on the front and was running. Sometimes it's good to see that and you can draft off each other, but also just to know that it's really out there. When you get off to a slower start sometimes, you can make the course harder than it really is, and Keegan made it look easy today, so I tried to take advantage of that, as well."
Enough to get to East Lake? "I think that's a fun thing to think about," said Scott, who won there in 2006, the year before the playoffs began. "But in three more days."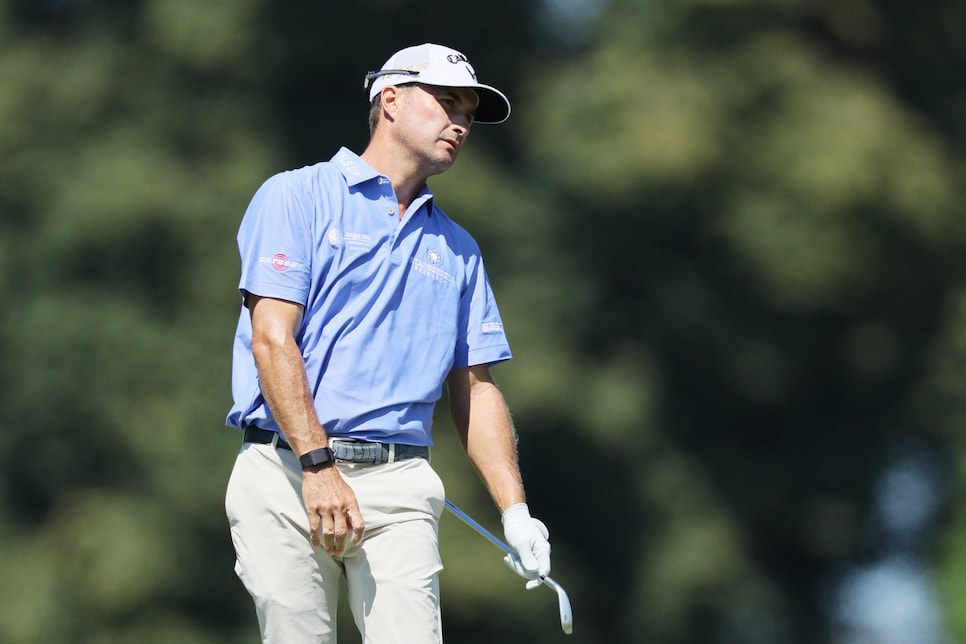 With four players outside the top 30 projected inside it after the first round of the BMW Championship, it was critical for the "bubble boys" to be on top of their respective games to maintain their position.
Um, yeah. That didn't really happen.
In the projected rankings, Davis Riley dropped from 26 to 37 after a 77 (only two scores were higher). Sahith Theegala went from 27 to 38. Kevin Kisner's 71 left him at 39th after starting at 28. Corey Conners needed two birdies on the back nine to only drop a spot from 29 to 30. The man on the bubble, J.J. Spaun rallied with four birdies over his last eight holes to only drop to 31. Aaron Wise fell from 31 to 36 and Maverick McNealy went from 32 to 40th.
Since the points structure changed in 2009, no fewer than two players and no more than four have moved from outside the top 30 to advance to the Tour Championship from the BMW. However, with four players projected to move into the top 30, including three currently in the top 10 on the leaderboard, this group clearly has some work to do.