The Loop
Justin Timberlake is getting NO respect on the golf course from oddsmakers this week
You can bet on anything these days. Well, if you live in the UK, that is.
And that extends to this week's American Century Celebrity Golf Championship in Tahoe. Sports book William Hill has released betting lines for the tournament -- and they're rather entertaining.
Defending champ Mark Mulder is the favorite at 4-to-1 odds. The former Oakland A's ace shot a final-round 67 last year to earn 30 points in the modified stableford event and hold off another ex-MLB pitcher, Eric Gagne.
Gagne is listed second at 5/1 followed by reigning two-time NBA MVP Stephen Curry and former Super Bowl MVP Mark Rypien at 6/1. Retired tennis player Mardy Fish, who finished fourth last year, is 7/1 and then there's a big drop-off to nine-time NHL All-Star Jeremy Roenick and actor Jack Wagner at 15/1. If there's a line for golfer brave enough to try to tackle an alligator, though, Roenick would be an overwhelming favorite.
The field is an impressive group of celebrities, but one in particular, Justin Timberlake, seems to be getting no respect. The multi-talented superstar is listed at 200/1. 200/1? Do they not know that Timberlake broke 100 at both the 2008 and 2009 Golf Digest U.S. Open Challenge?! Those are the same odds given to Alfonso Ribeiro for crying out loud. (Side note: If they play together, it's a LOCK that the two will do "the Carlton" dance.)
Here's a look at the full list of names: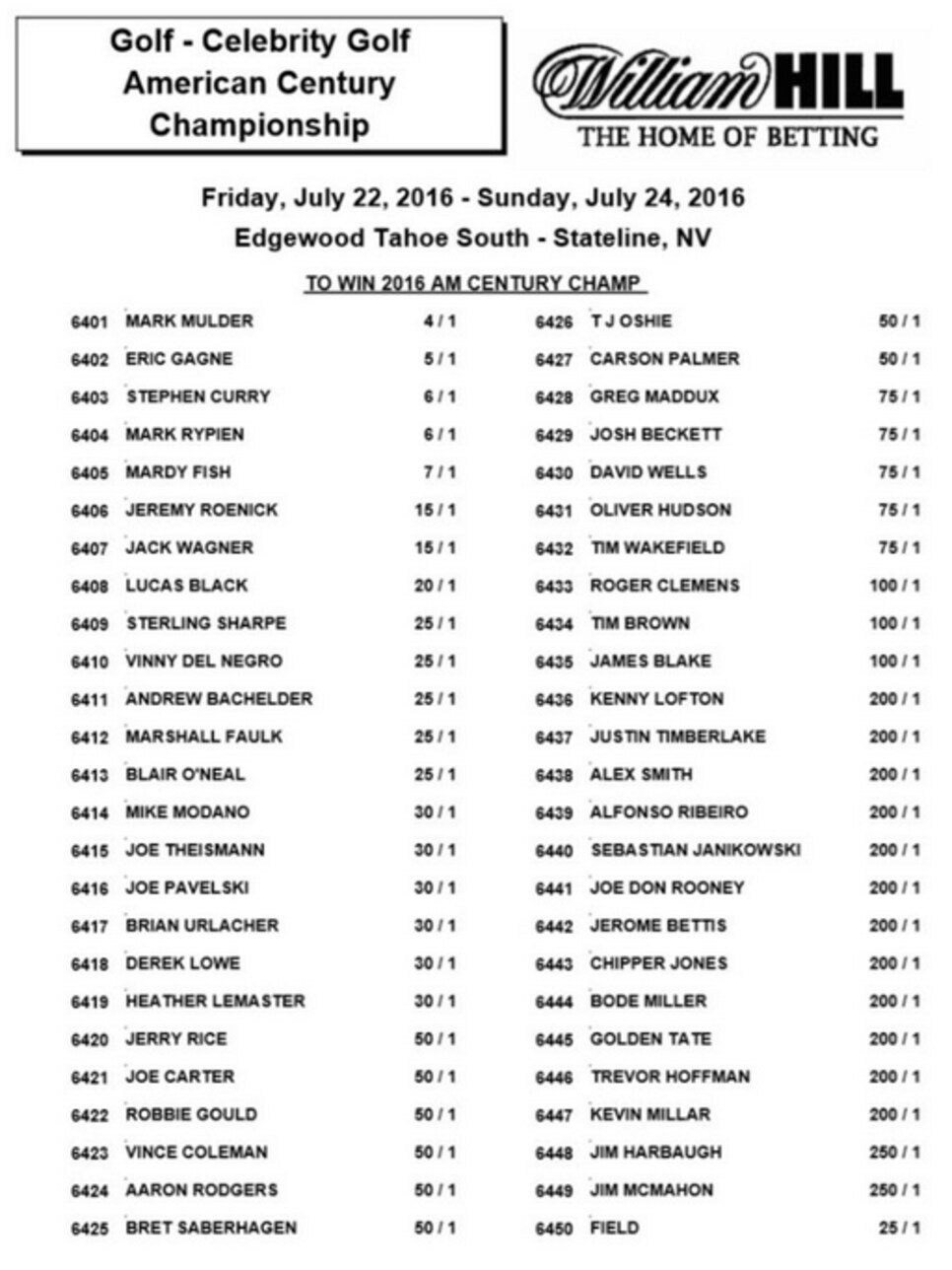 As you can see, Jim Harbaugh and Jim McMahon have the worst odds at 250/1. The helpless Charles Barkley doesn't even get his own line, but rather is lumped in with the rest of the competitors not listed as "the field" at 25/1.
Our money will not be on the field.