News
Justin Thomas, Xander Schauffele and the real secret to how anyone can keep up with the big boys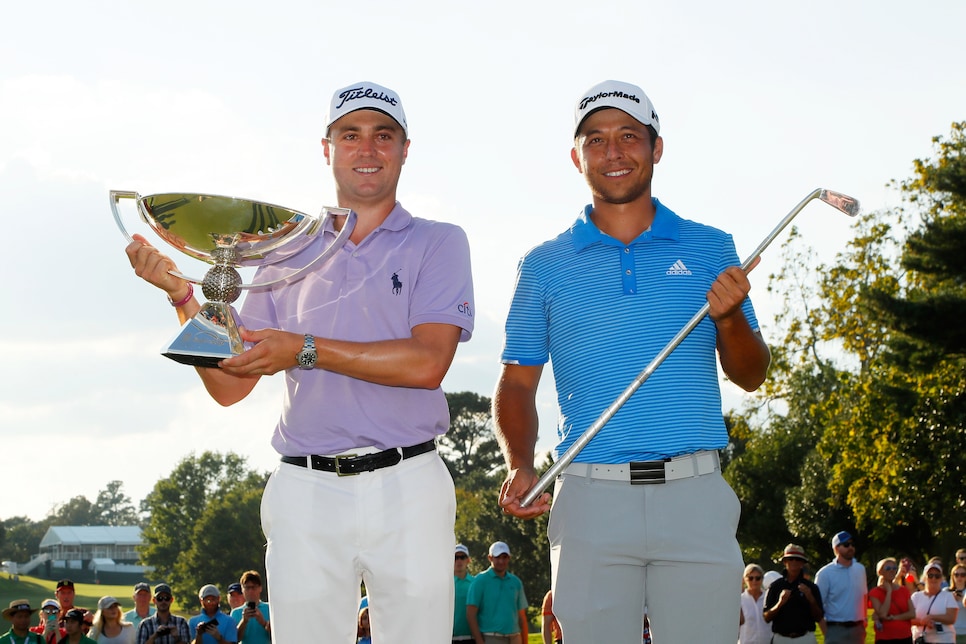 Photo By: Kevin C. Cox/Getty Images
Looks can be deceiving in golf. Within one day of each other last week, two players standing no bigger than 5-foot-10 and weighing no more than 170 pounds were announced as PGA Tour Rookie of the Year (Xander Schauffele) and PGA Tour Player of the Year (Justin Thomas).
While confined to their average-size body types, what Schauffele and Thomas have in common to make up for it is incredible clubhead speed of 117-118 miles per hour. Neither will be confused for 6-foot-4, 220-pound Ryan Brehm, whose average club head speed of 128.18 mph led the PGA Tour, and 6-foot-4, 190-pound Dustin Johnson, who hit a 341-yard drive to set up a FedEx Cup playoff win over Jordan Spieth. But Schauffele, 23, and Thomas, 24, have the distance that puts them in the same category as DJ, muscular U.S. Open champion Brooks Koepka or the original trendsetter in sports training coming to golf, Tiger Woods.
"Both of us aren't very big," Schauffele admitted during a conversation we had last week. "As everybody manages to say on TV, 'Yeah, he hits it pretty far for a little guy.' Well thanks. I don't feel like a little guy, but I guess I am relative to Dustin and Tiger."
Another commonality of Thomas and Schauffele is both learned under fathers who encouraged their boys to hit the ball as far as they could. Stefan Schauffele was an aspiring decathlete in Germany that taught Xander how to swing a golf club with the same principles he learned to throw the javelin. "Speed comes from the separation of levers one and two, the hip versus the shoulder," he explained over the weekend. "That's what we're doing and it seems to work."
Stefan pointed out that using his biomechanics, smaller players actually have a better chance at repeating the sequencing he's adapted from throwing sports in track and field into golf. He pointed out that 5-foot-8 Rory McIlroy was the longest player on the PGA Tour in the 2016-'17 season and not coincidentally is also one of shortest in height. "Rory's longer than all the big guys," he says, "because he has tremendous separation of levers."

Thomas's father, Mike, was a PGA professional in Kentucky who taught his son the conventional fundamentals. "I really never worked on increasing his speed," said Mike Thomas. "I think most of it came from he was always so small and short he swung hard to make up for it. If you see some video of his swings at 7 or 8 years old, he's wailing away at it. Once he got bigger and stronger, he didn't stop swinging hard at it. I never tell a student to slow down. Speed doesn't harm [a golf swing] as much as what they are doing while at that speed. The rest was a lot of natural ability, flexibility and good fast-twitch muscles. It wasn't hereditary, I can tell you that. I have never hit it anywhere."
Justin, who finished eighth in driving distance at 309.7 yards, told me he preferred sitting on the couch over going to the gym until realizing the upside of fitness at the University of Alabama and later on tour. He added 15 pounds before the start of the 2016-'17 season, and believes that going up to 160 pounds helped him finish strong in the PGA Championship and FedEx Cup, overcome the nagging injuries of a long season and avoiding jet lag while traveling (which both he and Schauffele will aim to hope to do after flying this weekend to Malaysia for the upcoming CIMB Classic).
"I don't think there's a certain age you would say you have to get started," Thomas said. "But it is a big deal and I think kids are starting to figure out as they grow up."
Schauffele ranked 16th at 306.8 per drive, a little over a yard shorter than J.B. Holmes (the driving distance leader in 2011) and 6-foot-2 Gary Woodland, and less than a yard ahead of Jason Day, Jon Rahm and, remarkably enough, Bubba Watson.
"Nobody had Trackman when we were 15 years old," Schauffele pointed out. "In terms of hitting it far, I've always hit it further than anyone else in my age group." When he was 16, Schauffele was 5-8, 150 and flew it 290-295 yards. He's now 5-10, 170 and consumed more by his short game than distance. He feels that's what separates him from the consistency shown by his contemporaries, like Thomas, who have a more complete game.
"I still need to learn how to chip and pitch properly to hang with the big boys," he told me while packing for his trip to Kuala Lampur. "That's what I'm worried about right now."
But all in good time. At least that's something Schauffele knows he can grow into.