PGA Tour
Justin Thomas' reaction to a near chip-in birdie on what could be his final hole of the season says it all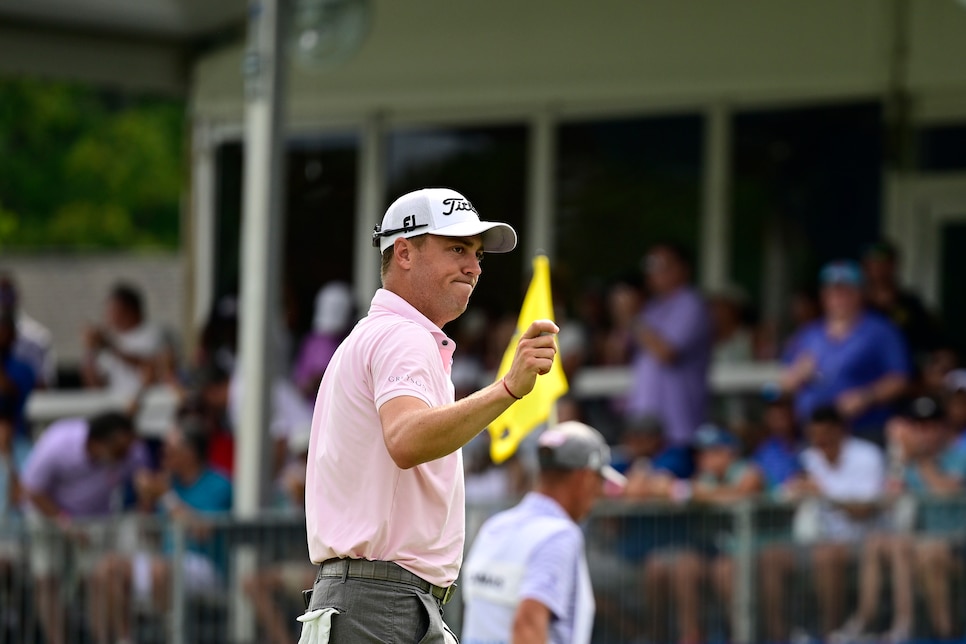 If the Wyndham Championship winds up being Justin Thomas' final tournament of the 2022-'23 PGA Tour season, the man quite literally went down swinging.
Beginning the day at nine under and nine off the lead, Thomas needed something solid if not special to make the jump inside the ever-important top 70 of the FedEx Cup standings. After playing his first 14 holes in just one-under par at Sedgefield Country Club, it was beginning to feel like it just wasn't meant to be for the two-time PGA champion.
At the par-5 15th, however, JT dialed up some vintage JT magic, finding the green in two and trickling in a must-have eagle putt from 15 feet to climb to 12 under. When that dropped, Thomas was suddenly projected right at No. 70 in the standings. "Hello Memphis!" CBS' Jim Nantz proclaimed, referring to next week's FedEx St. Jude Championship, the first leg of the FedEx Cup Playoffs.
Unfortunately, Nantz's proclamation promptly proved that the announcer jinx is very real. Thomas bogeyed the next hole, the par-3 16th, putting his playoff status very much in doubt.
Needing a birdie on one of the final two holes, Thomas made par at 17 and then pulled his tee shot into the woods at the 507-yard par-4 18th hole. He proceeded to play a monstrous snap hook out of the pine straw that left him with an uphill, 34-yard pitch shot to a back left pin. Thomas hit a 9.9 out of 10 shot that was halfway in the hole but somehow didn't drop. Thomas' reaction to what could be his final hole of the season said it all:
Oddly enough, Thomas' caddie, Jim "Bones" Mackay, used to pull the pin all the time in similar situations for his old boss, Phil Mickelson. Who knows what could have happened had JT had him do the same here. What a brutal, brutal break, as you can see by Thomas' devastating, knee-buckling reaction.
"I'm kind of sore, I don't know if it was from my second shot or from falling on the ground," Thomas told CBS' Amanda Renner afterward. "The mistake was off the tee, I needed to make sure I missed that in the right rough to at least be able to kind of get it up the green. But that's where I put myself and I had to deal with it, and I felt like being in the pinestraw was an advantage where I could turn it. And putting it there short of the green, when I walked off 17, I looked up at the scoreboard and I was projected 70th. So, in my head, I thought if I get this up and down, hopefully we're good, but I knew if I made a birdie I'd definitely be good.
"I just wanted to give it a chance, and I feel like I gave it a pretty good chance," he added. "I hope it all works out, because that's going to haunt me a little bit if not."
For now, Thomas has to do that thing you should never do as a tour pro - hope for some misfortune down the stretch from his competitors. Per the PGA Tour's Kevin Prise, Thomas needs a four-way tie for ninth or a two-way tie for 10th in order to move from 71st to 70th in the standings, which would knock out Ben Griffin. The tournament is currently in a weather delay, but when play resumes there will be three players left at 12 under, which is currently T-6th. Those players are Adam Svensson, who has 17 feet for birdie at the 17th, Michael Kim, who is on the 16th tee, and Stephan Jaeger, who has 13 feet for birdie at the 15th. There are also two players at 11 under, Brendon Todd and J.T. Poston, who could leapfrog Thomas with a late birdie or two. He's essentially in "needs a miracle" territory.
"It's completely out of my control," Thomas said. "Unless I want to get into a disguise and go mess those guys up, which I don't think is great karma for me.
"I did everything I could, I fought as hard as I could. I played as well as I could today and this week and I gave myself a chance, which is pretty good coming into the beginning of the week. I want to keep playing because I'm really starting to play well and I'm excited about playing golf, so I don't want the season to be over."
Sadly for JT, it's looking like it might be, which would mark the first time in his career he did not make it to the playoffs (eight seasons). That said, his late-round heroics, career resume and sparkling Ryder and Presidents Cup history might still be enough to earn a captain's pick from U.S. team captain Zach Johnson for the biennial event in Italy next month.