Drive for show and putt for dough. For Bryson DeChambeau, that was the simple formula he used to shoot a stunning 12-under 58 during a come-from-behind victory Sunday at LIV Golf Greenbrier. That motto, and his first LIV victory, are what the analytical Californian hopes propel him to a Ryder Cup captain's pick later this month.
DeChambeau arrived at The Greenbrier Resort's Old White Course, a former host of a PGA Tour event, wielding a Krank Golf Formula Fire LD driver. In previous seasons since turning pro in 2016, he had used a Cobra drivers, then this year had put a TaylorMade's Stealth 2 in his bag. Krank, though, has been the driver of choice for a long list of World Long Drive Champions and caught DeChambeau's eye having competed himself in long drive contests. On Sunday, the 29-year-old used it to chase down 36-hole leaders Matt Wolff and David Puig.
The 2020 U.S. Open champion started one shot behind the leaders but rattled off six birdies in his first seven holes. A bogey at the par-3 eighth prompted most to call off the #59Watch, let alone 58. But the former eight-time PGA Tour winner lit up the back nine with seven birdies in last 10 holes, including four consecutive coming home, for a 12-under 58. At 23 under, DeChambeau beat Chile's Mito Pereira by six shots. Richard Bland was third at 16 under. Torque GC won the teams component at 49 under, while DeChambeau's Crushers were second at the all-South African Stinger GC was third.
The show was nearly over and the dough—$4 million for the individual LIV title and another $375,000 for DeChambeau's quarter of his Crushers' team's $1.5 million payout—was secured. The birdie putt on the Old White course's par-3 18th was just for the record books. DeChambeau drained a 40-footer for birdie that climbed over a ridge and snaked into the hole for what was just the seventh 58 recorded on a major professional tour. (The previous six are listed below).
As light rain fell (LIV's shotgun start was moved up four hours in anticipation of bad weather), let out a primal scream and celebrated not unlike fellow LIV player Phil Mickelson in his 2004 Masters win: with a double-fisted jump. An elated DeChambeau, who shot a nine-under 61 the previous day, paid tribute to his LIV franchise, of which he is the captain. "My team, the Crushers, baby … Charles [Howell III], 'Ban' [Anirban Lahiri] and Paul [Casey] … everyone … they mean the world to me. That I'm able to share this moment with them is a lot better [than an individual win]."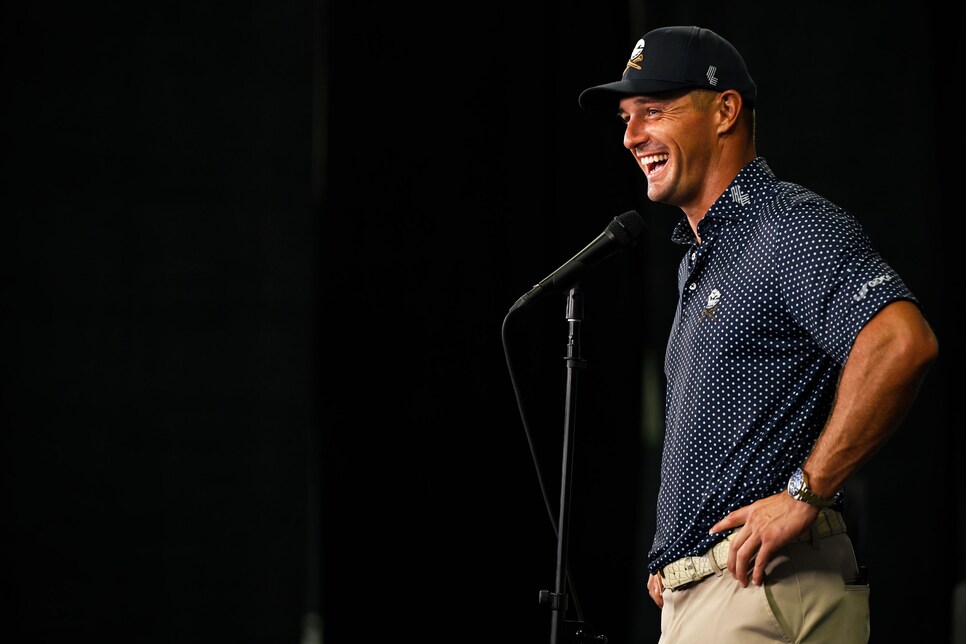 The former World No. 4 then got emotional when asked about his father, Jon, who died last fall at age 63.
"Don't do that," DeChambeau said to a greenside reporter, holding back tears. "He was with me out there all day today. It's been almost a year and it's been a really, really difficult couple of years. But doing it this way and finishing out with a 58 … it's all glory to God and glory to him upstairs. I can't thank my dad [enough] for all he taught me and my mom for all she taught, and me my brother, everybody. It's just amazing what I was able to do. It could not have done it without them."
DeChambeau's first LIV win was not unlike his last victory worldwide, the 2021 Arnold Palmer Invitational. That was when he famously tried to drive over a lake and close to the green at Bay Hill's par-5 sixth. Just like 2021, he hopes this victory also propels him to a Ryder Cup spot. At the 2021 Cup, DeChambeau went 2–0–1 at Whistling Straits and won his Sunday singles match against Sergio García.
U.S. captain Zach Johnson will announce his six captain's picks after the Tour Championship concludes Aug. 27. While fellow LIV star Brooks Koepka will likely qualify on points due to winning the PGA Championship in May and finishing tied second at the Masters in April, DeChambeau will need a captain's pick.
"I'm playing really well; I've got some equipment that's performing quite nicely with the driver and that's a deadly combination with my putting," DeChambeau said Sunday, making his case for a pick. "You couldn't have written it up better than this. If I if I do get a call [from Johnson], that'd be awesome. But if not, I'll be rooting for them on over and Rome."
As is always with DeChambeau, it was some show. Whether Johnson was watching, only time will tell.
GOLFERS TO HAVE SHOT 58 ON A PROFESSIONAL TOUR
Jason Bohn, Canadian Tour, 2001 Bayer Championship
Ryo Ishikawa, Japan Tour, 2010 The Crowns
Stephan Jaeger, Web.com Tour, 2016 Ellie Mae Classic
Jim Furyk, PGA Tour, 2016 Travelers Championship
Kim Seong-Hyeon, Japan Tour, 2021 Golf Partner Pro-Am Tournament
Alejandro Del Rey, European Challenge Tour, 2021 Swiss Challenge