News
Justin Thomas gets 'unbelievably lucky' in Memphis but also shows how much he knows about winning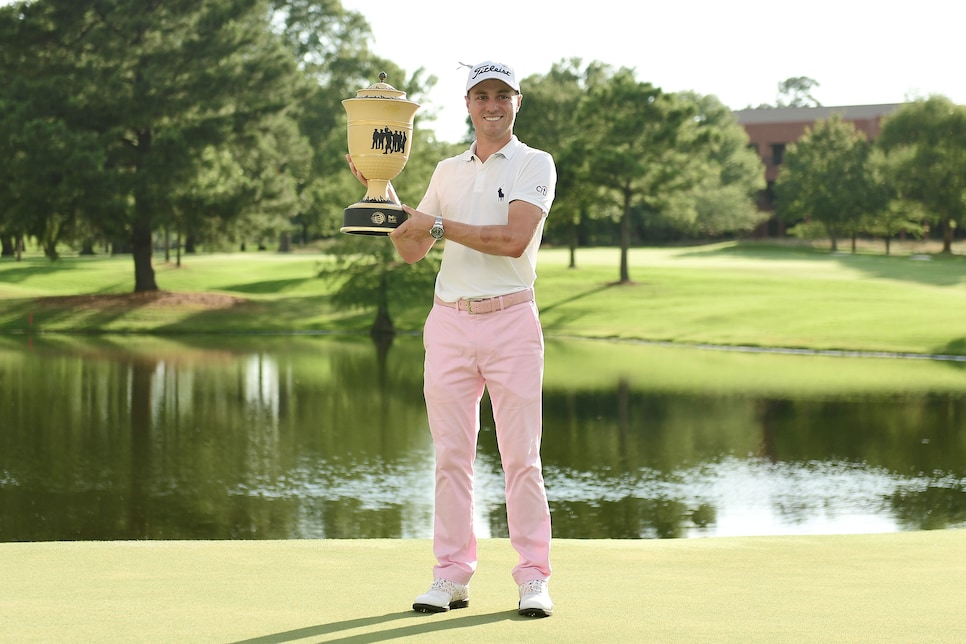 Jack Nicklaus and Tiger Woods. Those are the only two players over the last 60 years to win at least 13 times on the PGA Tour at a younger age than Justin Thomas.
It wasn't just that Thomas won the WGC-FedEx St. Jude Invitational on Sunday, but rather how he did it. And that in doing so, he returned to No. 1 in the world—a position he first ascended to in 2018 but held for just four weeks.
"I feel like I'm a better player and I feel like I'm more complete of a golfer now than I was then," Thomas said following a final-round five-under 65 to win by three over a quartet of contenders that included Brooks Koepka and Phil Mickelson.
Trailing by four strokes going into the final round, Thomas went out in 31, with four birdies and no bogeys in his first nine holes, to quickly chase down Brendon Todd. Then, with five players tied for the lead late in the day, Thomas took control of the tournament.
Despite a few crooked tee shots down the stretch, he kept his composure and made a pair of birdies over his final four holes that proved pivotal. None more so than at the par-4 15th, where he double-crossed a 5-wood off the tee that somehow made it through the trees, bounced off a cart path and came to rest 50 yards from the green, leaving a clear shot to the flag. One hole later, Thomas flared a drive to the right, punched out, with his ball barely hitting the last of a few branches, and got up-and-down again, this time from 100 yards, for another birdie.
"I got unbelievably lucky," he said. "But that's the stuff that happens when you win."
It didn't hurt that he got a little help, too.
Koepka grabbed the lead by one after a birdie at 13 but made a sloppy bogey at the par-5 16th. Trailing by two when he got to the 17th green, he knew he needed to make birdie to have a chance and did—from 40 feet.
But a few moments later it all came unraveled for the defending champion when tugged his tee shot into the water off the 18th tee. Game over. Koepka went on to make double bogey to wrap up a one-under 69.
"You're one back, you've got to take an aggressive line there," Koepka said of the shot on 18. "I didn't hit that bad of a tee shot, maybe just lined up a little bit left or what. Pleased with it. Why wouldn't I be?"
Thomas had more reason to be pleased, though. Of his previous dozen victories, most had come from in front. A Sunday rally, with Koepka breathing down his neck no less, is another step in the evolution of the 27-year-old.
"It meant a lot because it's something that I hadn't really done," Thomas said of Sunday's victory charge. "I was just strictly trying to make as many birdies as I could because I can't control what everybody else does. And that's what I tried to do today."
Never mind that he also did it without the services of his regular caddie, Jimmy Johnson, who has been sidelined because of health issues in recent weeks. Instead, Jim (Bones) Mackay filled in, only adding to the intrigue.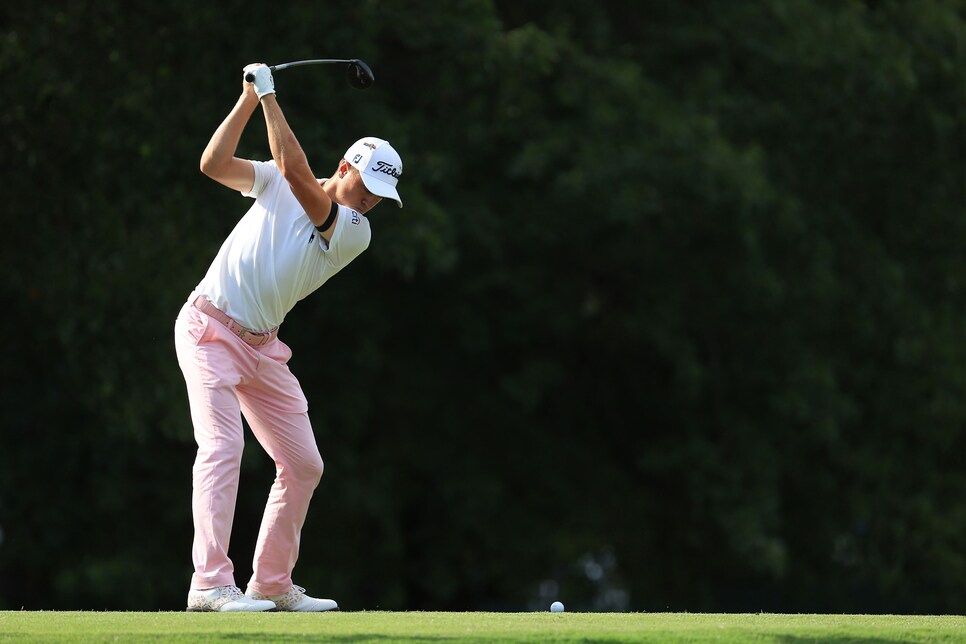 Justin Thomas struggled off the tee on the back nine at TPC Southwind on Sunday, but still shot a 65 to win by three strokes.
Andy Lyons
Thomas also learned from recent mistakes. At the Workday Charity Open, he held the 54-hole lead but dropped two shots in his first three holes at Muirfield Village. Then, leading by three with three holes to play, he blew that, too, eventually losing in a playoff to Collin Morikawa.
Not this time. Thomas made just one bogey on Sunday.
"I just didn't get ahead of myself anytime those last two, three holes, where I felt like my mind was kind of wandering and maybe thinking about winning," he said. "I basically just told myself to shut up and figure out what you're doing because I could lose that tournament just as easily as I won it today. I was really, really proud of myself to stay in the moment and get it done."
And to return to being No. 1 again, a position that he admitted he struggled with the first time he'd gotten there and one he'd like to stay at a little longer this time.
"I would hope to have it, you know, a couple years by the end of my career," Thomas said.