Sentry Tournament of Champions
Justin Thomas is vowing to read more and practice even harder in the new season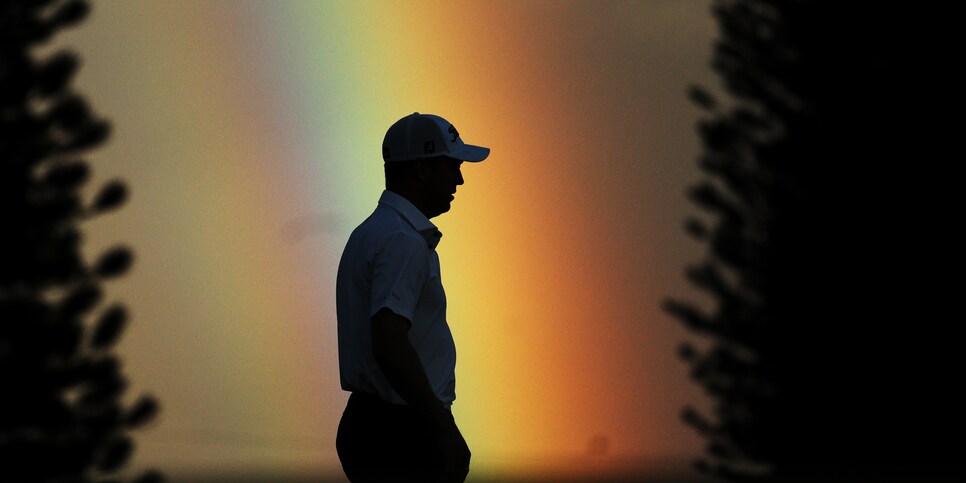 In front of a rainbow, Justin Thomas walks on the second hole during the pro-am prior to the Sentry Tournament of Champions.
Andy Lyons
KAPALUA, Hawaii – Justin Thomas has resolved to read one book a month in 2023, and his selection for January is quite deep. The book is "Why Buddhism is True," by Robert Wright, which, among other things, delves into meditation. The choice is not necessarily surprising given that the reigning PGA champion enjoys the self-help genre.
Consistent with that theme, Thomas explained on Wednesday at Kapalua Resort, where he is one of 39 players competing in the Sentry Tournament of Champions that begins Thursday on the Plantation Course, his self-help goal for the coming year. It's radical and it's inspired.
Somewhere, Ben Hogan is smiling.
"I don't know if you want to call it a dedication or just morely a thing with myself, but I really, honestly, just want to practice more," said Thomas, owner of 15 PGA Tour titles, including two here at Kapalua in 2017 and '20. "I feel like I practice really hard and I practice a lot, but I think, even if it's the days that I'm off, just going to do something for an hour, going to do something for 30 minutes, using those days when I don't want to practice, when I feel like I can't get anything out of it, use that as a challenge of the days when maybe I get out to the golf course and I don't want to play.
"I get excited to come out here every week, but I'm still human. All of us are human, where we wake up and maybe don't want to do our job as much as other days. And I think those are the days that … Tiger [Woods] had those days, but he would shoot 67 or 68 on those days. I'm trying to use those days at home as a challenge. ... How can I flip a switch, something in my head, or what I can do to get myself focused?"
Understand, Thomas, 29, is very good at his job. He is a one-time PGA Tour Player of the Year and a former No. 1 player in the world. He is talented, and he is driven.
"I think it's very clear I'm very hard on myself. I expect a lot of myself, and I know that I can achieve a lot," he said.
But Thomas, currently eighth in the world, explained that it is more than just a drive to get better that fuels this new mindset of dedication. You find yourself wishing more people in all walks thought the way Thomas does. It's called taking ownership. He won't blame anyone but himself if others outplay him by first outworking him.
"I'm one of those people that doesn't really like if people complain about something that they can control," he said. "And if I'm, call it not driving it well, and I can look back and say, 'Well I hit drivers for [only] five minutes last week. Like, that's nobody's fault but my own. It's just something where it's, like, look, if I want to become better in every aspect of my game then maybe I do need to practice seven, eight hours a day.
"It's just little things … that I may do one day could end up making the difference of me being comfortable out on the golf course," he continued. "And the difference me being comfortable could then equate to me just, you know, executing better and performing better. Which could equal more wins. It could not be the answer, but it's just, I know I can't complain about something that I don't like about my own game if I'm not putting in as much effort as I feel like I know I can."
So, Justin Thomas intends to practice more in the coming year. And practice what he's preaching in the process.
Write that down. Could wind up in a book.