Lean On Me
Justin Thomas is 'here for' Monday qualifier Michael Visacki with more than just money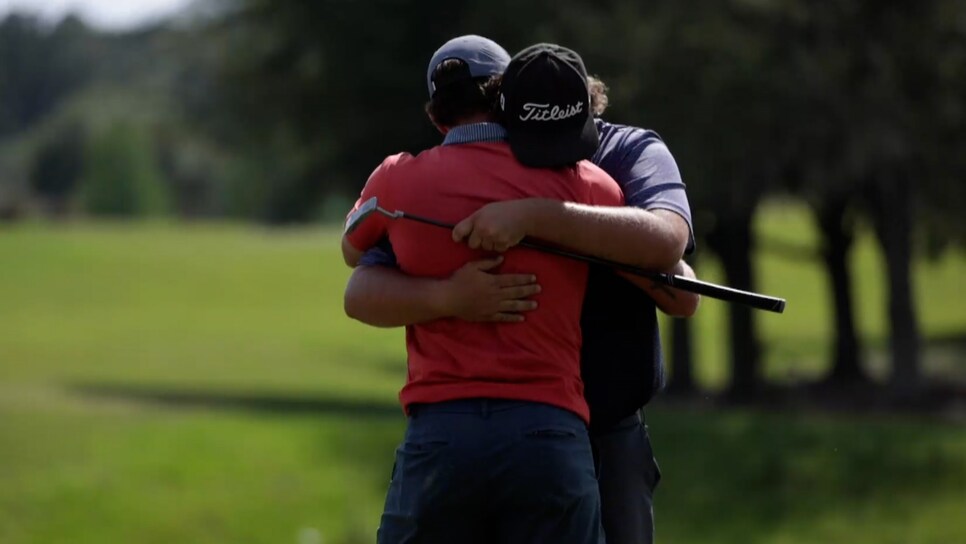 Michael Visacki breaks down after successfully Monday qualifying for his first ever PGA Tour start in April.
DUBLIN, Ohio — Justin Thomas said Wednesday at the Memorial Tournament that he was "a little irritated" that a video got out on social media showing him giving mini-tour player Michael Visacki a check after Visacki missed the cut at the Charles Schwab Challenge last week in Fort Worth, Texas.
Thomas, No. 2 in the world, just wanted to do something nice without notice or fanfare for a player struggling to make a living as a touring professional. But a video went far and wide, and Thomas was only too happy to explain that like thousands of other people, he was touched by Visacki's emotional phone call to his father after he Monday qualified in April for the Valspar Championship, which also was caught on video and went viral. ESPN's "SportsCenter" and NBC's "The Today Show" also aired video of a weeping Visacki calling his dad.
The Valspar Championship in Palm Harbor, Fla., marked Visacki's first PGA Tour start. He then received a sponsor exemption into the Charles Schwab Challenge at Colonial Country Club. The 27-year-old from Sarasota, Fla., birdied his first hole at the Copperhead Course at Innisbrook Resort, but eventually missed the cut there as well with rounds of 74-71.
"I saw the video of Mike talking to his dad after he Mondayed in Valspar," Thomas said at Muirfield Village Golf Club, "and in a day and age where it seems like only anything in the media is negative and not good these days, I just felt it was so refreshing and great to see and how genuine his excitement and emotions were. I mean, I don't know Mike. I didn't know him. I met him at Valspar. I just went up and said, 'Congrats on getting in.'
"I just thought it was awesome because he's been playing the mini tours and been successful on the mini tours for a long time, and people now knew who he was because of his story. I don't know, it just, for some reason it hit home to me and it just was like, man, you know, this is a dude who's been grinding for a long time and there's a lot of people, not just him, that are doing that, but I just wanted to help in a little way."

Thomas, 28, said the amount of money he gave to Visacki, "wasn't anything crazy," but he hoped it would help defer some of the costs that a struggling pro can incur along the way. "I know Q-School's expensive. I know playing in these events are expensive, and like any little way I can help out, I want to," he said, adding that he wanted to support Visacki in other ways.
"I want him … if you ever want advice, if you ever want to pick my brain, you ever just want to talk, like, I'm here for you," Thomas said. "I'm happy to help. I was very fortunate to have some great mentors and people willing to help me growing up and if it's a difference of him playing on mini tours or getting his Korn Ferry card the next year, then, like that's, that means more to me than any amount of money I could ever give him or anybody."