Scottish Open
Justin Thomas is still figuring out links golf, but feels like he's getting close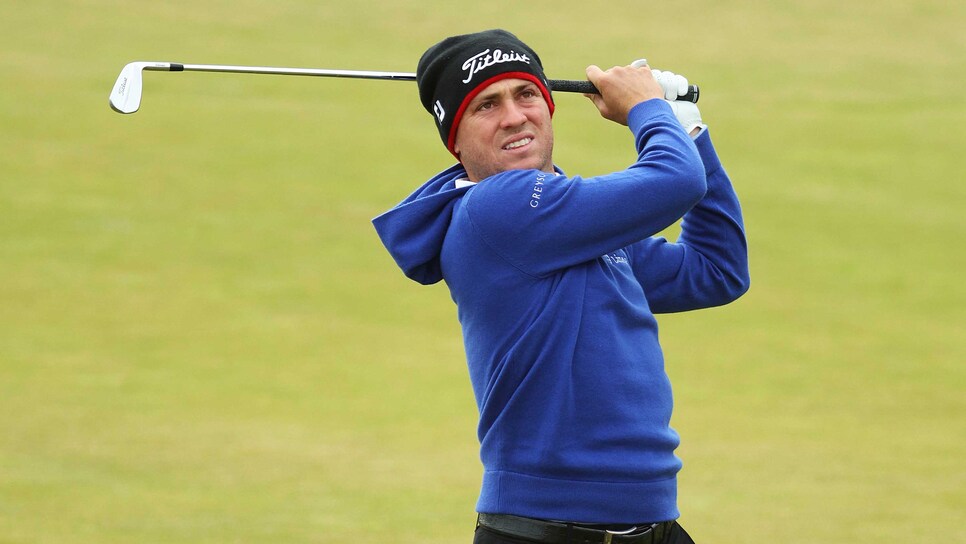 Justin Thomas plays a shot during a practice round prior to this week's Genesis Scottish Open.
Andrew Redington
GULLANE, Scotland — Justin Thomas will always have a great story about his first trip around the Old Course, where he will play next week in his sixth Open Championship but his first at St. Andrews. The 29-year-old recalled it on Wednesday ahead of competing in the Scottish Open, taking himself back to his first start as a professional at the 2013 Dunhill Links Championship.
"I remember the first time I ever played St Andrews in my life," he said. "It was pretty similar to today [dull and windy] but raining. My dad was caddieing for me. We said, 'let's go play a practice round in this because if it's in the States I'm just not playing golf. I tried to get used to it, and I remember thinking if I miss this fairway, I probably need to retire before this year starts. Then I hit driver, 6-iron into one and holed it for a 2. That was a pretty good first experience of St. Andrews."
The two-time PGA champion's subsequent experiences in the Open haven't quite matched up to that incredible beginning at the Home of Golf. Since his debut at Royal Troon in 2016, Thomas' best result is T-11 at Portrush three years later. Illustrating how much he has struggled with links golf, his next best finish is T-40 last year. Twice Thomas has missed the cut in golf's oldest championship, although there are, at least in his own mind, some mitigating circumstances. More than once he has been a victim of the United Kingdom's notoriously unpredictable weather.
"It sounds awful to say, but I haven't had a good draw in an Open, so that definitely hasn't helped," he claimed. "In my first Open at Troon, I've never in my life played so well and grinded so hard to finish 60th. Every morning I would go out and it would be blowing 25 [mph] and raining, and I would grind my tail off. Then I'd watch in the afternoon and the sun would come out. I was like, 'Well, welcome to the Open.'
"Of course, that's just part of it all over here," he continued. "I hope over a 20-year, 30-year span of playing in the Open, I'm going to get my fair share of good draws. But I think it's also about adapting my game plan based on the weather conditions. And a lot of people are going to have to deal with the same thing."
On that front, Thomas is typical. When it comes to golf by the seaside, he is learning more from his mistakes than any successes. So, given his poor Open record, he has presumably taken on board rather a lot since 2016. An example from 2018:
"I remember specifically the par-5 sixth at Carnoustie. In the practice round I was like, 'OK, I'm going to hit driver.' I can hit it past the bunkers if I hit it right. At worst I'll be in the fescue and I'll lay up anyway. But if I have an opportunity to knock it on this green, this is a good chance for me to make a three or a four."
So far so good. But things can change on the east coast of Scotland. And they had. When Thomas reached the sixth tee during his opening competitive round, it was raining and the wind was blowing in off the left, from the out-of-bounds fence on that side.
"I stuck with my game plan and decided to hit it driver," Thomas said. "And, of course, I hit into one of those little pot bunkers. I couldn't get over because it was raining, and I made 7. I should have the maturity and understanding of what's going on to hit a 2-iron or 4-iron and play the hole with what the conditions are giving you. I've unfortunately learned the hard way but hopefully I'll adapt to that going forward."
No time like the near future.