The Loop
Justin Thomas is cool with Tiger drawing bigger crowds, says he'd rather watch him play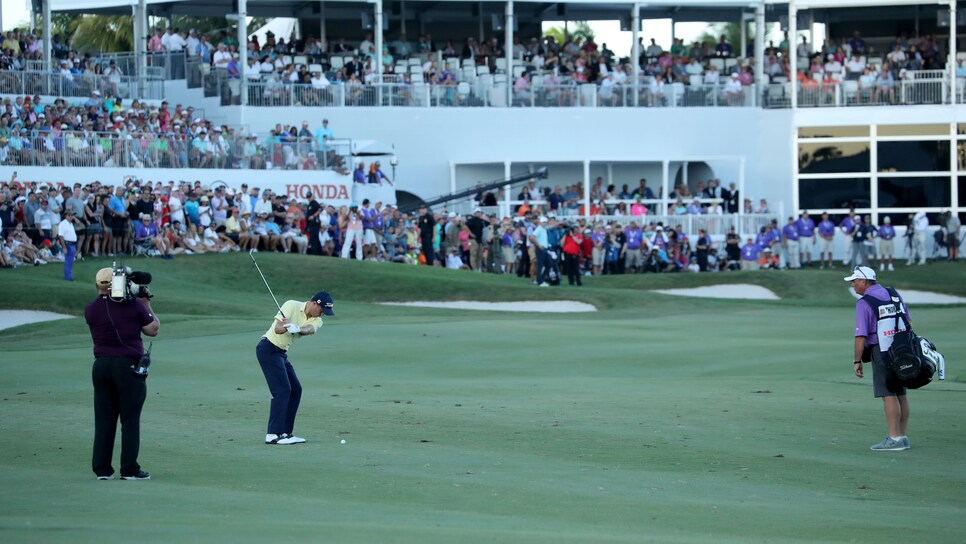 By the time Sunday's final pairing of Justin Thomas and Luke List reached the 18th hole at PGA National, a huge crowd had gathered to watch the finish. But thanks to a 14-time major champ playing a few groups ahead, the two leaders hadn't been the main focus of fans attending the Honda Classic. Not that Thomas minded. Or was surprised in the least.
"To be honest, I don't care. I'm sitting with the trophy, so I'm fine with it," Thomas said. "I did say that to Jimmy, it's so weird, it was a good gallery, good crowd, but it wasn't obviously anything big. It wasn't anything remotely close to Tiger's. But he fully deserves that and he is the needle. He moves the needle. He's the reason probably why the attendance this week was as high as it was, and you know, they weren't coming out here to watch Luke List and Justin Thomas. They were coming out here to watch Tiger, so I don't blame them. I'd go watch him, too, instead of me."
For the record, Thomas is the reigning PGA Tour Player of the Year and his victory was his seventh in his past seven starts, by far the most during that stretch. But considerably more people were concerned with a man who had little chance of winning. Just look at this amazing photo of people Tiger watching:
Thomas also added this little story of List and him encountering Tiger a couple times throughout the round.
"It just kind of just so that happened we were crossing paths," Thomas said. "It's funny how our gallery went with him and Luke and I just kept playing (laughter)."
Don't worry, Justin, we noticed how well you played. Even if it feels like you got lost in the Tiger shuffle.