Driving
Justin Thomas doesn't play small and you don't have to, either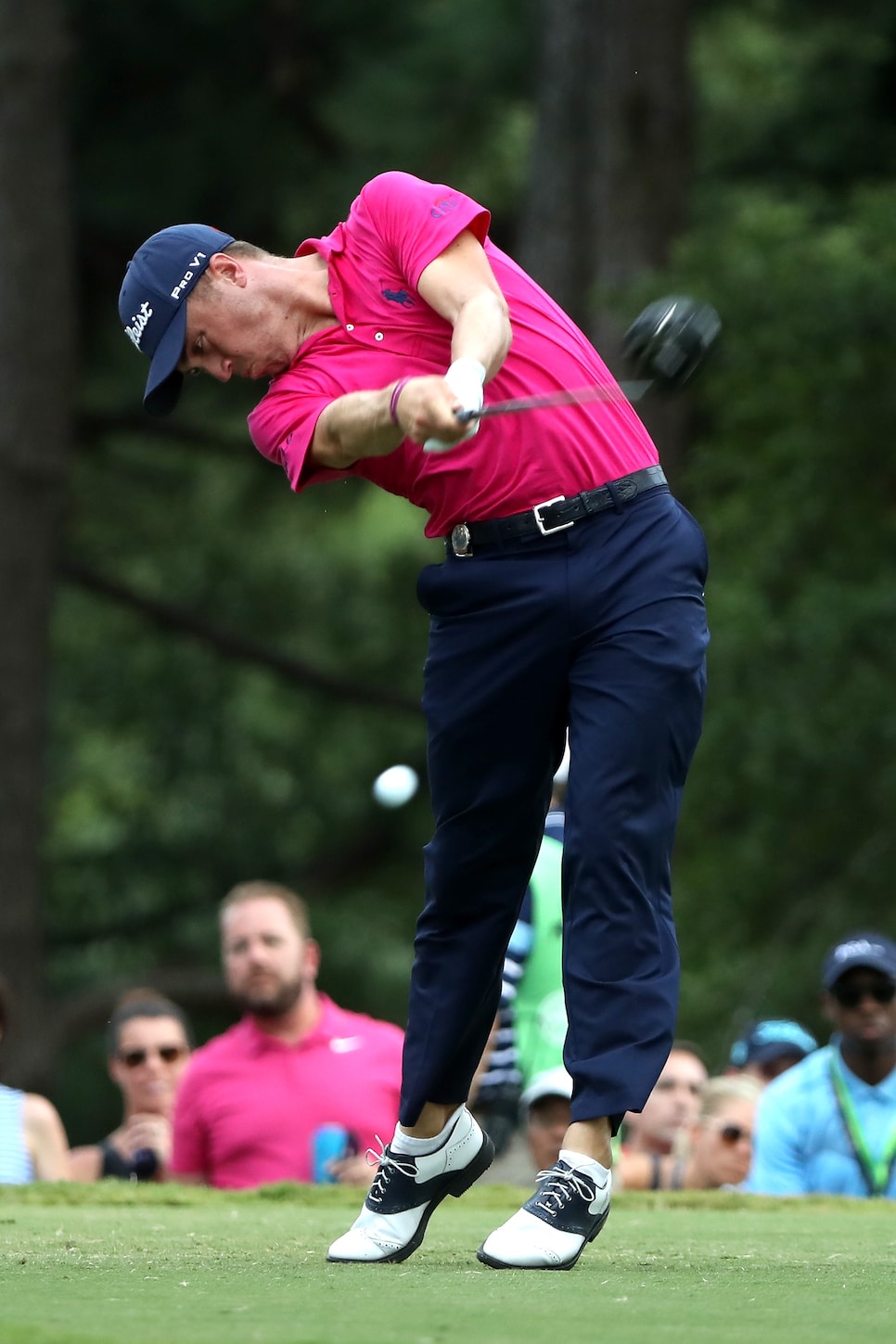 Part of what makes professional golf relatable is seeing players go through some of the same struggles we do every weekend. It also helps when you see somebody not built like a superhero do amazing things.
Cue Justin Thomas at the PGA. The pocket-sized first-time major champion is listed at 5-foot-10, 145 pounds (and that might be exaggerating things). But he led the tournament in driving distance at more than 320 yards a swing and proved he isn't just a bomber with exquisite short game touch down the stretch.
On long shots, it's clear Thomas gets the most out of his small frame. But how does he produce power so efficiently? It's definitely not by wildly flailing at the ball, says top Colorado teacher Nick Clearwater, GOLFTEC's national director of instruction. "You'll hear lots of generalizations about Justin Thomas' leg action being the reason he can hit a 7-iron 220 yards, but the factors that produce that speed are measurable," says Clearwater, who is based in Englewood. "Just after Justin's lead arm is parallel to the ground on the downswing, he begins straightening his legs and bending his hips backward continuously through impact. It's the same kind of move Steph Curry uses to jump off the ground while taking a three-pointer."
The generalization you usually hear, says Clearwater, is "using the ground." But what Thomas is really doing is precisely using his body to raise the grip incredibly fast through impact--which generates massive clubhead speed. "Amateur players would do well to understand and have their own movements measured to see how much speed they're leaving on the table," says Clearwater. "Equipment is another big piece to it. Anyone serious about hitting better shots should be taking advantage of clubs that give them more speed, yardage and height on their shots."
Thomas hit an 8-iron into the 205-yard par-3 13th, but he still needed touch to hole out the 45-foot chip from the collar. He did it with expert understanding of how the club interacts with the grass, says top Maryland teacher Bernie Najar. "When you get grass between the ball and the face, it will impact the shot--sometimes making the ball come out slower, and sometimes making it come out fast with no spin," says Najar, who is based at Caves Valley Golf Club in Owings Mills. "The mistake most players make is hitting the ball too high on the face because they come in on too sharp of an angle. That can happen when you play the ball too far back in your stance and over-trap it."
To build more precision into your chipping game, use less loft--a pitching wedge instead of a lob wedge--and practice a simple drill. "Stick a tee in the grass six inches in front of the ball in the rough. Set up with the ball in the middle of your stance, or even a little forward, and open the face slightly," says Najar. "Now hit some shots where you hit the ball and then the tee in front. Do this and you'll be creating a swing with a long, flat bottom. Tighten your grip and think about swinging through the ball--not just getting to impact."