Olympics
Justin Rose has work to do early in 2021 if he hopes to defend his Olympic gold medal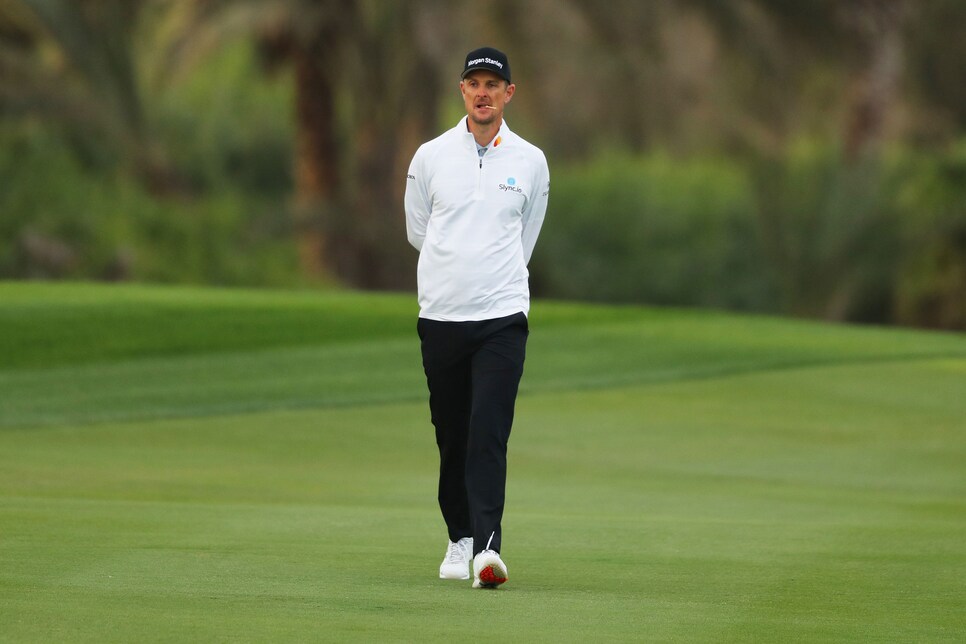 Justin Rose is starting a new year outside the top 30 in the World Ranking for the first time since 2009.
Warren Little
As things stand, the reigning gold medalist in golf from the 2016 Olympic Games in Rio de Janeiro will not be defending his title when sport's quadrennial spectacular reconvenes (hopefully) in Japan this summer. As things stand, Justin Rose will be doing something other than playing competitive golf when the 60 eligible players compete at the Kasumigaseki Country Club just outside Tokyo July 29–Aug. 1.
Currently ranked the 38th best player on the planet, Rose has a lot of work to do if he is to change any of the above and halt a slide down the World Rankings. In 2020, the 40-year-old ended a calendar outside the top 30 for the first time since 2009. In terms of Olympic qualification, the two men currently in position to represent Great Britain & Northern Ireland are Tyrrell Hatton (fifth in the world) and Matt Fitzpatrick (18th).
Perhaps just as daunting from Rose's point of view is the fact that he would also have to pass Lee Westwood (37th), Paul Casey (27th) and Tommy Fleetwood (19th), or haul himself into the top 15 (in that category, as many as four players from the same nation can qualify). No easy task. Other than for the top-heavy band of Americans, who currently boast 13 players in the world top-20, competition for places in the GB&NI side is most intense. As many as eight players (Matt Wallace and Robert MacIntyre the others) are inside the top 60 and within realistic range of making the side.
While it would be clearly disappointing if he weren't in the field in Tokyo, for now Rose at least is adopting a typically stoic attitude to that deflating prospect. Speaking from the Middle East, where he will compete at this week's Dubai Desert Classic on the European Tour, the former U.S. Open champion insisted he would not be "chasing" a second Olympic dream through drastic scheduling changes.
"I've got to play what suits me, and the rhythm of golf that suits me," he said. "I like to play three in a row, take a week or two off, then build another run of events. I don't want it to be too stop-start. There is a little more travel involved this year as well, so I need to be smart with how I can put the schedule together. Three weeks in the Middle East, two weeks off and the Florida swing to get my teeth in to, with the Masters and the run-up to Augusta in mind. That's the first building block I'm working towards. Then my focus shifts to the next major."
"I have concerns, both about the Olympics taking place and my position in the standings," Rose said. "But it's not a concern if you're not in the team. For the sake of golf, even if I'm not there, I'd love it to go ahead [and be played]. It was a great spectacle last time and I think golf came out pretty well. Japan being an established golfing nation, I think hosting the golf would be fantastic. I've heard conflicting reports on how things are over in Japan and how they are preparing for it. But I've got bigger problems than that. I've got to focus on my own position, clearly the [British] lads are playing really well. There are quite a few guys to get past, but my goal is to be in the top-15 in the world. That would be a pretty strong position to make the team."
To meet that challenge, Rose has made some key changes over the last few months. Last year saw his much-publicized spilt from a lucrative contract with Honma and a return to the TaylorMade clubs that served him well in the past. He also has a new caddie. David Clark is working with Rose, replacing Gareth Lord, who was on the bag at the end of 2020 after he replaced Rose's long-serving Mark Fulcher.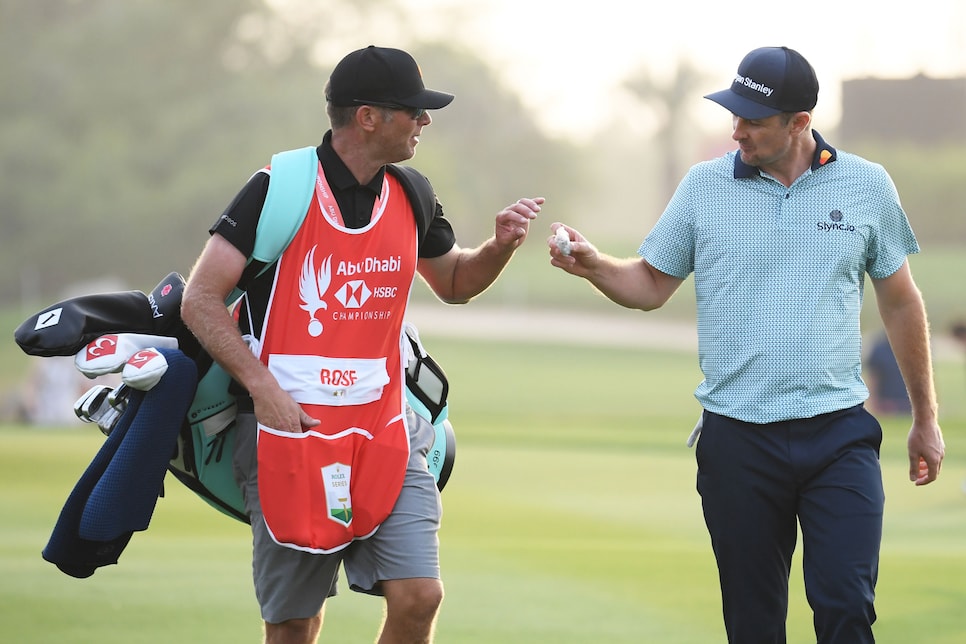 Justin Rose fist bumps his new caddie, David Clark, during the first round of last week's Abu Dhabi HSBC Championship.
Ross Kinnaird
"Winning major championships is what really concerns me," Rose said. "I still feel like that's ahead of me and I have that opportunity. I still believe and wake up every day and believe that my best is ahead of me. That motivates me. If I felt I was on that slippery slope out then it's hard to put one foot in front of the other. I'm not concerned about playing the game for the sake of playing the game. I only play because I feel like I can improve and I've dedicated my whole career to leaving no stone unturned and enjoying the process of getting better as a player. That is still, ultimately, what gets me out of bed, and that in turn creates results. I've definitely made some mistakes the last couple of years, but they are only really mistakes in hindsight."
Not surprisingly, the caddie and equipment issue topped that ignominious list.
"Some stuff was out of my control," Rose said. "Some were my decisions. After I got to the top of the World Ranking, some things didn't fall into place. You make the best decision you can at the time thinking it's the right decision. But hindsight is a wonderful thing. I've pivoted as quickly as I can in those scenarios. Sometimes there's water that's gone under the bridge and you need to work your way back a little bit. It's what my career has been about, I've had my ups and downs. When I'm on the slide it makes me want to come out swinging and with my back against the wall a little bit. I like it that way. It keeps me motivated and it keeps me hungry."