News
Tyrrell Hatton picks up where he left off in 2020, winning convincingly in Abu Dhabi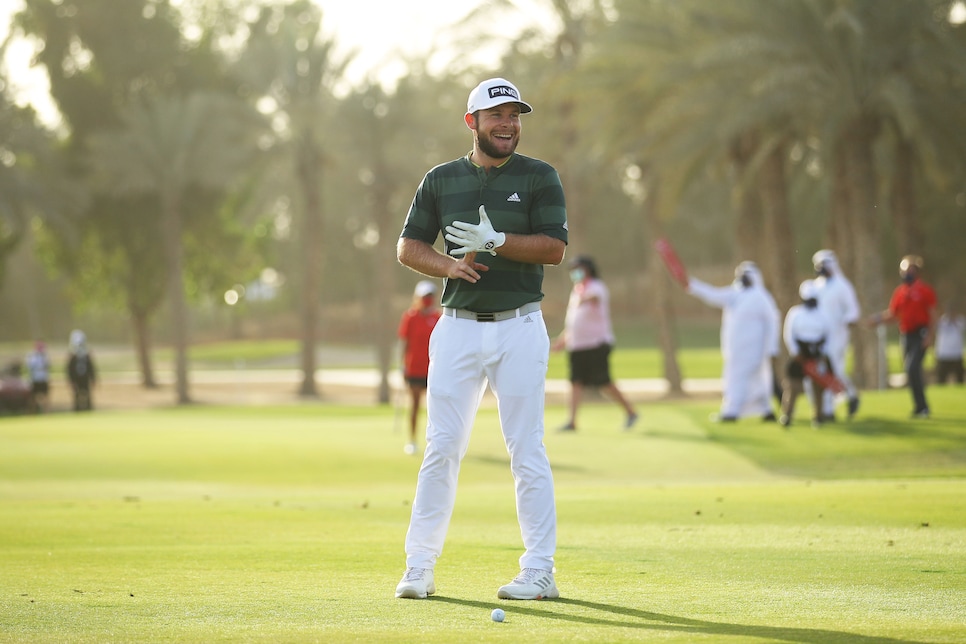 Tyrrell Hatton smiles after clinching a four-stroke victory on Sunday at the Abu Dhabi HSBC Championship.
Warren Little
The rise and rise of Tyrrell Hatton continues. For the fourth time in his last 20 starts, the 29-year-old Englishman has ended a tournament week posing for pictures, the winner's trophy by his side. A bogey-free final-round 66 was more than enough for Hatton to add the Abu Dhabi HSBC Championship to his burgeoning and record-setting collection of four European Tour Rolex Series titles, not to mention a more than $1.3 million boost to his bank balance.
Hatton's 18-under-par 270 was four shots lower than that managed by the runner-up, Jason Scrivener. The 31-year-old Australian hurtled into that second place courtesy of a back-nine 29—"my own little world," he called it—that included five birdies and an eagle. Overnight leader Rory McIlroy was third, a shot further back after a disappointing 72 marred by as many as four dropped shots.
The victory will likely lift Hatton into the top five of the World Ranking, a career best. Hatton took control at Abu Dhabi Golf Club just before and after the turn on Sunday. A shot behind McIlroy standing on the seventh tee, the now six-time European Tour winner was three ahead when the pair reached the 13th tee. All of which was achieved by a potent mixture of fine play by Hatton—highlighted by some extraordinary putting—and a couple of good breaks at just the right times. Throw in a little bit of bad luck for McIlroy and some uncharacteristic sloppiness by the Northern Irishman, and the pair were suddenly headed in different directions.
Having holed from 30 feet for a birdie on the par-4 ninth, Hatton repeated that feat for an unlikely birdie on the par-5 10th. Further away in 3 than McIlroy was in 2, the eventual "half" in 4 was another boost to the eventual champion's morale. Both men flew their drives off the 11th tee into sand—and both balls hopped out. But it was there any similarities ended. Hatton's ball found a near-perfect lie; McIlroy needed a deep and violent gouge with a wedge to excavate his ball from a subterranean lie, from which he could only reach the bunker short of the green. In turn, that led to what was McIlroy's third bogey of the day.
"It's a bit surreal to be honest," Hatton said. "Even now, after knocking the putt in on 18, it doesn't seem like I have won the tournament. But to add my name to that trophy is a huge honor. The big moment for me was the putt on 10. It was going at least eight feet past, but it hit the hole and went in. Then my tee shot on 11 pitched in the bunker and came out. We've seen plugged lies in the lips this week, so that was a bit of good fortune."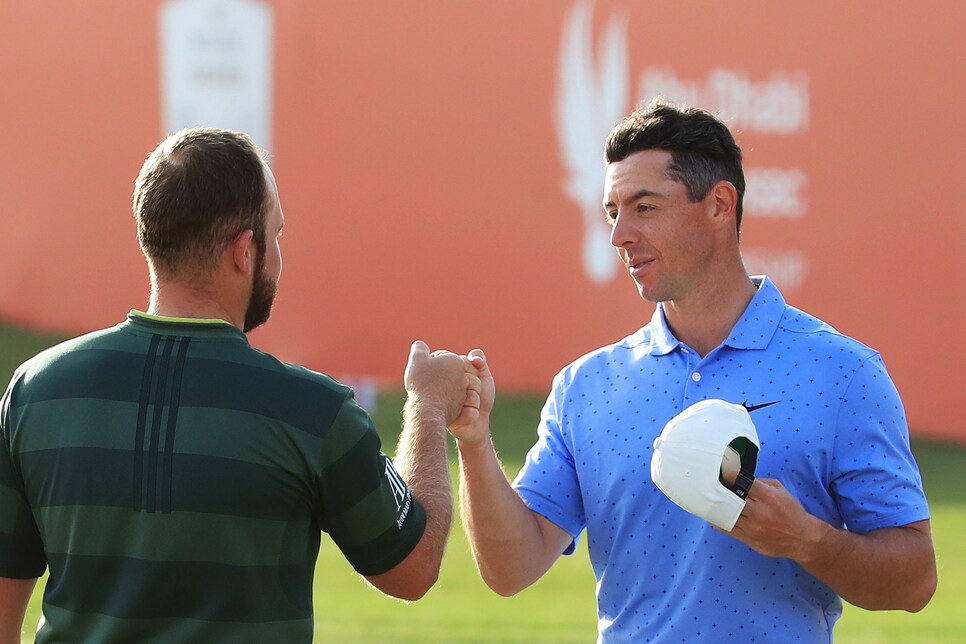 Hatton played well with his closing 66 while overnight leader Rory McIlroy could only muster an even-par 72 to finish five back in third place.
Andrew Redington
That Hatton would make yet another birdie (his fifth of the round) on the par-4 13th was by then somehow routine. "Game" and "set" were on the scoreboard, if not quite "match," the gap between the leader and anyone else up to four shots.
"I wasn't taking anything for granted though," Hatton said. "It's tough to win any tournament. Every single week there are world-class golfers at the top of the leader board. So you know you have to go out there and play well.
"Starting the day one behind Rory, it was always going to be a tough day. If he plays as good as he can, he's basically the best in the world. So I'm really happy with how I played and how I managed the conditions. To shoot six under and go bogey-free—obviously I'm very happy with that. This is massive for me. The Ryder Cup points started again this week and that is a huge goal for me this year."
Indeed, during Hatton's post-round press conference, his enthusiasm for the biennial contest was obvious. He might have contributed only a single point to Europe's victory in France last time round, but he is well up for a second go at Whistling Straits come September. The so-called and self-confessed "awkward and shy" individual he portrayed so convincingly this week in the European Tour's latest social media venture, "The Angry Golfer," is clearly neither of those things with a club in his hands.
"2018 was the best golfing experience of my life to date," Hatton said. "I absolutely loved the week. I'm sure it will be a very different experience playing away, if I make the team. There's a lot of golf to play between now and again, but fingers crossed that I'm there."