Interview
Justin Herbert on growing up on par-3 courses, hitting 2-irons and why the Oregon Duck is the best mascot in sports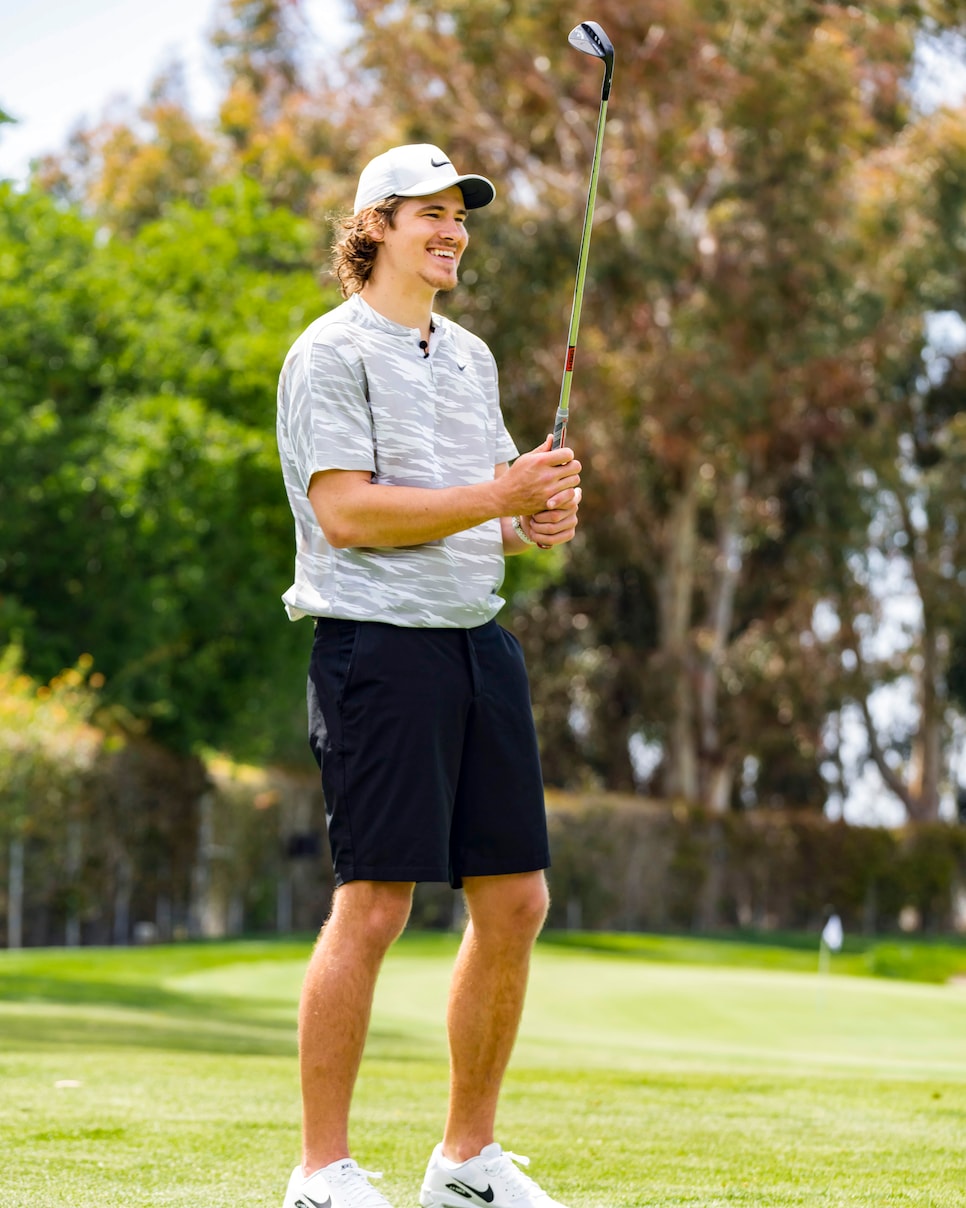 Justin Herbert has emerged as a star in the NFL after a stellar college career at the University of Oregon. As quarterback for the Los Angeles Chargers, Herbert, 25, was the NFL Offensive Rookie of the Year in 2020, setting rookie records for completions, passing touchdowns and passing yards per game. A Pro Bowl selection a year later, Herbert cemented himself as an elite quarterback. He's also an avid golfer, who recently signed an endorsement deal with Callaway. In an interview with Golf Digest equipment editor E. Michael Johnson, Herbert discusses his early years playing on par-3 courses, how reading defenses is easier than reading greens and why the Oregon Duck is the best mascot in sports.
Golf Digest: What appealed to you about partnering with Callaway?
Justin Herbert: I think it came naturally. I've been playing Callaway irons and the Rogue driver for a couple of years now, and I've loved their product. Every time I go home, whether it was in California or in Oregon, I had my set of Callaway clubs and so for them to reach out and be able to work together on some things, I think it was genuine and authentic.
GD: I'm aware you have your golf invitational in Oregon each year that supports Kidsports. Can you talk a little bit about what this relationship might mean to that particular endeavor.
JH: They actually ended up helping out a lot last year and that was kind of before the relationship really started. They provided putters and they did a great job raising funds for that organization that I support in Eugene. To be able to have their support, you know, it means the world, and they've done such a great job helping out over the past couple of years. I'm looking forward to all the things that we can do together going forward.
GD: How did you get into golf, and do you remember the first club you ever swung?
JH: I grew up playing with my older brother and my dad. There were a bunch of little par-3 courses around our house and, the first set of clubs I ever had was just a six- or seven-club junior set that I got for Christmas. I just kind of grew up enjoying going out there with my friends and family but really never got into the competitive side of it until the past couple of years.
GD: How old were you at that time and where did you play?
JH: It was in Oregon, and I might have been, 8 or 9 when I first started swinging the club, so not too young. There was a course called River Ridge and Oakway. And then there were a couple of the country clubs that, you know, sometimes we knew people that could get us on so it was really just find whatever course you can get on and go play.
GD: As you got more into the game, was there a club where you were like, "Man, I really just want to get this club"?
JH: Not a specific club, but I always kind of thought the 2- or 3-iron would be really cool if you had that in the bag and you were able to hit that. I always thought that kind of a flex on the golf course. I'm still working my way through that.
GD: What's easier for you, reading defenses or reading greens?
JH: That's a good question. I'd like to say it's reading defenses. I think I've spent way more time focusing on defenses and defensive identification. Hopefully I'm a little bit better at that than I am reading greens. There are some greens that still give me a lot of trouble, so I think in that department, I've got a lot of room to improve.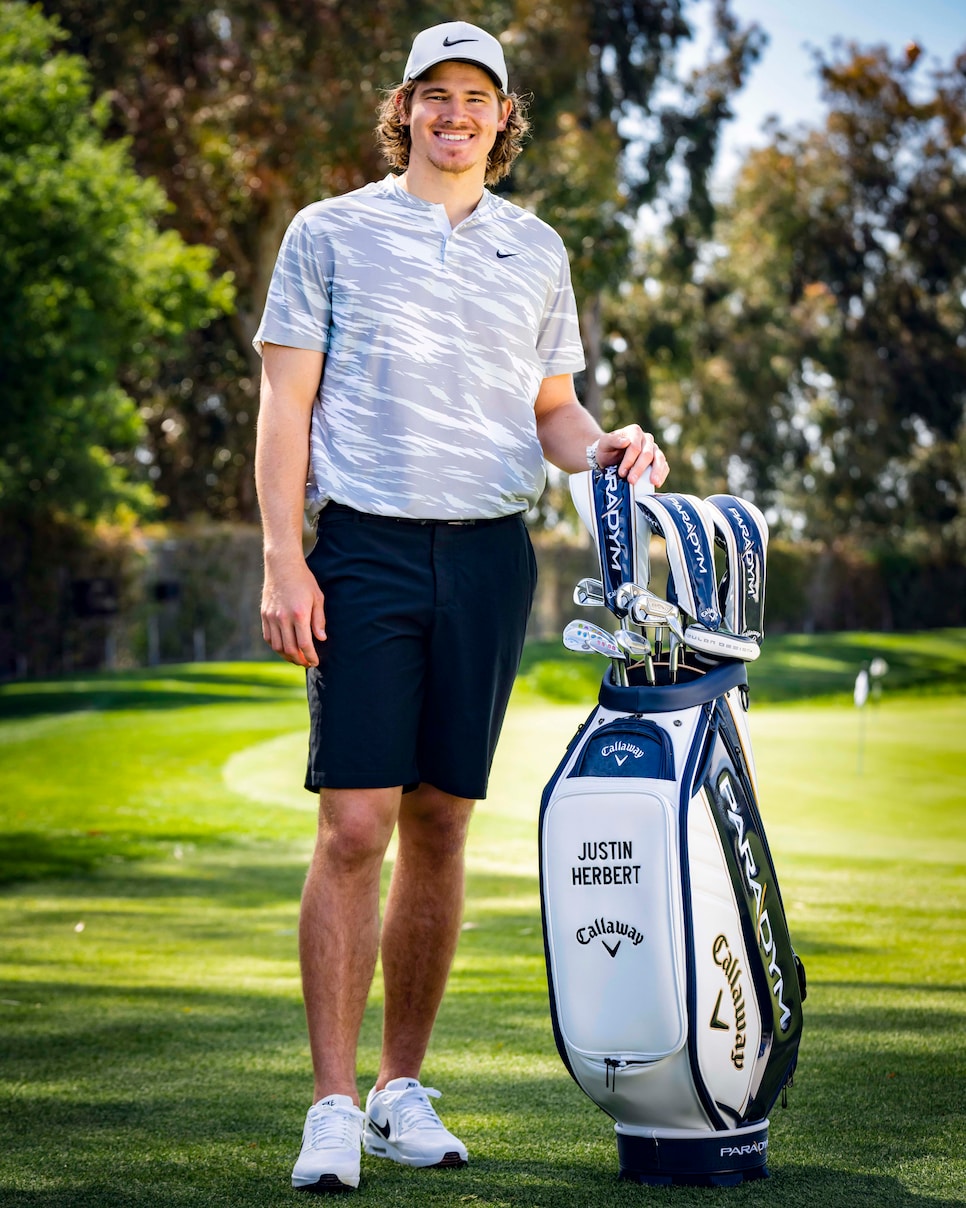 GD: Callaway is obviously known for incredible technology in its equipment. How would you rate your knowledge, or even interest, in the technology of equipment?
JH: It's definitely improving. I think over the past couple of years I've picked up more knowledge about what kind of club I need to swing, the weight of it, what type of shaft is on it. I've been able to kind of understand better as the years go by, but there's still a lot of stuff that I need to learn and gather about my swing and equipment. But I think that's the great thing about golf is there's so much more that you can kind of dive into and really get to understand.
GD: Have you been to Callaway's Performance Center and been fit?
JH: I've been there a couple of times. I got fitted last year pretty early on and was back there about a week ago and am looking forward to going back again soon.
GD: That's good because being 6-foot-6 I'm guessing off the rack isn't a possibility for you.
JH: Definitely not. But one of the cool things that we're doing, too, is I'm bringing down the offensive lineman to get fitted. Some of those guys are pretty good golfers, and I think some of them are kind of new to it, so it's going to be really fun to see those guys swing the club and go through that.
GD: Where do you play most of your golf now and do you have a bucket-list course that you haven't played yet?
JH: There are a few courses down in Orange County that we kind of go out and play. Strawberry Farms, Oak Creek. Those are the ones that are pretty nearby. I went up and played Pebble Beach and Spyglass. As for bucket list, I think Augusta has always got to be up there. It's one of the greatest courses out there and to be able to go play that would definitely be on the bucket list for me.
GD: What trait do you bring from the field that helps you on the golf course?
JH: For me personally it's being able to understand that the previous play isn't going to affect your next one. I take a look at whether you throw an incompletion or an interception, it's a mistake on one play. You move on, you're on to the next one. I think that's kind of relatable to golf. If you hit a bad shot, or you're in the bunker or you're in the rough, it's all about how can I make up for this, how can I get back on track and not let that previous play affect my next one.
GD: What's been your best experience ever on a golf course?
JH: I think it's just being able to spend time with your friends, teammates, family and just go out there for four or five hours and kind of forget about what's going on and just go compete, have fun. You learn more about who you're playing. The relationships you build through golf, I don't think it gets much better than that.
GD: What's the most unique or personal thing you keep in your bag?
JH: I have a ball marker and a divot repair tool from one of those courses that I grew up going to play with my father and my brother. I kind of carry that with me wherever I go.
GD: Going back to your college days at the University of Oregon, what makes the Oregon Duck arguably the best mascot in sports?
JH: Oh, that's a tough question. The Duck has a great personality and is always around, always goes up to people in the stands. The Duck is also always with the times, knows what's going on in the media and is able to kind of take that to the football field while at the same time respecting the opponent, which is important. Whoever's The Duck, they've always done a great job.