Endorsement deals
Callaway's latest staffer isn't a tour pro but a star NFL quarterback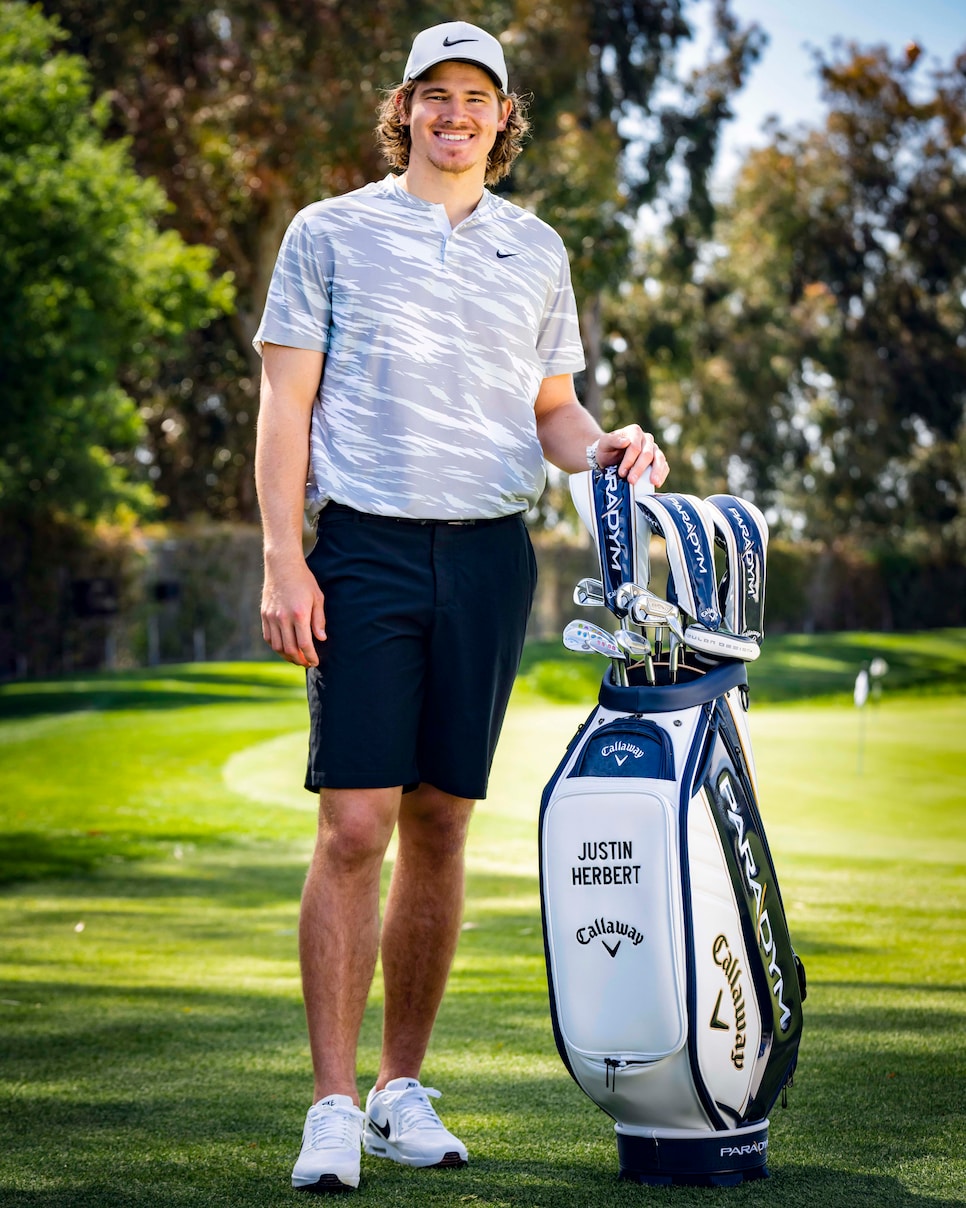 The endorsement landscape in the golf equipment arena has shifted recently with companies pouring more effort and dollars into influencers and celebrities who are perhaps more relatable to everyday golfers. Callaway has added to its list of notable names with the signing of Los Angeles Chargers quarterback Justin Herbert as their latest golf ambassador. The 25-year-old, who was the NFL Offensive Rookie of the Year in 2020 and a Pro Bowl selection a year later, will play Callaway equipment and appear in original content, while continuing to support junior golf initiatives. The deal is for multiple years.
Herbert will play a full bag of Callaway equipment, including the new Paradym wood and likely the irons (he currently plays Apex TCB) along with Jaws Raw wedges and an Odyssey putter, as well as use a Chrome Soft ball. Standing 6-foot-6, Herbert's hybrid and irons are 2 inches longer than standard and he uses a putter 37 inches long.
The company plans to use Herbert in multiple ways, including appearing in a variety of social, digital, and video content across Callaway's own channels, including an upcoming episode of "Range Talk" with Roger Steele.
A passionate golfer, Herbert hosts the Justin Herbert Invitational each year in Oregon (Herberet went to the University of Oregon) which benefits Kidsports, a non-profit organization that provides opportunities for all children to learn and play sports. As part of the arrangement Callaway will provide support for the tournament among other junior golf initiatives.
"Golf is a sport that's all about precision and that's something that resonates with me as a quarterback," Herbert said in a statement released by the company. "That's why I'm thrilled to team up with Callaway, a brand that understands the importance of attention to detail and the value of hard work."
Herbert joins an impressive lineup of non-tour Callaway ambassadors that includes NBA star Steph Curry, MLB All-Star Manny Machado and music icon Niall Horan. Heady company, but Herbert has credentials of his own. Drafted sixth overall in 2020, he has set the NFL record for most passing yards in the first three seasons of a career as well as the most single-season passing yards for any Chargers quarterback.
Which means while he might be relatable as a golfer, he has us all beat on the football field.