Slync.io Dubai Desert Classic
Who is Justin Harding and how is he fending off McIlroy, Fleetwood and other top players in Dubai?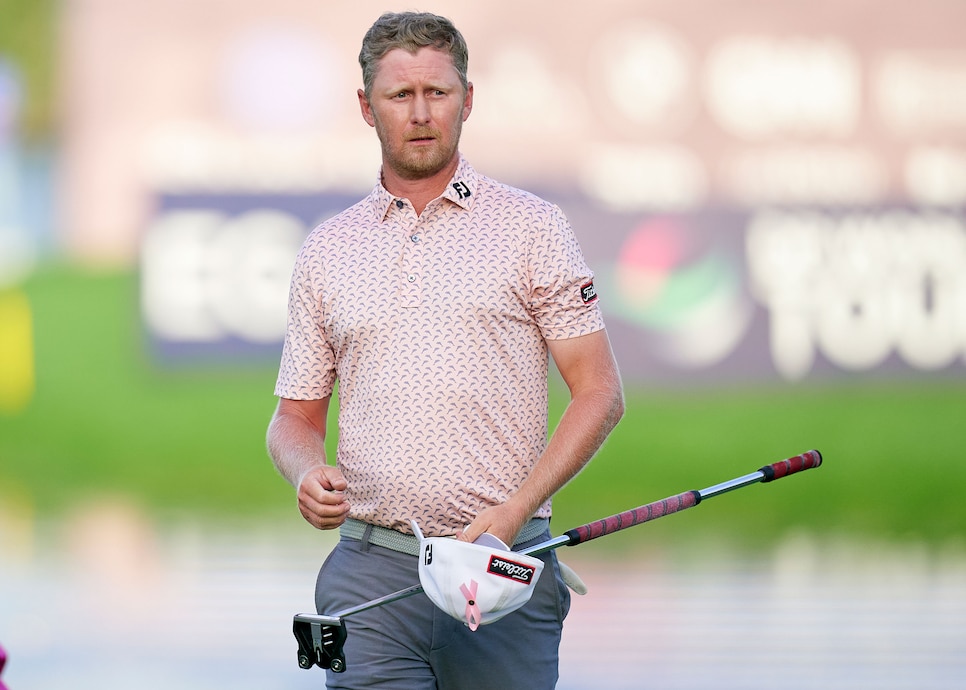 DUBAI — Stop me if you've heard this before. One week after Scotland's Scott Jamieson led a host of star names into the final round of the Abu Dhabi HSBC Championship, here we are again. With 18 holes to play in the Slync.io Dubai Desert Classic, Justin Harding sits precariously atop the leader board at 12-under 204. Piled up behind the 35-year-old South African journeyman is a formidable group of golfing luminaries.
Rory McIlroy, Tommy Fleetwood, Bernd Wiesberger, Paul Casey, Tyrrell Hatton, Padraig Harrington, Lee Westwood, Sergio Garcia and Viktor Hovland are all within six shots of the leader. All, you might have noticed, were part of the most recent European Ryder Cup squad—not that such a distinction is too distinguished, given the result at Whistling Straits last September.
Anyway, Harding will attempt to do what was eventually too much for Jamieson (who shot a closing 77 and subsided into a tie for 10th). Which won't be easy, if Day 3 on the Majlis course at the Emirates Club is anything to go by. A combination of greens that Casey called "really crispy and difficult and firm," and pin positions best (or politely) described as "tricky" made shooting really low numbers highly unlikely. As it turned out, former Open champion Shane Lowry's 68 was the best score recorded by any of the 81 competitors.
How hard was it? Harrington was only half-joking when he wondered aloud how many players had "de-greened" a putt, or "missed a green with a chip."
All of which led to more than a few players enduring the odd disaster between firstt tee and 18th green. Most notably, Westwood's triple-bogey 8 on the par-5 18th via trees, desert and water saw the 11-time Ryder Cup player fall from what would have been a tie for second place to T-11 alongside Harrington, five shots off the pace.
Hatton was another to suffer. Standing on the 12th tee, the World No. 22 was 12 under par and leading the tournament. But not for long. Four over par for his next four holes, the often-volatile Englishman was home in 40, round in 73 and had retreated into a six-way tie for fifth, four shots behind Harding.
The news wasn't all bad though. McIlroy and Fleetwood are the men who will accompany the leader on what will surely be the biggest day of his career. Harding does have two victories on the DP World Tour, but no one would rank either the 2019 Qatar Masters or the 2021 Magical Kenya Open alongside this Rolex Series event. For him, this is a step up in class.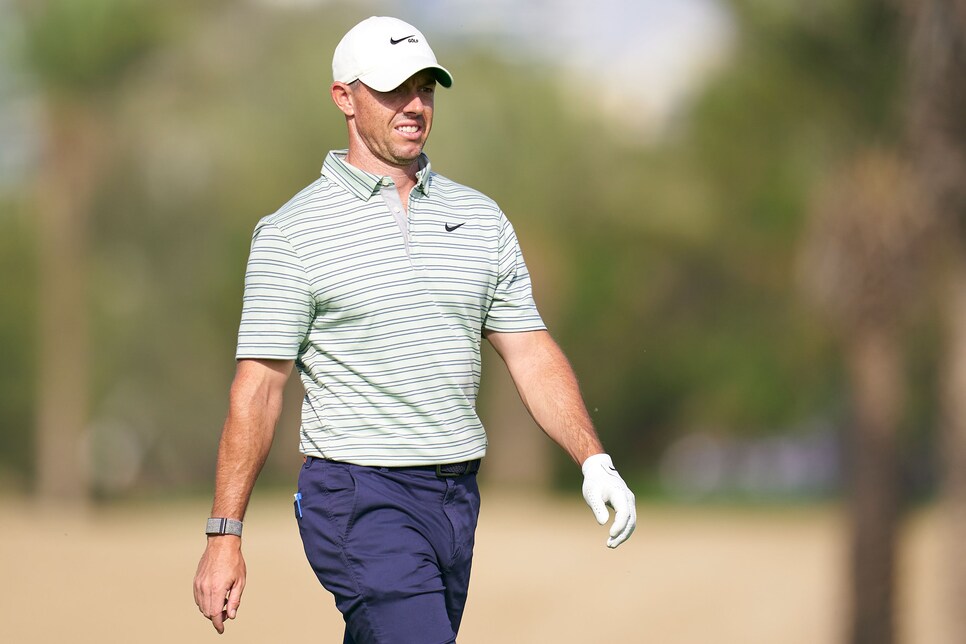 Rory McIlroy's Saturday 69 puts him just two shots off the lead as he tries to win the Dubai tournament for the third time in his career.
Quality Sport Images
McIlroy for one was sounding up for the job of matching Ernie Els' record of three victories in this event. After a third-round 69 that he felt was "a fair reflection" of how he played, the four-time major champion was making positive noises about the state of his game.
"Anything in the 60s was a good score today," said McIlroy, indirectly patting himself on the back. "And, as I live in his old house in Florida, it would be nice to do something else sort of intertwined with Ernie. Overall, I thought I did well, and I'm in a good position going into tomorrow. I'm excited. There was a great atmosphere out there today. Hopefully it will be the same tomorrow. I've played in a lot of final groups here, so it's nothing new to me at this point. It would be nice to get another win, especially here in Dubai."
Fleetwood too, professed to be "excited" at the prospect of a final round he hopes will see him emerge from a prolonged period of mediocrity.
"I'm looking forward to getting the juices flowing on a Sunday and seeing how my game goes," said Fleetwood, who has fallen 22 places (to 43rd) in the World Ranking since he played in this event a year ago. "I would love to be competing down the back stretch. Who knows, this might be my week. It might not be, of course, but I'm excited about where my game is heading. You always look for affirmations to say that what you're doing is right and I think today showed me that."
As for the man McIlroy and Fleetwood and the rest are chasing, Harding's calm post-round demeanor reflected the steady two-birdie, one-bogey 71 he posted.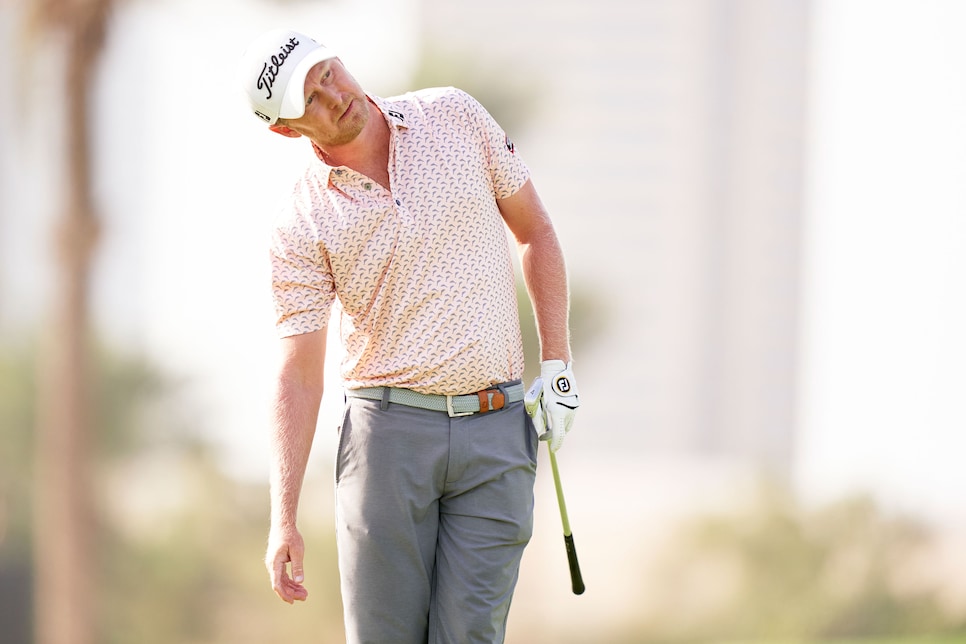 Harding has won twice before on the DP World Tour, but the win in Dubai would be easily the biggest (and most lucrative) of the 35-year-old's career.
Quality Sport Images
"I'm quite happy," was Harding'a understandable reaction. "I played solid. It was a difficult day, and there were times when I didn't quite put the ball in play. Then I couldn't really go anywhere near the flags. The one bogey I made was from long range with the putter. Tomorrow, I've just got to keep doing what I'm doing, make a couple of birdies and shoot 70, 69, something like that. If I do, someone is going to have to shoot five or six under to beat me. And if they do that, all credit to them."
Brave stuff indeed. Some might even say tempting the fate that befell the unfortunate Jamieson. Whatever, another fascinating day beckons.