News
Junior golf tournaments seeing huge interest from families ready to get back to competition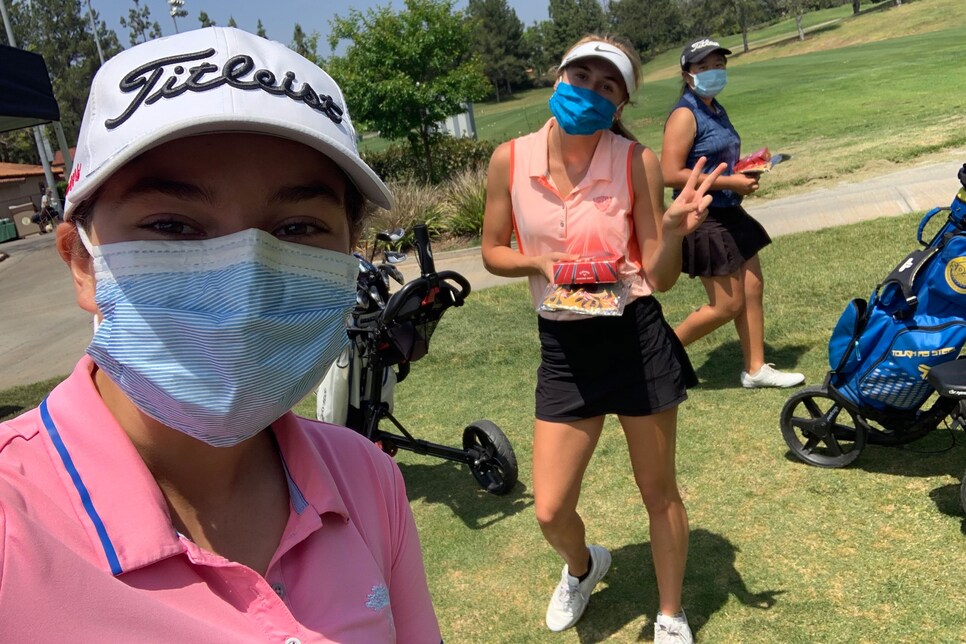 Sofina Firouzi (front), Taylor Riley (middle) and Elina Kuang pose wearing face coverings before playing in Future Champions Tour event in San Marcos, Calif., on May 16. (Courtesy of Sofina Firouzi)
The moment of reckoning had arrived. In an email to its constituency of 1,000 families, the San Diego Junior Golf Association announced it would begin accepting registration for its revamped summer tournament schedule at 6 p.m. on Tuesday, May 12.
The directors of the SDJGA, Megan Mahoney and Chris Spence, knew there was a lot riding on the response. In the midst of the coronavirus pandemic, they'd already scrapped their entire original schedule and, more painfully, canceled one of the nation's largest junior events, the IMG Junior World Championship, for the first time in its 53 years of existence.
Parents were disappointed, kids were distraught, and the SDJGA stood to take a financial hit so crushing it might need years to recover. To then have families balk at registering for the new slate would be another wrenching blow.
"We didn't know which way it was going to go," Mahoney said.
Then the clock struck 6, and within minutes Mahoney's concerns vanished. Spence monitored the computer and was stunned by what he was seeing. In the first half hour alone, 140 families reserved 815 spots for the nine tournaments the SDJGA was offering. By midnight, the number was 1,182.
"Holy moly," Mahoney later recounted. "That was the best registration we've ever had. We don't even get that kind of response in the first couple of days for Junior World, and for our regular play it can take a couple of months.
"That's when we knew: OK, people are ready. They want to come back."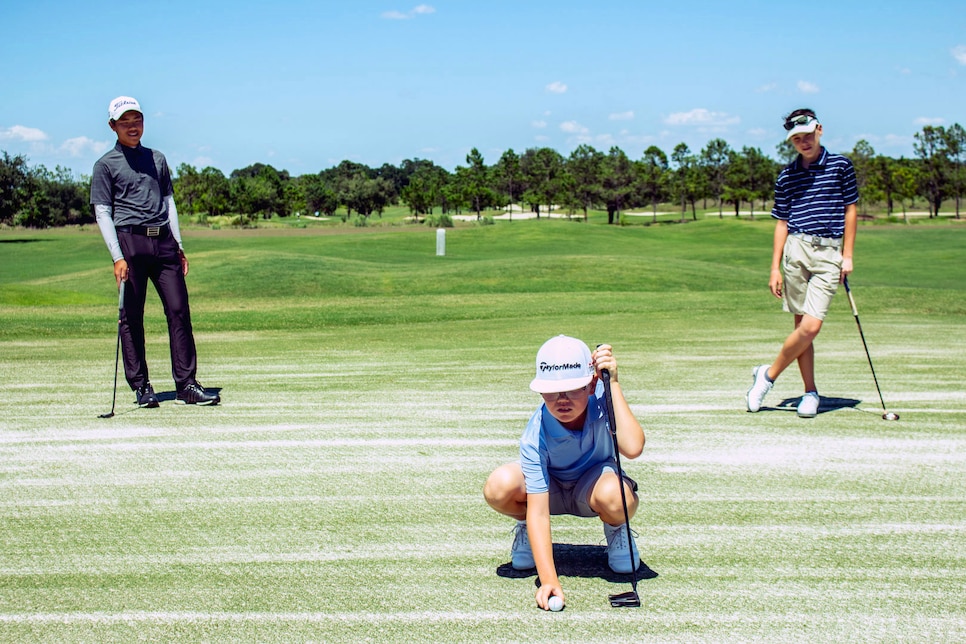 Boys compete in a Hurricane Junior Tour event at Eagle Creek in Orlando in early May. (Courtesy of Hurricane Junior Golf Tour)
In the deepest throes of the pandemic, the prospects for junior golf this summer looked quite bleak. The USGA canceled the most coveted events on the schedule, the U.S. Junior Amateur and U.S. Girls' Junior. The Junior World was scratched, as were the Optimist International, and the boys' and girls' editions of the Junior PGA, North & South and Western. Even the venerable Pepsi Little People's Golf Championship, staged in Quincy, Ill., since 1974, was a victim, though it got creative by hosting a virtual tournament.
Yet as golf courses began to open up again last month, hope for a salvaged season returned. With its wide-open spaces and natural social distancing, the game has been a pacesetter in the return to normalcy as state and local authorities begin to ease up restrictions. Combine that with young people, barred from going to school and without their usual social and athletic connections—and their weary parents desperate to give them something to do—and the clamoring for junior golf seems inevitable.
In late April, the Southern California PGA Junior Tour surveyed its membership, according to executive director Kevin Smith. Among 400 respondents, nearly 70 percent said they wanted their children to return to tournament golf as soon as stay-at-home orders were lifted. Another 20 percent said they would choose to wait until at least the fall to play, while 8 percent said they would need a vaccine available before their child competes.
With a fervent majority in favor, the junior tours began to open up and saw their tournaments fully subscribed as quickly as they could schedule them.
Mario Conte, the founder and executive director of the Florida-based Hurricane Junior Golf Tour, which stages tournaments in 22 states and boasts close to 8,000 members, said he received entries in record time for the first four events he put on his revised calendar, and the Hurricane was the first major junior tour in the country to resume play on May 2. The Texas Junior Tour has returned to competition, as well as the Future Champions Tour in California. U.S. Kids had to cancel 100 events and reschedule 250 more, but it came back in a big way on the third weekend of May with 35 events across the country.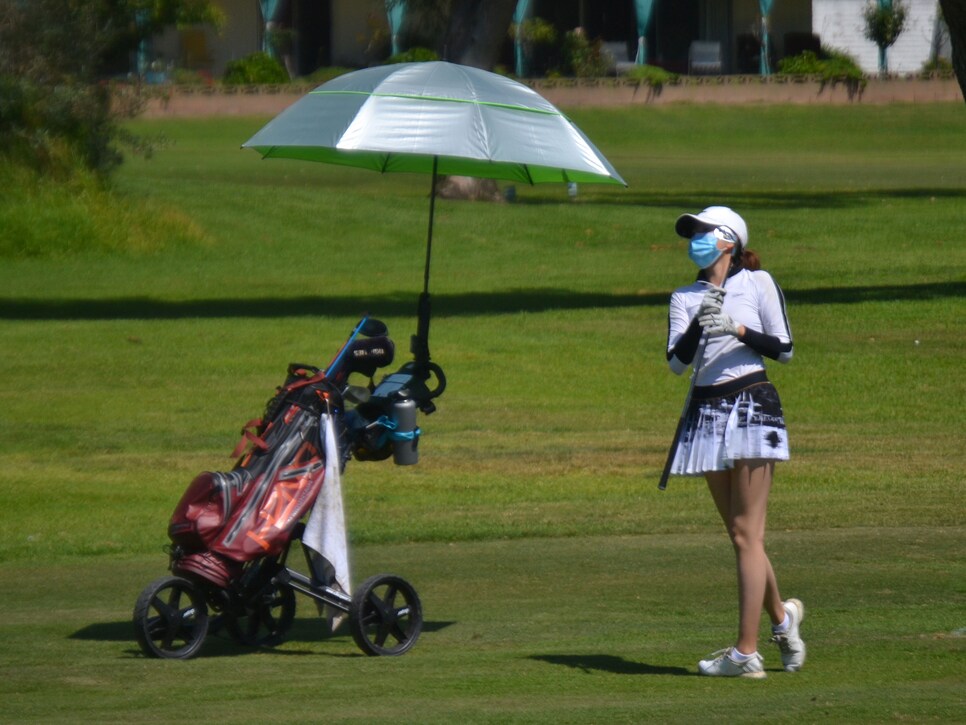 Jiyi Jing hits a shot during a Future Champions Tour event in San Marcos, Calif. (Tod Leonard)
More tours are expected to resume in June, including the biggest player in the youth market, the American Junior Golf Association. The AJGA issued a revised schedule this week and will resume play on June 8 with the AJGA Invitational at Sedgefield in Greensboro, N.C.
"We talked to people from a lot of different places, people of different ages, races," Conte said, "and the overwhelming data as we got to the end of April was, 'We want to get out there. We feel that is safe.'
"We did our due diligence. We didn't want to have a knee-jerk reaction," he continued. "People wanted to get back to normalcy. And this is why I do my job. It makes me feel great when we can be a part of everything opening back up, be a breath of fresh air."
Some organizations have been slower to come back. The 3,000-member SCPGA Junior Tour, which had to cancel 70 events, will be among the last of the major circuits to return, with a restart scheduled for June 22.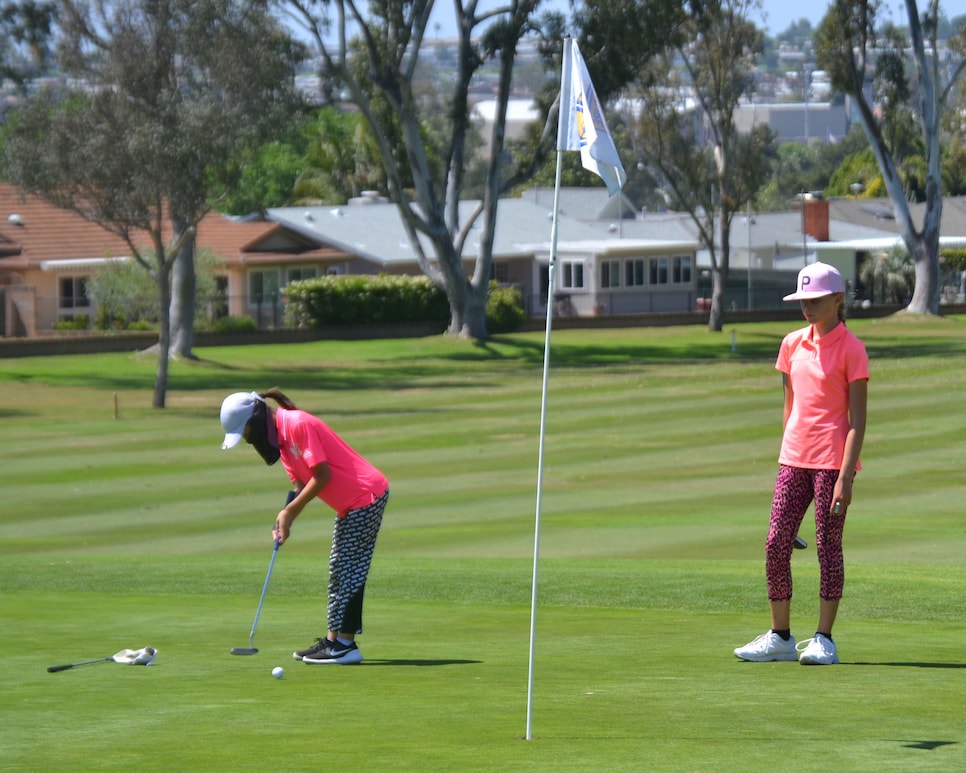 Jingyi Cui putts as Breanna Noble watches during a Future Champions Tour event. (Tod Leonard)
"We just didn't have near enough answers to put protocols in place," Smith said. "We didn't want to jump the gun too soon, do something incorrectly, and then have a negative impact on the golf scene.
"I go to sleep at night thinking, 'What if a kid gets the virus at one of our tournaments?' We would all feel horrible."
Further complicating the task for Smith and other directors is that states and counties have various rules for courses re-opening. Los Angeles County, for example, allowed courses to reopen in mid-May with the stipulation that no tournaments would be played. L.A. is one of the four big markets the SCPGA serves.
"That severely impacts us," Smith said.
New protocols and procedures
Just as with everything else in this new way of life, junior golf already looks shockingly different. At a recent two-day Future Champions Tour event in San Marcos, Calif., parents weren't allowed on the grounds of St. Mark Golf Club, instead dropping their kids off in the parking lot. The golfers were required to wear face coverings around the clubhouse and putting green, but not the driving range, which had spaces blocked off to ensure distancing.
The masks remained on while the players met with the starter on the first tee. Once the first tee shots were struck and they made their way down the fairway, the kids could remove their masks, and most did. One young girl played on in a long black bandana, and another older girl topped her fashionable outfit with a blue medical mask.
After the tournament, players were quickly handed their freshly disinfected plaques and posed for photos, yards apart from each other.
"We had a girl [Sofina Firouzi] shoot seven under for two rounds in the first tournament back, which I thought was impressive," said Chris Smeal, director of Future Champions. "I asked her how the experience was. She said she was really worried about what it was going to be like, but that we did an awesome job."
Smeal chuckled and added, "Some of the kids said it was a lot easier playing without their parents watching."
Re-opening an arduous task
How to come back was a significant part of when to return. Facing myriad protocols and regulations—which differ by state and can change from one hour to the next—tour directors couldn't just accept signups and send the kids out. They had to develop extensive written plans that would be pored over by lawyers and government officials. As an example, the Texas Junior Golf Tour's "plans for competition" numbers 10 pages. The AJGA's document is 17 pages. Some organizations produced instructional videos.
"I've never read more newspapers and websites and documents in my life than I've read these last few weeks," said Travis Measley, executive director of the TJGT. "We knew we had to be overly cautious, overly restrictive with our policies to start, because that's the easiest way for us to have control and to give myself the most peace of mind. The foremost decision was to keep people safe."
Junior golf tournaments have adopted protocols similar to golf facilities in general, including no touching of the flagstick and no use of bunker rakes. The Hurricane has some exceptions; it allows the removal of the flagstick, but encourages using a glove to do so, and players can handle rakes if they use gloves distributed by the tournament.
Interestingly, bunker play has been the area most affected by the new rules. The Texas Tour requires a re-drop in the sand should a player say he or she has an unfair lie, while others are allowing a replacement by hand. Future Champions has deemed bunkers ground under repair because courses have yet to return to full maintenance.
Big tournaments present huge challenge
While local junior tournaments are up and running, the impact of the coronavirus might be most felt at the national level because of travel concerns and restrictions. The IMG Junior World was forced to cancel because nearly half of its annual field of 1,200 are international players. The U.S. Kids World Championship and World Teen Championship, staged each year in Pinehurst, N.C., attract similar worldwide participation, and though the events are still scheduled for late July, U.S. Kids spokesman John Kim acknowledged that there would likely be fewer international participants and more Americans.
"It's still a pretty big field," Kim said. "The wait list is long."
The 6,000-member AJGA is seen as the tour most likely to see families traveling from around the country to participate, but Executive Director Stephen Hamblin said that's a common misconception. He noted that 75 percent of a standard AJGA field is made up of golfers who are within driving distance of the tournament.
"I think that's going to go up a bit," Hamblin said. "I don't know about the angst people have for travel. I know people who have jumped on an airplane during this, and people who have driven across the country because they don't want to fly. In a perfect tournament week, we'll have tournaments in each geographical region."
The AJGA also has reduced its field size to a maximum of 78 players, and Hamblin said trimming the number of tournament rounds is being considered.
Older juniors feeling the pressure
There is a category of player most deeply affected by all of the schedule changes. For high school juniors and seniors—particularly those who have not earned a college scholarship—the loss of playing opportunities this summer could be life-changing, especially considering that their high school seasons were wiped out.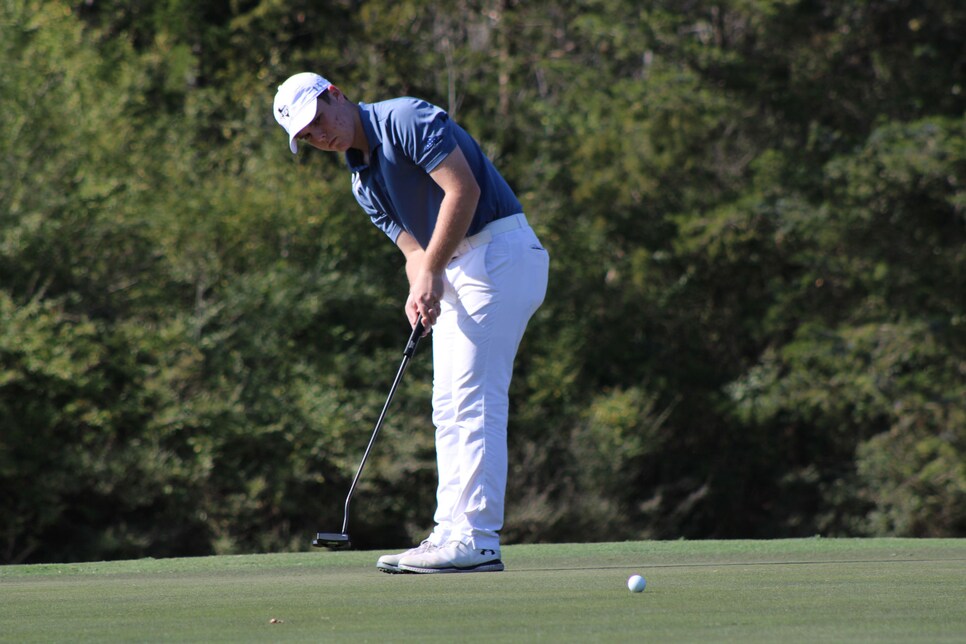 Jacob Wright, an upcoming senior at Abilene High School in Texas, had his tournament schedule "blown up" by cancellations during coronavirus shutdowns. (Maty Monzingo/TJGT)
Jacob Wright, a 17-year-old senior-to-be at Abilene High School in Texas, has had 25 universities at various levels keeping tabs on him. The two-time 6A District qualifier's schedule was packed for the summer with tournaments around the country, but those plans have been "blown up." Before competing in a Texas Junior Tour event in mid-May, he'd missed nine weeks of competition. At one point, he was supposed to play three tournaments in Houston in a nine-day span. All of them were canceled.
While noting that he believes everyone's safety is paramount, Jacob said, "These are the tournaments that I needed to show my stuff, to catch the attention of these college coaches, and they're down the drain."
Said Jacob's dad, John, "I feel bad for all of these kids. It's tough on all of them. I hope the people making decisions realize it's impacting them in a dramatic way."
As May wore on and tournaments started up again, Jacob was more upbeat about what the rest of the summer might hold, even if there was uncertainty about where he'd play.
"Now that everything has calmed down, I'm ecstatic to find ways to continue golf tournaments," he said.
It is the theme of our time, waves of mixed emotions about the unforeseen lessons that seem to be perched at every turn.
"It's cruel, to a degree," John Wright said, "but that's what I love about golf. It emulates life. You've got your good runs and your bad."