Bob Jones Award
Juli Inkster receives USGA's highest honor, the Bob Jones Award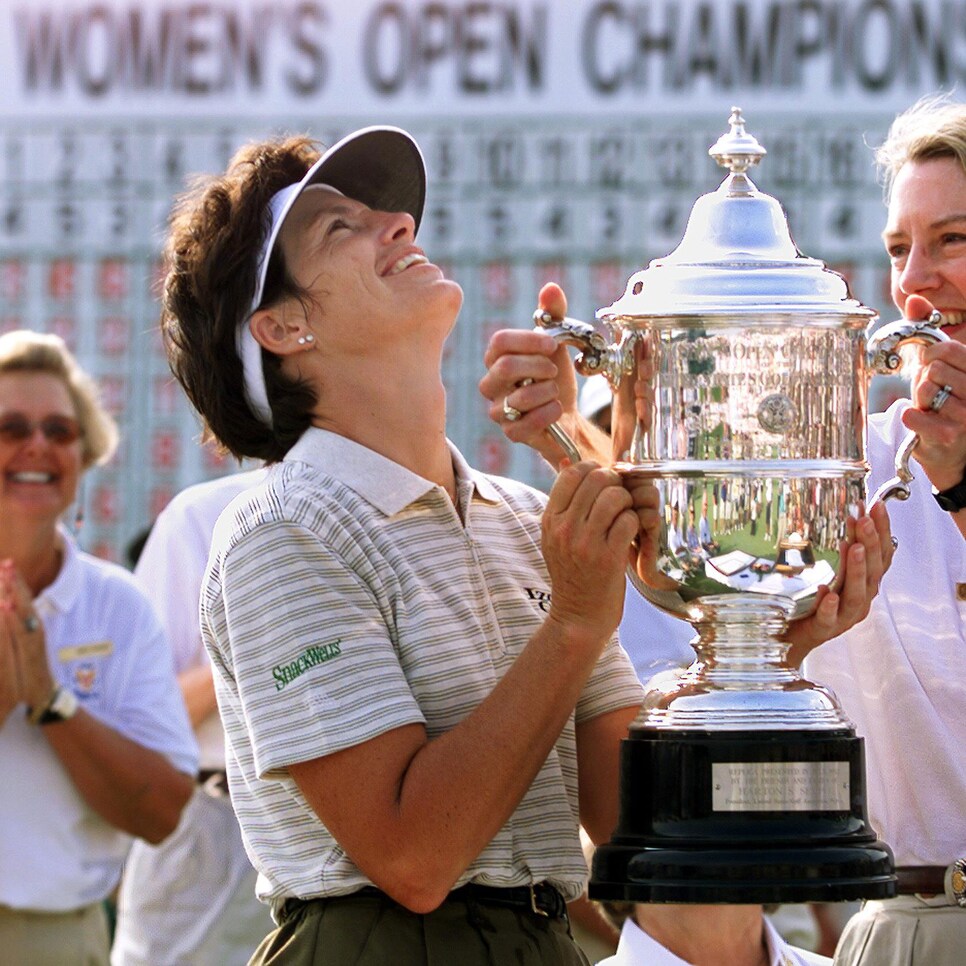 Juli Inkster receives the U.S. Women's Open trophy after winning the championship in 1999.
LUKE FRAZZA
The USGA's highest honor, the Bob Jones Award, annually goes to someone in golf who displays great character, respect and sportsmanship. On Friday, the governing body announced that Juli Inkster has been named the 2022 recipient, joining some of golf's greats, including Jack Nicklaus, Arnold Palmer and Nancy Lopez.
"Juli exemplifies the true nature of this award in every way," Mike Whan, USGA CEO, said. "The game of golf is better because Juli is in it. She has earned respect throughout her impressive playing career, but more than that, her mentorship to other players has had a tremendous impact on so many. We are very lucky to have her in the USGA family and are thrilled to honor her with this prestigious award."
Inkster grew up in Santa Cruz, Calif., and played high school and college golf in the area. While playing at San Jose State, she won three consecutive U.S. Women's Amateur Championships from 1980-82. Her success continued after turning professional in 1983, as Inkster would go on to win 31 times on the LPGA Tour, including two U.S. Women's Opens (1999, 2002) among seven major titles. In 2015, she was named U.S. Solheim Cup captain and led her team to one of the greatest comebacks in match's history, winning 14½-13½ in Germany. The team won again under her captaincy in 2017 at Des Moines G.&C.C. before suffered a narrow loss at Gleneagles in 2019.
Inkster, 61, has continued to play LPGA Tour events, and says she intends to play at least once in 2022. When speaking to a few members of the press about the award, she was humbled by the recognition.
"It's surreal. I mean, Bob Jones is a legend in the golf game, and for me to think that I'm going to be on that trophy with all those other great players and great ambassadors for golf, it's very humbling," Inkster said.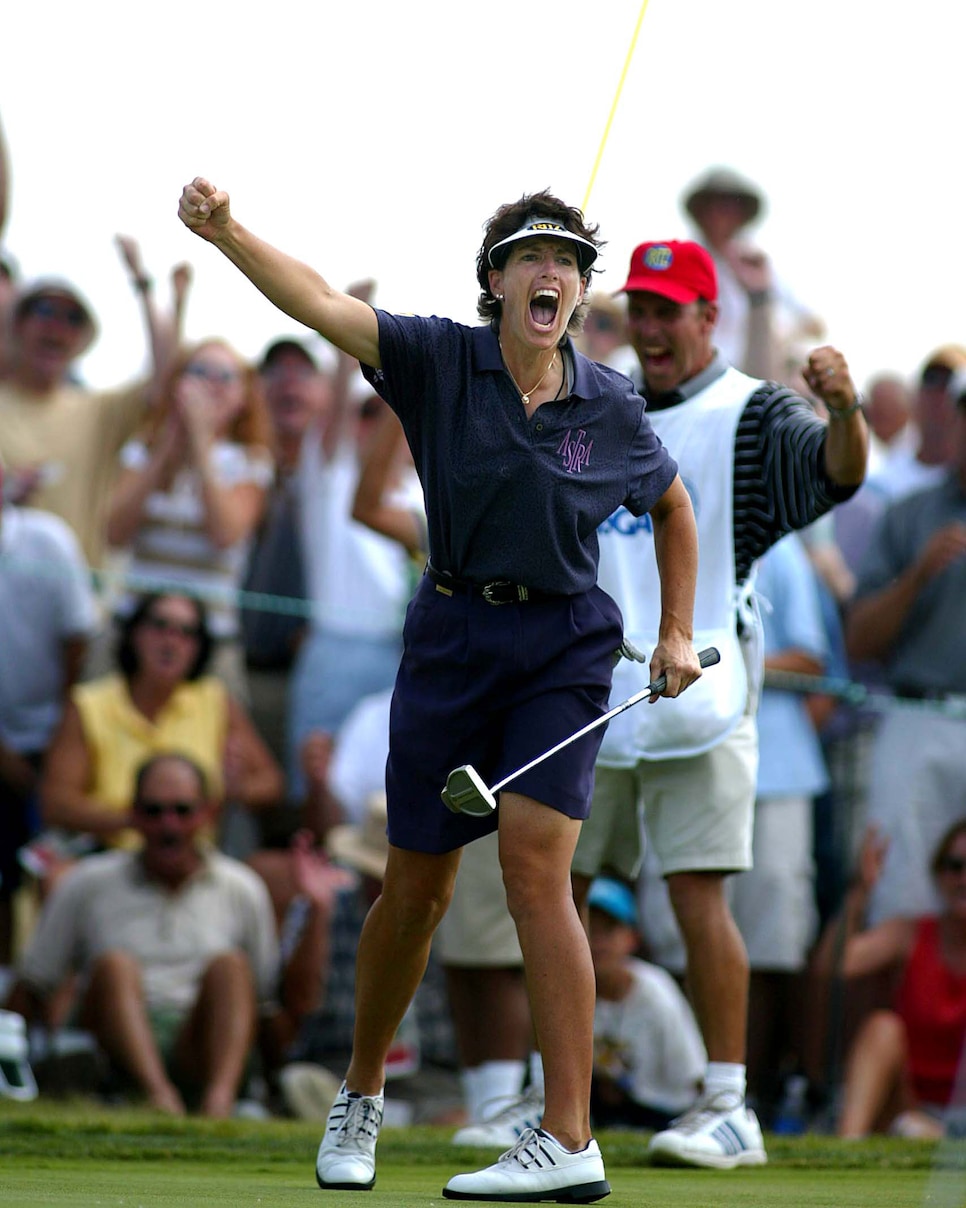 Juli Inkster celebrates her birdie putt on 16th hole that help clinch the 2002 U.S. Women's Open title, her second time winning the major.
PAUL BUCK
While she's achieved much in her career, those three consecutive U.S. Women's Amateur wins stick out to her. She was just the third woman to win the title three straight years, joining Glenna Collett (1920-30) and Virginia Van Wie (1932-35).
"Looking back on my career people ask me, What's your greatest accomplishment? One would be the Solheim Cup captain, but the other one would be winning three U.S. Amateurs in a row," Inkster said. "Winning 18 matches in a row at three different golf courses in three different years is really hard to do. So that's really what I've been most proud of. And then be able to add a couple U.S. Opens off that."
At her first U.S. Women's Open in 1978, Inkster recalls how inexperienced she really was.
"That was my first time I ever traveled out of California. I qualified at 18 for the U.S. Open at Indianapolis Country Club, and I used to play with the golf balls that I found in the canyons at Pasatiempo, and I get there and they're all brand new Titleists, and so I did take a few home with me," Inkster said, laughing.
Of her two U.S. Women's Open victories, the tougher of the two was her second, at Prairie Dunes in 2002. Inkster remembers just not having it that week, but getting the ball around the course, anyway—and holding off Annika Sorenstam, who finished second by two strokes. Inkster was 42 when she won, becoming the second-oldest woman to ever win the championship.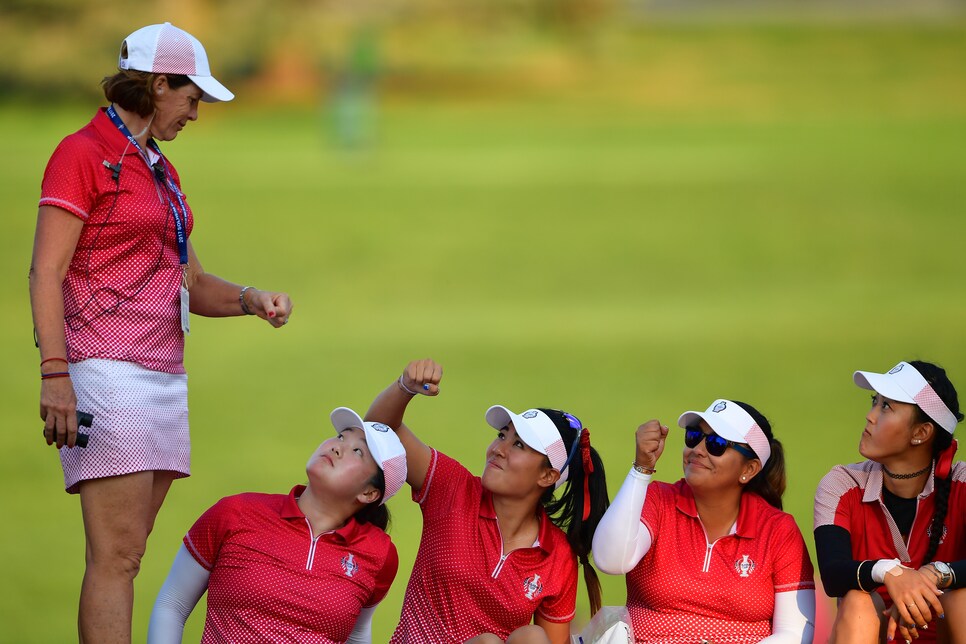 Inkster talked to her players during the 2017 Solheim Cup at Des Moines Golf and Country Club.
Stuart Franklin
"I hit the ball horrible, but I got up and down from the garbage cans. I just kept myself in it. Those greens are so tough. I didn't have one three-putt all week. Then Saturday night, I was the last one on the range just trying to find something. I remember Brian [Inkster's husband] going, Can we go home now?," Inkster said, laughing. "Finally, I found something, and I took it to the range the next day and it helped. I got off to a really good start. Birdied 2 and I was starting to hit a lot of greens and I was still putting well.
"I just played an amazing round of golf, especially on that golf course. But I did get some up and downs. On 15 made a great up and down from way right to the left and took about a 15-footer for par. That was one of my best grinding weeks of all-time."
Inkster is the only woman to have won the U.S. Women's Open while being a mother. (Others have won it and then become mothers after the victory.) Just six weeks after giving birth to her older daughter, Hayley, in 1990, Inkster was on the road playing in the Nabisco Dinah Shore Championship, a major.
"We didn't have maternity leave. We didn't have daycare and I didn't have the greatest year in 1989, so I had to get out there and play," Inkster said. "I don't know if it was good or bad, but I did it. Hayley was sleeping in closets and bathrooms and anywhere it was dark. I'm traveling with my parents and not sure I was playing good golf or being a good mom or being a good wife or whatever, but you know, I did it and I think it made me stronger. I know it made me a better mom, so I think once you do that, I feel like you think you can do anything, you know."
That's what made Inkster a beloved Solheim Cup captain, a major champion and now a Bob Jones award winner—her toughness, her determination and the internal belief that she truly can do anything.
"I just never give up. I just keep going," Inkster said. "You never know when you're going to hit that one shot that gets you going or make that one putt that gets you going."