Majors
Former U.S. Women's Open winner Juli Inkster, 60, enters 36-hole qualifier for shot at playing Olympic Club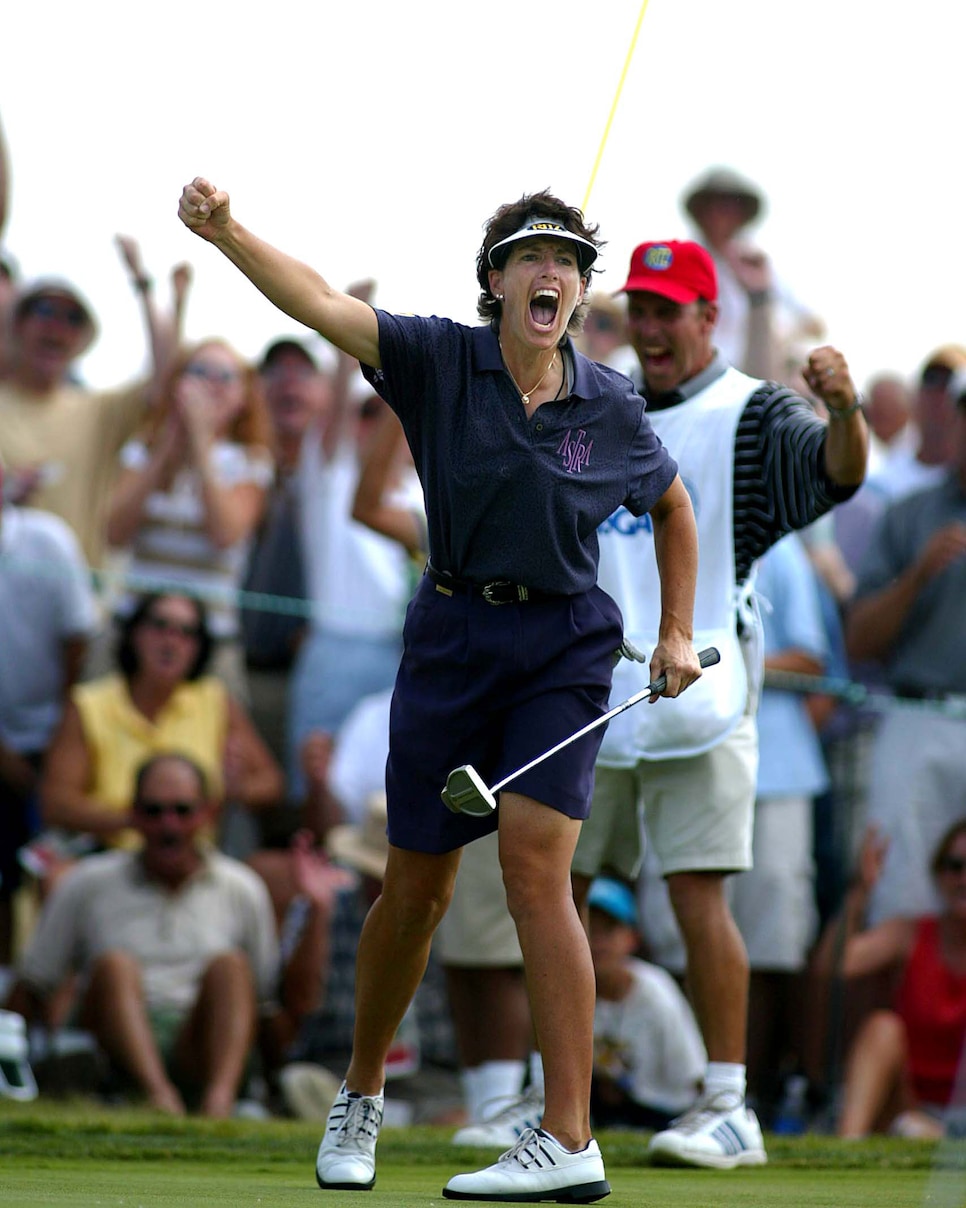 Juli Inkster celebrates en route to her 2002 U.S. Women's Open victory, the second time she claimed the title.
PAUL BUCK
Juli Inkster is a two-time U.S. Women's Open winner (1999, 2002) who has played in the USGA's signature women's championship 35 times during her Hall of Fame career, the last in 2014. However, she's hoping to make it 36.
The 60-year-old has signed up to compete in a 36-hole qualifier at Half Moon Bay Golf Links, April 26, in hopes of advancing to the U.S. Women's Open at The Olympic Club in June. The USGA confirmed Inkster's entry, which was first reported by Golfweek. All entries for the championship close on April 14.
"I'm probably an idiot for trying, but I think I would be disappointed in myself if I didn't because it's so close to home," Inkster told Golfweek.
Inkster grew up in Santa Cruz, Calif., and currently resides in Los Altos, about 35 miles away from The Olympic Club in San Francisco, which will host the championship June 3-6. Inkster has played the course numerous times, including in college at San Jose State University.
The seven-time major champion played in the LPGA Tour's Kia Classic last month, where she missed the cut. She is also in the field at next week's Hugel-Air Premia L.A. Open, which concludes two days before the qualifier.
Danielle Kang played for Inkster on the 2017 and 2019 U.S. Solheim Cup teams and didn't sound surprised that she would give qualifying for the U.S. Women's Open a try.
"She's feisty and a go getter. Never quits. It's not that she never quits, it's just she's got that fire and it's never died down. I look at her and I think, 'Did I ever do what she can do?' " Kang said on Tuesday during a press conference ahead of the LPGA's Lotte Championship. "I love it when she competes. She's done everything that everyone wants to do."
A 31-time LPGA Tour winner, Inkster made her last start in a major championship at the 2019 ANA Inspiration, where she shared in the booth that it would be her final appearance at the Dinah Shore course.
Inkster finished 15th in her last U.S. Women's Open start at Pinehurst No. 2 in 2014. If she gets through qualifying, it would be the sixth different decade in which she will have played the Women's Open, her debut coming as an amateur in 1978 at the Country Club of Indianapolis.