Korn Ferry Tour
At 46, journeyman Gutschewski is a champion again, draining 40 footer in playoff to win for first time in 15 years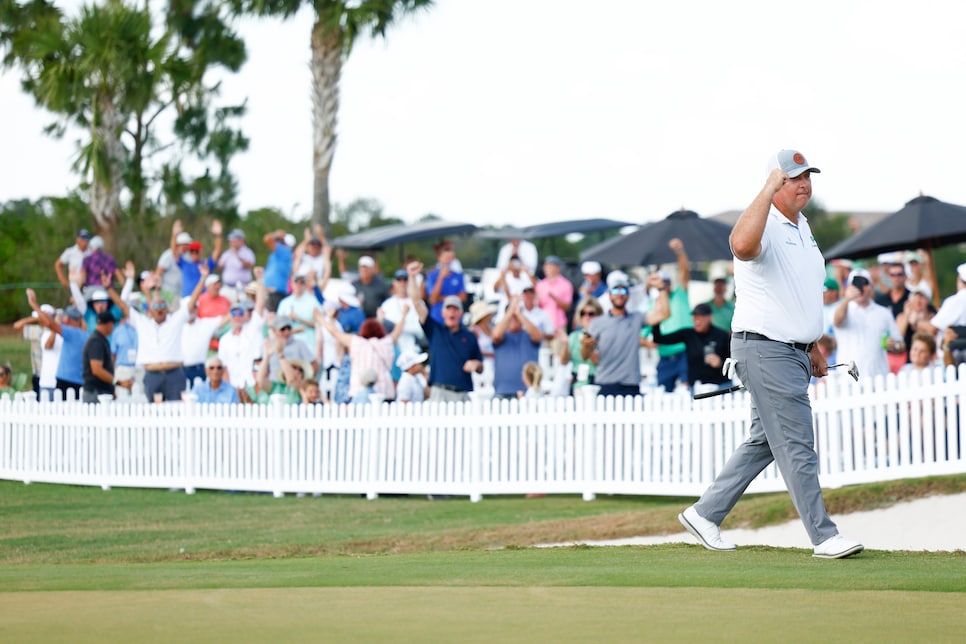 Scott Gutschewski, it can be said, put the journey in journeyman, this veteran tour pro still chasing the dream at age 46. Occasionally the dream acquiesces to the dreamer, as it did Sunday in Lakewood Ranch, Fla.
Still grinding to make a living and heretofore without much success, Gutschewski holed a 40-foot birdie putt from off the green on the first playoff hole to win the Korn Ferry Tour's LECOM Suncoast Classic, his first victory in 15 years.
"Holy cow!!!!," he tweeted afterward, four exclamation points probably insufficient. The last time he won a tournament was in 2008, the Rex Hospital Open in North Carolina, on what was then the called the Nationwide Tour.
Gutschewski closed with a three-under-par 68 at Lakewood National Golf Club, and a 72-hole score of 21-under 263 that was matched by Logan McCallister. On the first extra hole, the 18th, Gutschewski holed the 40-footer that no doubt will re-energize his bid to get back to the PGA Tour once more.
"Hard to put into words right now," Gutschewski said, unsuccessfully holding back tears. "Well, it's been a long time. So, yeah, probably really hard to talk now. Probably like a couple years ago when I got my [PGA Tour] card again. It's tough. Tough to put into words. Just trying to be the type of player that I teach my kids to be. And just listening to myself."
As for the journey that began after his college career at Nebraska, he played the Tight Lies Tour, Prairie Tour, Hooters Tour, Canadian Tour, Nationwide Tour (now the Korn Ferry Tour), the PGA Tour in 2005 and 2006, back to the Nationwide Tour, again on the PGA Tour in 2009, again demoted to the Nationwide Tour in 2010, then back to the PGA Tour in 2011.
An injury curtailed him, and in 2012, he was on the men's golf coaching staff at Creighton University and pondered a full-time coaching career. Instead, he returned to competitive golf and in 2021 again was on the PGA Tour, a decade removed from his last stint there. Then once more, it was back to the Korn Ferry Tour.
Until this point this year, it had not gone well. Gutschewski had missed the cut in four of his last five starts, including his last three in a row in which he failed to break 70 in those six rounds. Yet he broke 70 in all four of his rounds this week to secure a win out of nowhere, proving once again that dreams die hard.