Zurich Classic
Davis Riley, Nick Hardy close with birdie barrage in New Orleans to help both capture first PGA Tour victories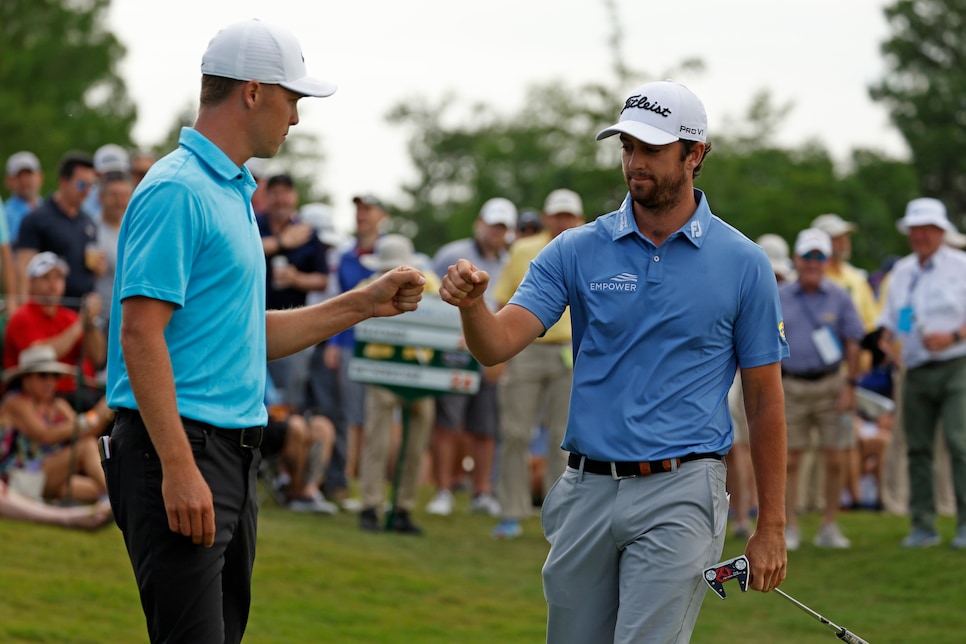 Joining forces to win the Zurich Classic of New Orleans was almost a decade in the making for Davis Riley and Nick Hardy, former AJGA All-Americans who were teammates in the 2014 AJGA Wyndham Cup.
"This is so special, and to share it with one of my best friends on tour is a dream come true," said Riley after he and Hardy won for the first time on the PGA Tour with a victory in Avondale, La. "Just the progression of playing high school, college golf and now PGA Tour golf is super special, and to be able to share it with this guy [Hardy] is pretty cool."
With nine players among the top-10 teams on the leaderboard through 54 holes seeking their first PGA Tour victories, chances were good for a breakthrough story at the Zurich Classic, and Riley and Hardy wrote the final chapter in a record-setting win thanks to a brilliant inward 31 at TPC Louisiana. Capped by Riley's 33-foot birdie putt from off the green at the par-3 17th hole, the duo shot a seven-under 65 in the modified alternate-shot format and finished at 30-under 258, breaking the tournament record of 259 set a year ago by Patrick Cantlay and Xander Schauffele.
Riley, who called the victory "surreal" also had a near-ace at the 207-yard par-3 14th hole, his tee shot stopping two inches shy of the cup. They are the first duo to each record his first tour title at the event and they are the sixth and seventh first-time winners on tour this season.
The win took care of some unfinished business from the 2022 event for both players. Riley, 26, a Mississippi native and former Alabama All-American, was in the hunt last year before he finished T-4 with Will Zalatoris. The 27-year-old Hardy, meanwhile, injured his left wrist on the fourth hole of the final round, and though he managed to finish, he was sidelined for nearly two months on the way to missing the FedEx Cup Playoffs.
The pair, who tied the tournament record with their three-shot comeback victory, collected $1.242 million each and 400 FedEx Cup points, and each moves into the top 40 in the season-long standings. In addition, they qualify for the PGA Championship and Memorial Tournament. Riley won in his 59th PGA Tour start, Hardy in his 51st.
"I feel like we both handled it very well coming down the stretch. First timers, obviously. So to be able to do that together, kind of rub off each other's confidence and sort of attitude," said Hardy, an Illinois native and University of Illinois graduate, who set up his partner for the outright lead when he stuck a wedge approach from 129 yards to five feet at the par-4 16th hole. "It was definitely special to have a partner for the first one."
Canada's Nick Taylor and Adam Hadwin, World Cup teammates in 2018, closed with a 63, tying the alternate-shot record that Cantlay and Schauffele posted in the second round on Friday, but Taylor missed a five-foot birdie putt at the last and they settled for 28-under 260. Taylor collected his second runner-up finish of the season.
Beau Hossler and Wyndham Clark, who held at least a share of the lead after each of the first three rounds, came in with 71 to finish third at 261. Hossler and Clark were one of four teams bogey-free through 54 holes, but they suffered two late bogeys on Sunday at 16 and 17 to shoot themselves out of contention.
Cantlay and Schauffele bogeyed the 72nd hole but still carded 66—giving them a better alternate-shot total by four strokes than their better-ball scores—to tie for fourth at 26-under 262 with Matthew NeSmith and Valspar winner Taylor Moore (69).
"Best ball wasn't our best format this year compared to last year," Cantlay said. "We both had some opportunities to save some pars and make some putts that we didn't make this year. Coming down the stretch, I just hit a poor drive on 18 and put him in a bad spot. That was kind of the story of the week. We didn't necessarily hit all the great shots when we needed to."