News
Journeyman Richard McEvoy gets elusive first win as Bryson DeChambeau stumbles over final four holes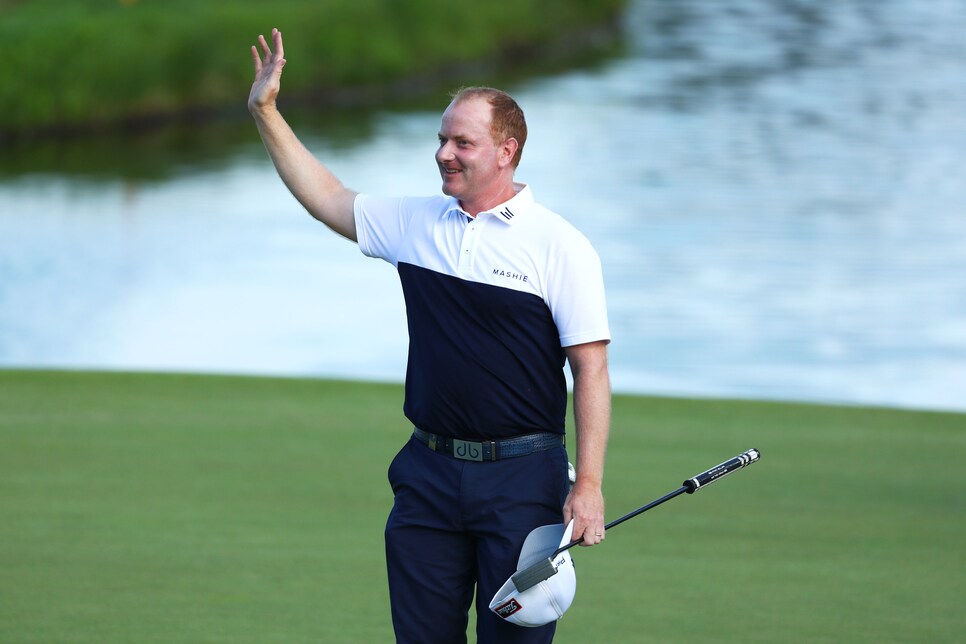 A pair of prominent Americans threatened to claim the Porsche European Open title in Germany, but in the end it was a journeyman from England who emotionally hugged his caddie on the 18th hole.
Richard McEvoy has had almost the opposite career from Patrick Reed and Bryson DeChambeau, struggling for 17 years to find his way in professional golf. Five times the 39-year-old, a former GB&I Walker Cup player, went to European Tour Q school after winning medalist honors there in 2002 (and twice falling back to the Challenge Tour). But with a closing one-over 73 at Green Eagle Golf Course in Hamburg, McEvoy won for the first time in 285 European Tour starts.
It wasn't pretty. McEvoy started the day in a tie for first with DeChambeau, then proceeded to make five bogeys, never looking as if he was in control of the tournament. But there was plenty of ugly to go around.
Reed, just one stroke back after rounds of 70-66-69, made five bogeys of his own on Sunday, including four through the first 13 holes, to close with a 76 and finish tied for ninth.
DeChambeau, meanwhile, bogeyed two of his first five holes but a birdie on the eighth seemed to settle the 24-year-old down. He had held the lead or a share of it after every round this week, an impressive feat after a video of a range session he had on Thursday at the Open Championship at Carnoustie showed him struggling mightily with his swing.
At 11 under par, the recent PGA Tour winner at the Memorial still had a one-stroke edge on McEvoy on the 15th hole. But trying to go for the green in two on the 583-yard par 5, DeChambeau's second shot sailed right into the water guarding the green. He scrambled for a bogey, while McEvoy made a 15-footer for birdie, the two-stroke swing quickly changing the tournament's complexion.
Ahead of the pair, Italy's Renato Paratore made a birdie on the last hole to finish with a 70 and post 10 under as the clubhouse. Amateur Allen John from Germany and Christofer Blomstrand from Sweden got to 10 under with birdies on the last hole.
McEvoy fell back to 10 under after a bogey on the 17th, and DeChambeau was at nine under after he made bogey on the 16th (after a wild tee shot), as the pair teed off on the par-5 18th. When DeChambeau pulled his drive into the water, however, his chance at victory was sunk. He'd finish with a triple-bogey 8 (having hit his third shot in the water as well) for a closing 78 and fall all the way into a tie for 12th.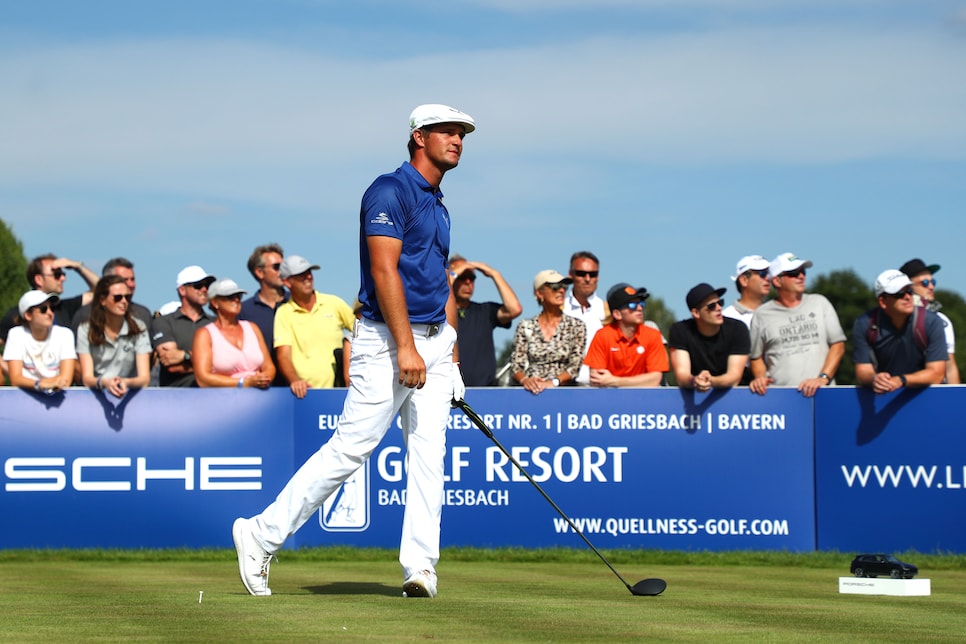 Matthew Lewis/Getty Images
McEvoy found the fairway, and after a lengthy conversation with his caddie decided to lay-up with his second shot. A wedge over water to 20 foot, set up a birdie chance that would change his career. When the putt fell, McEvoy's reaction was priceless.
"Incredible," McEvoy said. "I fought hard. I believed. Even at the last hole, I overpowered by caddie to lay up and give my best opportuntuty to make birdie."
McEvoy says there were signs in recent weeks that the breakthrough win was on the horizon. He played in a pro-am at England's Queenwood Golf Club and shot a 64, beating Rory McIlroy, Justin Rose and Adam Scott among others. And opposite the Open at Carnoustie last week, McEvoy won the Challenge Tour event in France, his third career win on the circuit. He is the first golfer to follow a Challenge Tour win with a European Tour victory since 2010.
The reaction on social media from players McEvoy grew up playing with hinted that it wasn't just an emotional victory for the golfer himself, but others, too.