Celebrity watch
Josh Allen's consolation for not playing in the Super Bowl: invitation to Pebble Beach Pro-Am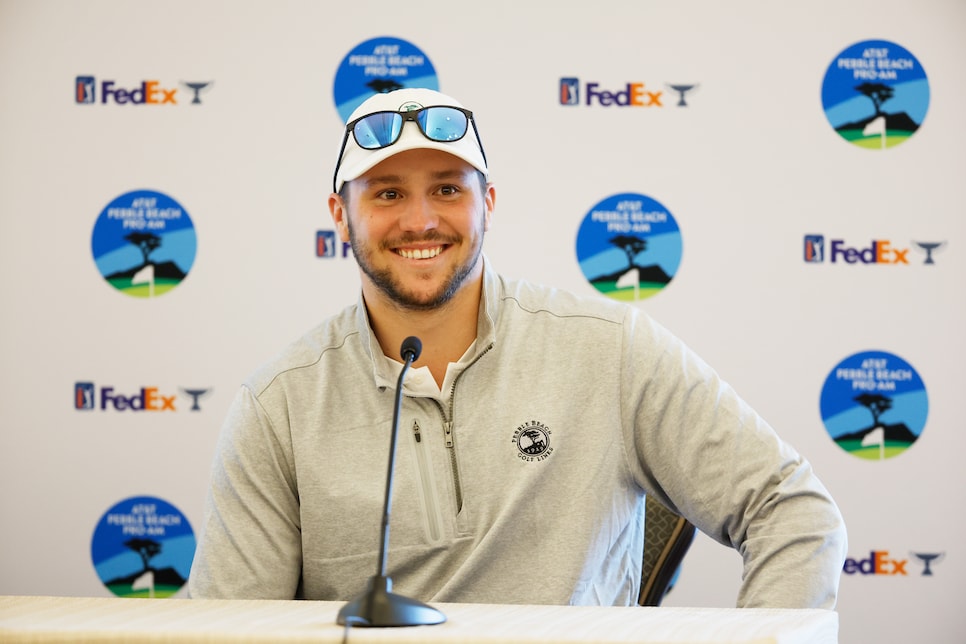 Buffalo Bills quarterback Josh Allen speaks to the media during a press conference prior to the AT&T Pebble Beach Pro-Am.
Cliff Hawkins
PEBBLE BEACH, Calif.—Josh Allen would rather be preparing for the Super Bowl this weekend instead of being the on the losing end of one of the most enthralling playoff games in NFL history. It was little consolation that the Buffalo Bills quarterback played superbly in a sudden-death overtime loss to the Kansas City Chiefs in which Allen and the Bills offense never got on the field in the extra period.
Playing in the AT&T Pebble Beach Pro-Am … now that's decent consolation.
A native or Firebaugh, Calif., near Fresno, Allen never attended the PGA Tour event famous for its collection of entertainment and sports glitterati. In fact, he had never played Pebble Beach Golf Links until Tuesday.
"My parents would come here, get a baby sitter and have a good time in Carmel, Monterey. Which now, being 25 years old, I don't blame them for doing that," Allen quipped.
Allen received an invitation to the tournament early last week and jumped at the chance to assuage his disappointment with a visit to the Monterey Peninsula. A golf enthusiast who loves the game, he said, almost as much as he loves football, Allen has played in a couple of pro-ams, including at the Waste Management Phoenix Open.
This is different. "This is the crème de la crème. The top of the top, and I wanted to be a part of it," he said while sitting with his professional partner, Keith Mitchell, in the interview room Wednesday at Pebble Beach. "And I know not many people get this opportunity to come out here and play with some special golfers and enjoy this experience, so once I was asked, I knew it was a no-brainer, I needed to be out here."
It goes without saying that through a long season and the playoffs and being based in Buffalo, Allen hasn't had much of a chance to work on his game. He participated in the Celebrity Shootout Wednesday afternoon, and he didn't show his partner much. At least he could laugh about it.
"He hit it 60 feet with a wedge," Mitchell interjected with a sly grin when Allen was asked how much golf he has played recently. Kind of brave of the Georgia golfer to be getting out the needle sitting next to a man who stands 6-feet-5 and weighs 237 pounds, but Mitchell, who has one tour victory, didn't seem the least bit daunted.
"I saw him hit two shots, and they weren't his best, but you know what … Larry Fitzgerald [former Arizona Cardinals receiver] is already talking a lot of smack saying him and [Kevin] Streelman are going to take us down," Mitchell added. "We know Larry usually gets too many shots, so we might have an adjustment in our own game, with them winning twice."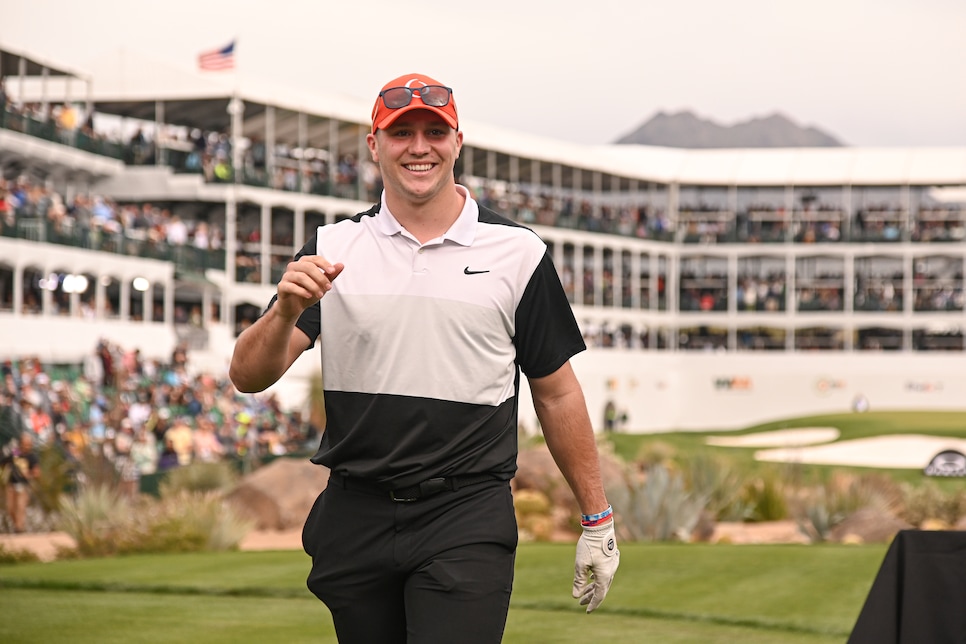 Josh Allen played in the pro-am of the 2020 Waste Management Phoenix Open.
Ben Jared
Mitchell and Allen are paired the first three rounds with Streelman and Fitzgerald, who won the pro-am title together in 2018 and 2020. They are technically the defending champions because amateurs were not part of last year's tournament due to the pandemic.
Allen said he still was smarting from the loss to the Chiefs. He passed for 329 yards and four touchdowns, didn't throw an interception, and was the team leader with 45 rushing yards. He orchestrated a go-ahead touchdown with 16 seconds to play that appeared to propel the Bills to the AFC Championship game against the Cincinnati Bengals only to watch Patrick Mahomes lead the Chiefs on an unlikely drive that set up a game-tying field goal by Harrison Butker. Then Mahomes and the Chiefs marched down the field and scored on a touchdown pass to Travis Kelce on the first possession of overtime while Allen could only watch from the sidelines.
"It was a fun game to be a part of and I know that everybody I talked to so far has come up to me and talked about how much they enjoyed that game and it's a small consolation prize, I guess, to be a part of that game, just where two teams are going back and forth," said Allen, adorned with scruffy facial hair and sunglasses perched atop the brim of his cap. "Unfortunately, we didn't get the job done, and it hurt watching the last week's game and it's going to hurt watching the Super Bowl, knowing what could have been. But, again, we move on, we'll learn from it, and we'll use it to our advantage."
An avid golfer since his college days at the University of Wyoming, Allen lit up Twitter and likely made new fans who follow golf when he arrived at a Bills game against the Miami Dolphins on Halloween dressed similarly to Phil Mickelson.Then he tipped his cap and gave a thumbs up, expertly mimicking the movements of the six-time major winner. "I do the thumbs up every time I pass by our cameras going into the locker room, and I kind of got that from Phil, his little hat tip and thumbs up. And just wanted to show my, I guess, admiration, if you will, by dressing up as him for Halloween and it turned out pretty good. Like really good."
Allen will play to a nine handicap this week. He and Mitchell are part of the "celebrity rotation" in which they will play first at Monterey Peninsula Country Club, then Spyglass Hill and then move to Pebble Beach on Saturday for network coverage on CBS Sports. That rotation includes, of course, Bill Murray as well as Don Cheadle, Darius Rucker, Jake Owen and newcomers Mia Hamm and Mookie Betts.
"All I need is nine pars on those nine holes, I don't care what he does on the rest of the time," Mitchell said of his partner, "but nine shots from the tees he's playing, with the drives he can hit are going to definitely be an advantage."
Shocking to think the athletic Allen with his size and rocket arm hits it a ton, right? He plays out of El Niguel Country Club in Laguna Niguel, Calif., and takes lessons there from Wade Wilson. "He [Wilson] is just trying to relate my swing to basically my throwing motion, trying to fire my hips first and kind of letting everything else follow through," Allen explained. "So, there are a lot of similarities between a throwing motion and a golfing stroke, and I just want to come out here, hit some good shots and have some fun and help him out on those nine holes."
The real challenge will be acclimating himself to an atmosphere far different than playing football in front of 80,000 screaming fans. Spectators return after a year off, and odds are good that a fair number will be following Allen, even if the kid who grew up a San Francisco 49ers fan now wears No. 17 for the Bills.
"I don't know, Bills Mafia travels pretty deep," noting there should be some friendlies among his gallery. "Seems like … I don't know how they do it, but they're everywhere and nowhere at the same exact time. So, I expect them to be out in full force and expect to see a lot of familiar faces from the central valley because, like I said, this is an event that a lot of my family and my family friends would come to growing up, so it will be fun to see all those people."
Still, the pressure, the environment … "It's polar opposite, right?" Allen agreed. "Instead of using silent cadence, and you can't even hear your own thoughts, to your thoughts being the loudest thing you hear on the golf course, and sometimes that's almost as scary as it being super loud.
"But again, just the mental toughness that you have to have as a golfer, and you have to bounce back after a shot, you have to bounce back after an interception. You can't let your last shot or your last throw dictate your next shot or your next throw, and you've got to be good on that end of letting things go and just trying to find out how you can best move forward."
Josh Allen can't wait for the chance to bounce back with the Bills. In the meantime, he said, he will play as much golf as possible until training camp this summer. Again, not a bad consolation.