News
Jordan Spieth's worst shot of last year did not come at the 13th at Royal Birkdale, according to Jordan Spieth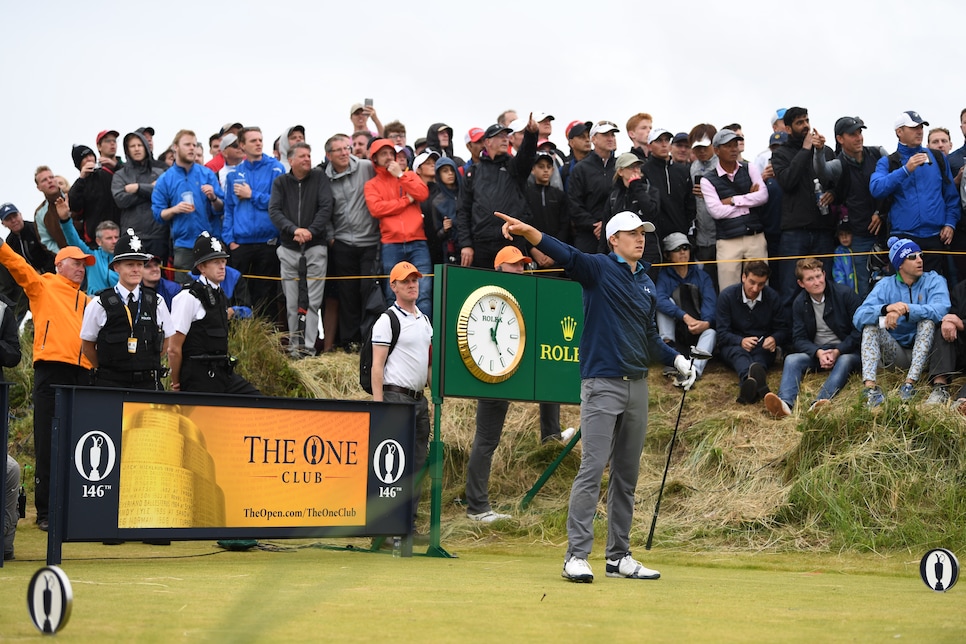 With the end of 2017 came countless year-end lists, rankings and roundups. In golf, most are positive, rehashing the best shots, moments or rounds of the season. You won't find many "worst of the year" lists, but if there were one for "worst shots of the year," just about everyone that watches golf would be in agreement that Jordan Spieth's tee shot on the 13th hole at Royal Birkdale in the final round of the Open Championship would rank No. 1.
Everyone except Jordan Spieth himself.
On Thursday at the Sentry Tournament of Champions, Spieth hit his share of poor shots, leading to a first-round two-over 75. He bounced back Friday as he often does, carding a seven-under 66 to get back in contention. After the round, someone still had Birkdale on his mind and asked Spieth what he thought was the worst shot he hit all of last year. The three-time major champion had a much different answer than expected:
"Probably the 8-iron in New York when I hit it in the water. I had like a three- or four-shot lead at the time and it kind of brought D.J. back into it and I ended up losing the tournament."
Obviously shocked by the answer, the reporter made sure to follow up:
Q: Was it a bad shot or was it a bad timing? Talking about the worst, God awful shot. I mean, that wasn't terrible, was it? You didn't miss by much.
I don't know. Mike, do you know? What was the worst shot I hit last year? It was a situation where I hit a club that was way too aggressive when I could have taken more and just faded it in. If I just control the ball, like if I just control it, I was going to win that tournament. So I recall that. When I look back at last year, if I want one mulligan, that was my mulligan from last year.
Q: So that tee shot at 13 at Birkdale was better than I thought?
Well, that settles that. Considering Spieth went on to win the Open Championship, it appears he's moved on from the wayward drive. On the contrary, he did not win at the Northern Trust because of that botched 8-iron, and some D.J. heroics. Clearly, the loss is still fresh on his mind.