News
Jordan Spieth's 66 in second round represents progress and 'progress is good'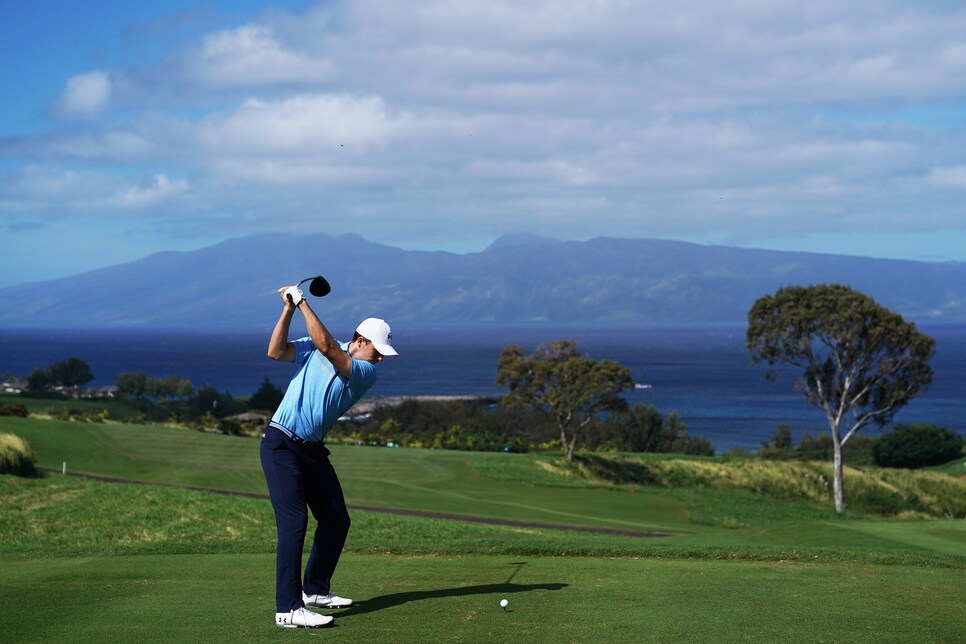 KAPALUA, Hawaii – A seven-under-par 66 Friday didn't quite get Jordan Spieth back into contention in the Sentry Tournament of Champions, but it did get him back into the groove he's used to enjoying at the Plantation Course at Kapalua.
Spieth, the No. 2 player in the world but clearly rusty in the opening round, performed more like the golfer who has finished no worse than third in his three previous starts at Kapalua. His 75 Thursday marked his first round over par on the Plantation Course, an uncharacteristic effort but somewhat understandable considering he entered just two events since the Presidents Cup in early October.
At five-under 141, Spieth, who tied Pat Perez and Chris Stroud for low round of the day, was not in the top 10, but he was only five behind the leaders, Marc Leishman and Brian Harman.
This is what you expect from a competitor like Spieth, a guy who summons a way to bounce back and submit a score that gives him a chance to contend and perhaps still win. Even rusty, players like him engage another gear. They dig deep. They find a way.
It's talent, but much more, too. It's obstinancy, not settling. It's toughness. And resourcefulness.
"Today I just kind of said I'm two over and said, 'Hey, if it doesn't turn out then it's just the start of the year, may as well fire at stuff,' I just felt more free today, which certainly helped," said Spieth, who won here in 2016 by eight strokes after shooting 30 under par. "I had a really rusty short game. Today was a good day for it. Doesn't mean it's back; it means that it was progress. Progress is good."
Because he hadn't played much, Spieth took a bit of a cluttered mind to the golf course the first day. That didn't work. He had spoken before the tournament about playing more by feel on the Plantation Course slopes, and that is the game plan he employed on Friday.
"I kind of went away from it," Spieth said of working on technique. "Technique you almost throw it out the window on a course like this in these conditions. And that's what I've always found. That's why I think I found success at this course, because it forces me to be more feel, which is better. Same way at Augusta. The slopes you hit off of and where you have to play shots. Just like an Open Championship, you just have to have more imagination and what you're doing, work more ball flights and curve.
"That's better for me than your stock get to point A to point B to point C," Spieth added. "I was doing a little bit of that yesterday, which is just the first round back. And as long as I stay on what I'm saying right now the rest of the week, I should find success, get a couple of those putts to go."
Spieth's week got off to a scratchy start in another manner. He ended up in a doctor's office Tuesday for an eye irritation. A piece of sand from a divot flew in his eye after he had hit a wedge shot on the driving range. "Mom always says don't rub your eye, and I couldn't help it," he said.
He was lucky he only scratched his eye. It wasn't a problem on Friday. His scratchy game, including his work on the greens, seemed cleared up as well.
In 14 rounds at the Plantation Course, Spieth has posted 10 rounds in the 60s. He does have a feel for the place.
And now he feels he's at least in the mix with 36 holes remaining.
Progress. Progress is good
"Yeah, I think with my history on this golf course, no matter the conditions, I believe that low rounds are out there and still in the bag," he said. "I mean, in 2016 it was, I followed up seven under, with eight under and nine under and six under. So I start getting a good feel for the course and a good feel for the speed on the greens and seeing some putts go in like I did early in the round today, if that can continue …"