The Loop
Jordan Spieth vanquished Augusta National demons, recently birdied 12th hole twice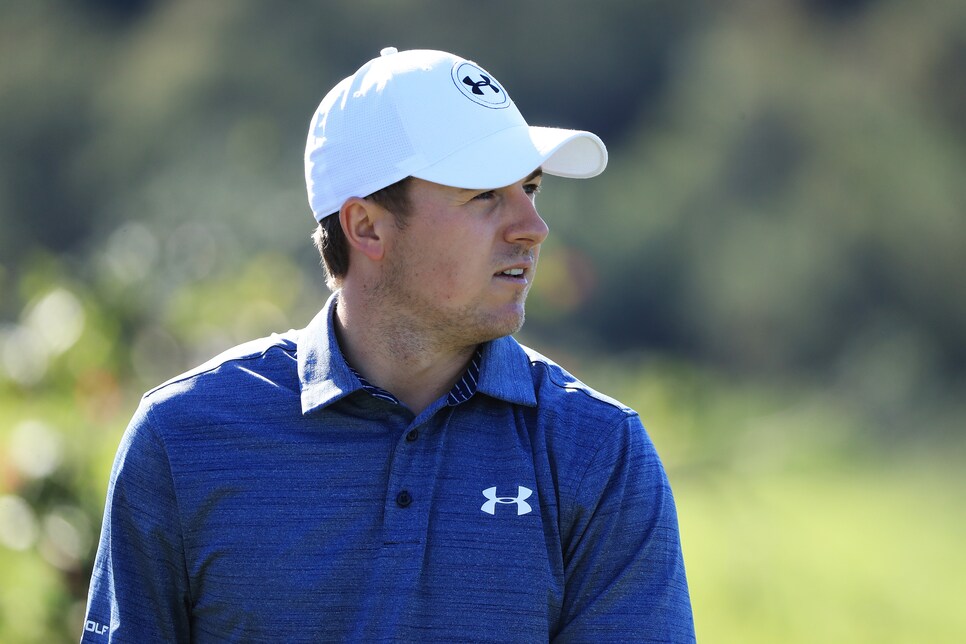 KAPALUA, Hawaii – If the memories of an eight-stroke victory here last year aren't enough to propel Jordan Spieth in his season debut on the PGA Tour, he can always draw on the spiritual healing from a recent trip to Augusta National Golf Club.
Spieth lost the Masters in horrific fashion last April when, after leading by five strokes with nine holes to go, he splashed two iron shots into Rae's Creek at the par-3 12th hole, swallowed a quadruple-bogey 7, and lost to England's Danny Willett.
Returning to the scene of the debacle in December, Spieth, playing with two Augusta members, didn't try to pretend that the occasion wasn't significant. Which then made the succeeding events meaningful.
"I was vocally expressing that, 'Guys, we have some demons to get rid of here, I'd appreciate if y'all stood to the side of the tee box while I do my work here.' That was cool," Spieth said Wednesday at Kapalua Resort, where he is defending his title in the SBS Tournament of Champions.
Spieth, the 2015 Masters winner, was playing the Member Tees for his two-day trip. But not at the 12th, named Golden Bell.
"First time back. I was very nervous when I got on 12 tee, and I hit an 8-iron over the bunker to about 15 feet. Greens were a little slower, and I left a lot of putts short," the 23-year-old Texan said. "I was like, there was no chance I was leaving this short and I hit this shot to about 15-18 feet. I was pumped to hit the green, and then I hit my putt and it just about stopped short on the front lip and fell in for two. I probably gave like a big fist pump. I was walking around with my hands up, like 'demon's gone.'
"And I went back the next day. We played it the next morning and I hit a 9-iron this time to a left pin, and it landed about three feet beyond the hole and it was really, really soft, and it sucked back and almost went in, right on the lip to about this far. So, I got two twos out of number 12 the first time back. Last two times I played the hole, I made birdie."
That psychological hurdle cleared, and with a second win in three years in the Australian Open under his belt that he collected via playoff in November, Spieth returns to the Plantation Course armed with mental harmony and momentum.
"The game feels like it's in good shape," he said. "Just go out there and start the season strong. Certainly any time you have a recent win it's a confidence boost. So take it into this season and try to get in the winner's circle as quickly as possible and feed off that."
That particular formula Spieth orchestrated to astounding success a year ago when he posted 30 under par, only the second player to reach 30 under in a 72-hole PGA Tour event. Ernie Els shot 31 under in his 2003 victory at Kapalua.
The command performance, after his Player of the Year effort in 2015 that included two major victories and the FedEx Cup title, appeared to be the ideal springboard into another strong campaign. Instead, it was the high point to a year of disappointments in the majors and only three worldwide victories, though he also was a part of the winning U.S. Ryder Cup team.
Having tasted disappointment for essentially the first time in his career, Spieth allowed that he learned plenty about himself and how he can manage expectations long term. Big picture stuff. Deeper perspective, not that he needed it. He was happy to see 2016 come to a close. But he wasn't going to forget it.
"Recognizing that if last year is a down year for us, we're in really good shape long term," he said. "It makes me think a lot more positive about last season and my career going forward, looking at it from a more elongated perspective."
Still, challenges have to be addressed in the present and near term. Spieth has turf to defend this week, and then a series of tournaments leading up to his return to the Masters. Like many of the top players, Spieth already is making preparations for Augusta, but he alone has to confront the dejection of last year when he was hurtling toward becoming the fourth man to win back-to-back green jackets only to stumble in the home stretch.
"I mentioned the last couple years, the focus when you look at goals for the year is on four weeks of the year, highest goals," Spieth said. "First one coming up is in April. So pick a schedule, pick a plan within each part of your game on and off the course that's going to best prepare us to peak for those weeks. And it's been very successful the last couple years. So certainly right now, our focus is right on the Masters and doing what we can ahead of time in order to prepare for it."
Seems like he's off to a good start already. Demons gone.