FIRE PIT COLLECTIVE
What led to Jordan Spieth's undoing at Bay Hill
Editor's Note: This article first appeared in Fire Pit Collective, a Golf Digest content partner.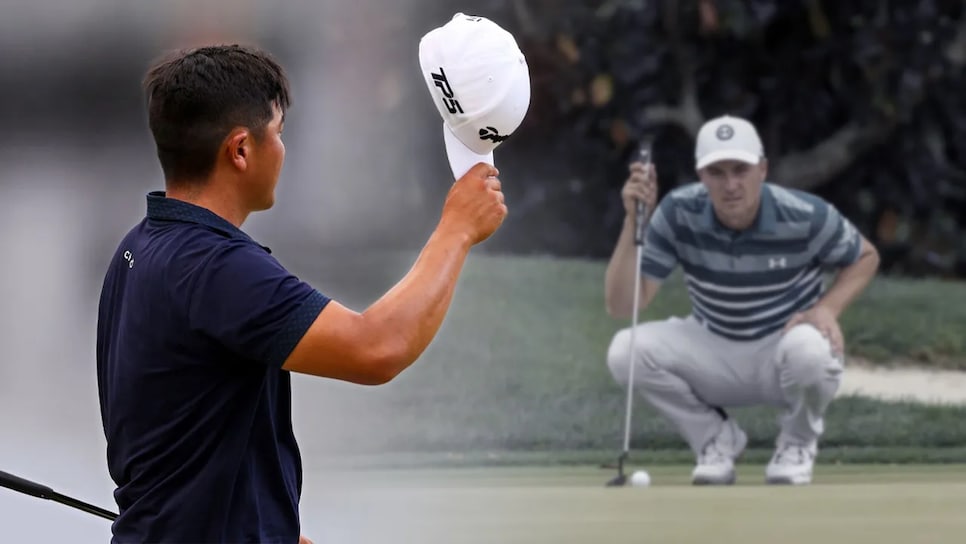 ORLANDO — Jordan Spieth's first Champions Dinner at the Masters was Arnold Palmer's last Tuesday night supper there. That was in 2016, when Jordan was the defending champion and The King, bless his large craggy head and look-you-in-the-eye soul, was on his last legs. He died a half-year later, in a hospital in Pittsburgh. A homey until the end.
In Sunday afternoon's steam, Spieth was contending at Arnold's tournament at Bay Hill, a short (yep, for them), flat, tricky course on a former orange grove. Spieth in full: There's nothing like it. He's a movie, just as Arnold was.
If Spieth, now 29, had putted the last five holes like he did in his prime, he'd be carrying around Arnold's red cardigan in today's Sunshine State heat. Instead, that honor went to wee, muscular Kurt Kitayama.
KIT-AH-ya-ma, if you're doing play-by-play from home, a la the Manning brothers. Reporting to you live from the sunken depths of the Smith Family BarcaLounger.
This Kurt Kitayama. Man, what a 2 he made on the longish downhill, over-a-lake par-3 17th. The course is tricky because of the lakes and the sloping greens, fast and firm as always. Golf's last defense: watery graves and crazy-fast greens.
Kitayama made a mess at 9 (a triple) and spent the whole back nine trying to undo the damage and win his first tour event, while playing in the day's last twosome. That ain't no party. This is the PGA TOUR. No, I don't normally go for caps on those last three letters, but I am PVB-bound, so if not now, when?
I think what Greg Norman said early on was true, then: LIV Golf could have been "additive." But that's not proving to be the case.
KK has Bryson DeChambeau's former caddie, Tim Tucker, thick-skinned and thick-legged, as his caddie. He was trained the Bryson way: Win, or go LIV!
Kurt Kit turned 30 in January. He is a Californian by birth and has played around the world. He'll be in the field at the Players for the first time this week. In April, he'll be in the Masters for the first time. In June, he'll be looking to make his first cut in a U.S. Open.
Is this a great game or what!?
Earnit, earnit, earnit, earnit.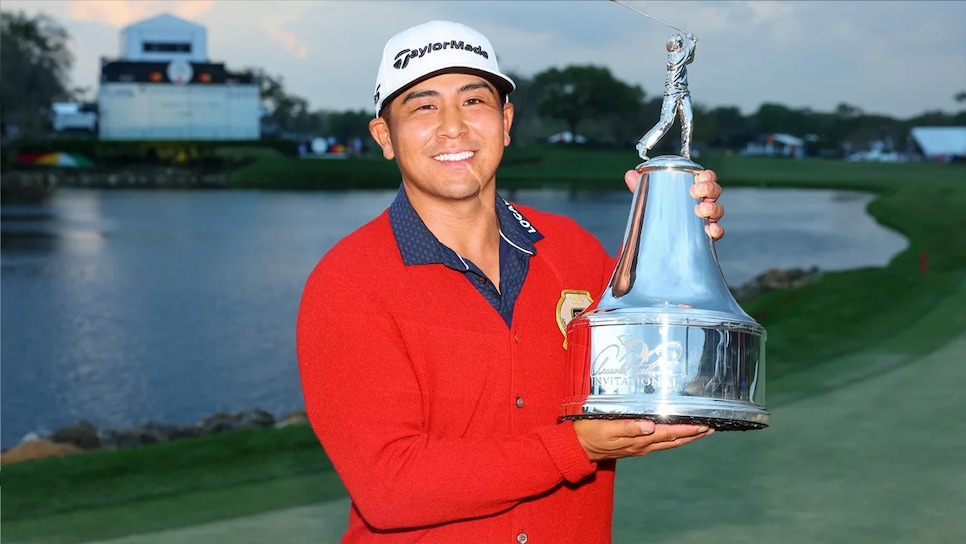 Maybe—not likely but maybe—Kitayama can get on a heater and make the U.S. Ryder Cup team. Yes, this is 2023 and odd years are Ryder Cup years, as they were, back in the day. I know, I know: Nobody's talking about the Ryder Cup. But there is one this year, come September. In Italy. Zach Johnson is your U.S. captain and Henrik Stenson was the European captain. Then he went LIV. You either stand for tradition these days or you don't. That's the either/or of modern professional golf.
Regular-Joe golf remains what it has always been. Our game. Arnold had a lot of our game in him. Spieth does too.
The 2023 Arnold Palmer Invitational was a full-field event with a cut, and that made all the difference. It certainly did for Greg Koch, a 35-year-old teaching pro from Orlando who was in the field by virtue of his win in a PGA section championship. When play was suspended on Friday night after his tee shot had found the gnarly rough some 200 yards from the green, Koch went to bed knowing he needed par at the ninth hole to make his first PGA Tour cut. He holed a three-foot knee-knocker, played the weekend and pocketed $42,000. (The seven tour pros who made the cut because Koch didn't birdie the ninth owe him a debt of thanks.)
Arnold's event was always there for Jordan to play in, pretty much from the day he turned pro. That won't always be the case, but it was this year. For Kurt Kitayama, journeyman pro, his path to the API field has been a much less sure thing. And that's the beauty of this game and sport and league that mean so much to so many of us.
Phil knows what I'm talking about. He grew up on it.
Phil Stambaugh, longtime (and long retired) PGA Tour PR guy. He knew Arnold. He knew Phil. He missed Jordan. But he's watching from home. Watching and playing.
People have Arnold wrong. Arnold Palmer was a super traditionalist in most golf matters, but he absolutely did things his own way and he was not, not in his prime, bound by convention.
The enormous statue of him near the first tee of his course here is telling. The kilties on his laces. The built-in belt on his cuffed pants. The untamed hair. The contorted body and face. All the energy with someplace useful to put it. A swing that was his. "Swing your swing," is maybe his best quote.
Swing your swing, indeed.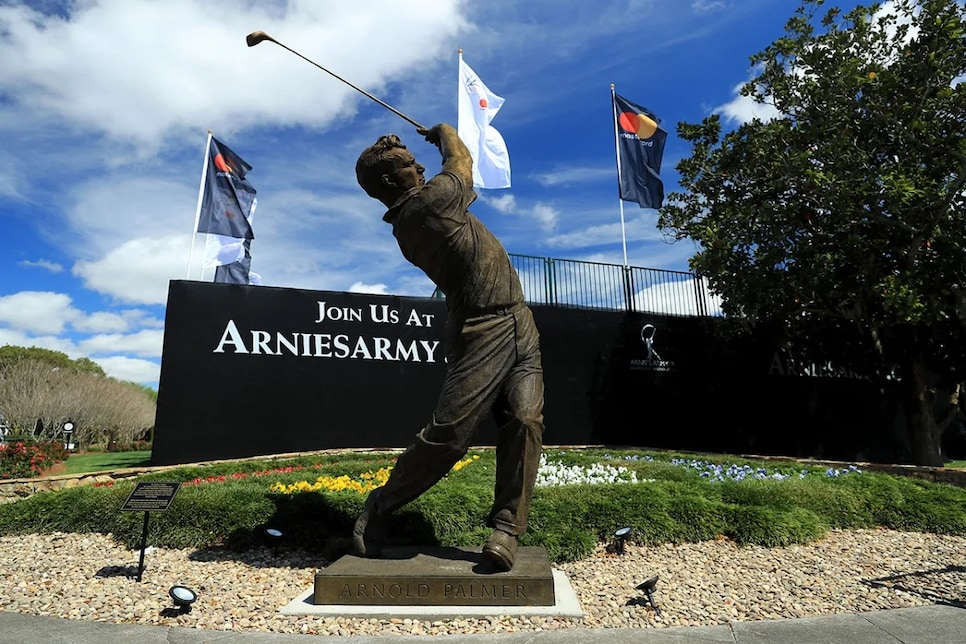 Most of those book-bound quotes attributed to Arnold are obvious inventions and tell you nothing about the man. But his golf spoke volumes, and swing-your-swing sounds like him and is him, whether or not it's a quote.
Jordan swings his swing. It's kind of a weird move, but it's his. The elbow out. The flying pinkie. The obvious battle with his own anxiety.
Also, Jordan is to Dallas what Arnold was to greater Pittsburgh. Here's looking at you, Latrobe, Pa. You might know the thing about Rolling Rock beer and the number 33. (It's the number of letters in its ingredients.) Good golf number too, going out or playing home.
Jordan's golf-course life is one long adventure.
You know, the dangling pinkie.
All that Greller chatter.
The waggle-and-look, waggle-and-look, waggle-and-look.
I picked up Jordan on Sunday afternoon as he walked by the Arnold statue and made his way to the 10th tee, playing with Max Homa.
Homa thought he might have hit his iron tee shot out of bounds on 10 and was waiting on the tee for a report, but Spieth seemed to know otherwise and was marching down the fairway, hiking after his own semi-lousy iron tee shot.
On 11 he walked almost past his rolling putt for par thinking it was a miss, but in she fell.
On 12 he went for a sandwich, so deep in the bag it was unfindable for about a minute. When it finally did emerge, it appeared to be turkey on whole wheat with a horizontal cut and in a Ziploc bag, at least to this reporter's trained-for-sandwiches eye.
He never looked at a scoreboard. After a bogey on 17—solid 5-iron over the green—and knowing there was a wait on 18, he sat in a marshal's beach chair and filled in his scorecard for the first time all day. Thirty-four boxes, 17 for him, 17 for Max.
Spieth had to be half-shocked when he got to the tee and learned he was only a shot out of the lead. Anyone want to tell him he had the lead to himself after making birdie at the 13th?
He watched his lifelong golf buddy Justin Thomas, one group behind him, hit his iron on 17 to 10 feet. Later JT made the putt. But this is not better-ball golf. This is take-care-of-business golf.
On Sunday, Jordan went out in 33. (Nice number!) Had he come home in 33, he would have won by two. He missed four short putts, shot a back-nine 37 and signed for a 70 that looked better than it was.
Maybe Jordan Spieth will contend in March, April, May, June and July.
Maybe Tommy Fleetwood will too.
And Francesco Molinari, who showed signs of golfing life at Bay Hill (T-14).
The season is upon us. Swing your swing, play your shots, sign your card. If you want to talk to your ball or caddie or self, that's up to you. If it really matters to you, you can't help yourself.
J. Spieth can tell you all about that. Arnold, in his day, could too.
In the meantime: Be the right club TODAY.