Dropkick
'It really messed me up': Jordan Spieth's relatable driver problem, explained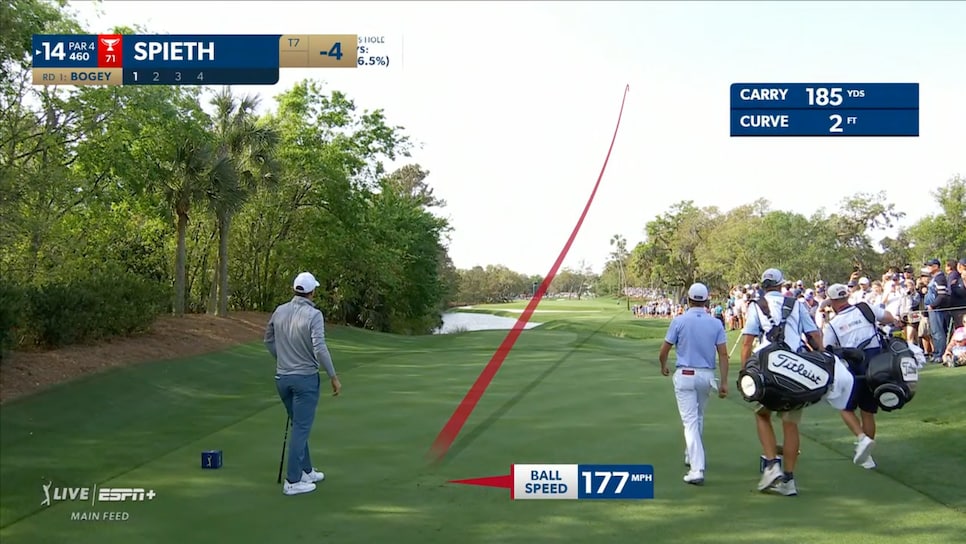 Jordan Spieth is without doubt the most fun golfer to watch on tour. He wears his emotions on his sleeve, boasts some big misses from time to time, and speaks candidly about his struggles. And then, seemingly out of nowhere, he conjures a moment of magic.
That was certainly the case on Friday at the Players Championship, during Jordan Spieth's very Jordan Spieth day. But perhaps the best moment of the day came after his tee shot on the 14th hole. Spieth flared his drive out to the right, then a hot mic caught Spieth's admission to his caddie, Michael Greller...
The dreaded feeling of a duck hook incoming is certainly a problem we can all relate to. And after his round, Spieth explained why it happened.
Jordan lost more than two shots to the field with his driver during his second round, in part because of the drive on the 14th hole (which led to him taking an unplayable). But interestingly he said his struggles started with a shot that found the fairway.
"I drop-kicked it off the toe. I hit the ground first and it just drew into the fairway. It wasn't a good shot, it just worked out," he said.
For reference, it's normal for golfers to hit the ball slightly on the upswing on their drives. But what turns into a drop kick is when the low point of that golfer's swing is so low it actually scuffs the ground behind the ball. Combine that with a slight toe strike, and you get a ball that takes off with less speed, less spin, and a slight right-to-left movement.
Most of us hit hooks when we do this, but Jordan Spieth is really good at golf, so his version of a drop kick turned his fade into a draw.
Jordan said this happened because he didn't transfer his weight through the ball, to his lead side. He hung back on his right leg ever-so-slightly, too far behind the ball, which caused him to hit a drop kick.
"I actually have been swinging it fine," he said. "I just got behind a couple of drives."
He hit two of those during the early part of his round, Jordan said, which then turned into a mental issue. Seeing the ball go unintentionally left spooked him, he said, knowing that the holes he had upcoming — like the 18th hole which has water entirely down the left side — where a left miss is dead.
"I toed a couple drives early and it really messed me up because then I got to a couple holes where you couldn't hit it left," he said. "So I shoved them out [to the right]."
That's what led to Spieth missing drives out to the right, first on the 14th (his fifth hole of the day) and later the fifth and ninth holes. But Spieth hung in there, making an eagle on his final hole of the day to land him inside the cut line.
In all, it was a moment we can all relate to. We've all had those days, and they come even for the best players in the world, like Jordan Spieth.