The Loop
Jordan Spieth takes cues from Justin Leonard
Instead of running marathons, Justin Leonard is doing push-and-carry walk-a-thons with his children. That's what turning 40 and having a family will do for you. Golf drops down the priority list to outside the top five. "You know it defined me back then, and that was OK because I was playing great," Leonard said during a revival at the Tampa Bay Championship.
Leonard isn't playing so great anymore. His T-4 at Innisbrook Resort & GC was his first top-10 since last year's Reno-Tahoe Open. He is coming off his worst year on tour, has turned to the jumbo putter grip and spends more time at school plays, soccer practices and karate matches than he does beating balls at Royal Oaks CC in Dallas. Bad years don't eat at him anymore, and finishes like his back nine on the Copperhead Course, when he dropped shots with a chance to win, are easier to deal with.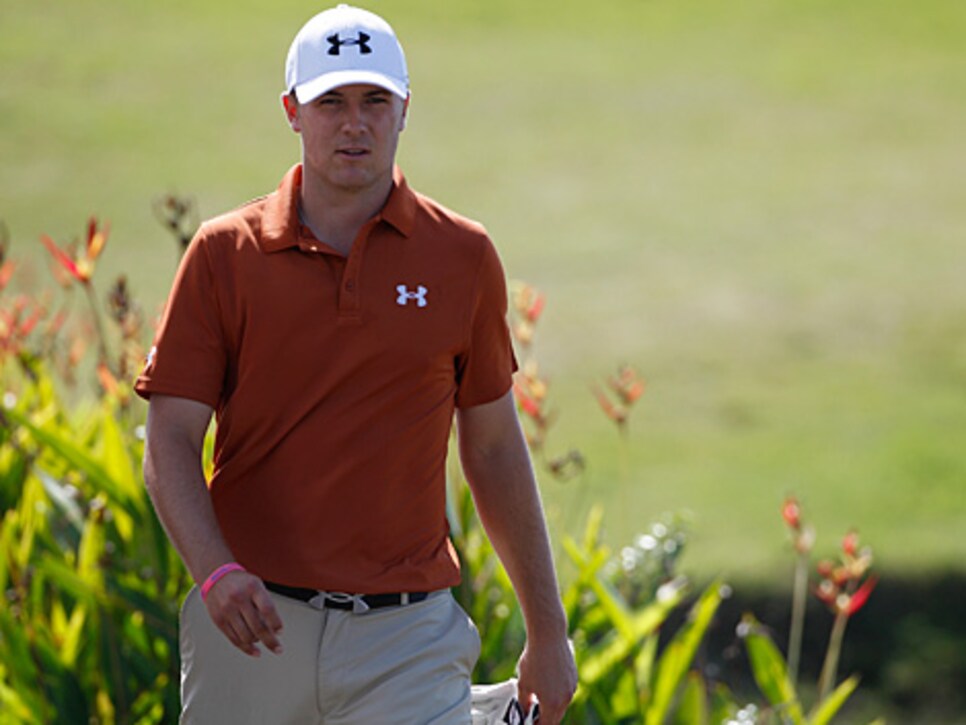 "Well, you know, I vacillate between feeling pretty old and not feeling very old," Leonard said. "But when I get out there between the ropes, and I don't have some 25-year-old giving me grief, I feel pretty good."
Jordan Spieth (above) is where Leonard was 19 years ago--a kid out of the University of Texas who turned pro hoping to get a tour card without going through Q school. Leonard did it on the last event of the 1994 season. Spieth, 19, is all but secure for the remainder of the 2013 season.
In four PGA Tour events, including a T-7 in Tampa Bay, Spieth has earned enough to gain special temporary status. What this means is unlimited sponsor exemptions. Coming off a T-2 in the Puerto Rico Open, Spieth can take a week off and set his schedule after an odyssey of playing four countries in four weeks. Spieth started his run with a T-7 in the Panama Claro Championship and a T-4 in the Colombia Championship on the Web.com Tour.
"I can't imagine being out here at 19 and to do what he's done," Leonard said. "He hasn't just driven a couple hundred miles. He's been to four different countries this year already. It's pretty remarkable."
The 1997 British Open champion has been mentoring Spieth since the 2010 HP Byron Nelson Championship, when the then 16-year-old from Brook Hollow GC said he was there to win, contended into the back nine Sunday, and tied for 16th. Spieth didn't know then that Leonard had accomplished what he would attempt to accomplish three years later. The list of players who got their card without Q school includes Leonard, Gary Hallberg, Scott Verplank, Phil Mickelson, Tiger Woods, Ryan Moore and Bud Cauley.
"I'm a little surprised to see this happen so soon," Spieth said before going to dinner Sunday night in Tampa. "But I wouldn't say I surprised myself to be in contention this many times."
Spieth has his goals set toward being the No. 1 player in the world some day, to breaking the major championship record held by Jack Nicklaus, to doing what Rory McIlroy has done the last two years. What does he hope to be doing by the time he reaches 40 like Leonard?
"I've never thought of that before," Spieth said. "But I'd say hopefully doing exactly what Justin Leonard is doing. I hope I have family of my own then, living in Dallas, playing the PGA Tour, and hopefully be a major champion like he is."