News
Jordan Spieth overcomes mid-round hiccup, posts another 65, but what does it mean?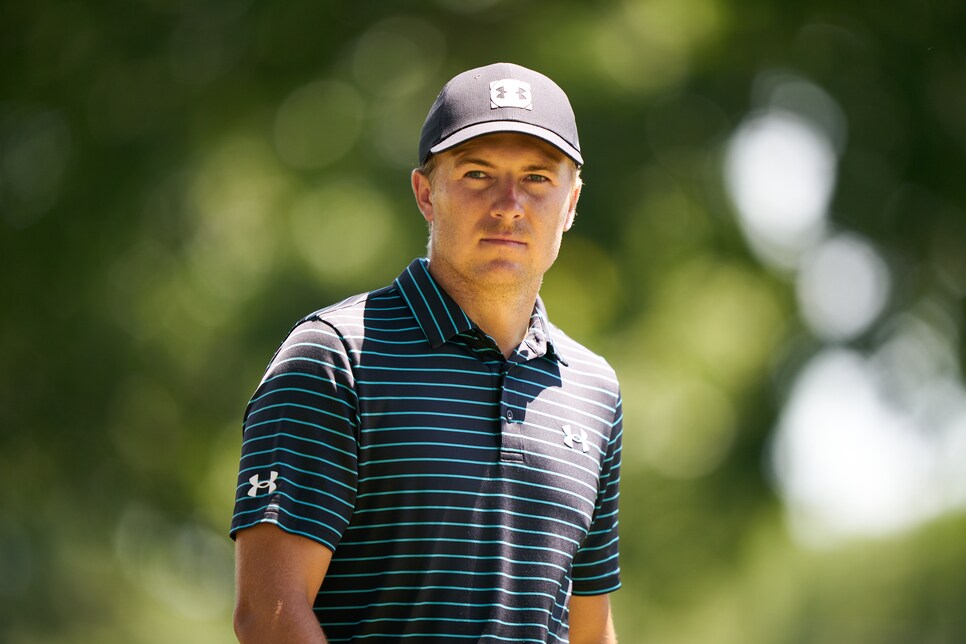 Darren Carroll for Golf Digest
The golf course is not the first place that would come to mind when one thinks of being seduced into a false sense of hope or excitement. On the contrary when we're talking about the wild ups and downs of one Jordan Spieth, of course.
On a fan-less, mostly cloudless Friday morning at Colonial Country Club in Fort Worth, the 26-year-old Dallas native zoomed briefly to the top of the leader board halfway through his second round before posting a second-straight 65 to sit just a stroke off the early lead at the Charles Schwab Challenge.
"I played a really, really solid round of golf with a kind of 20-minute hiccup for a couple holes," Spieth said. "With eight birdies around this place, it's nothing to complain about. I'm obviously very pleased with the position I'm in after two rounds."
If it seems like a familiar one, it should. During the 2018-19 season, Spieth ranked ninth in first-round scoring and first in second-round scoring. It was quite a different story on the weekend, however, as his numbers soared and his ranking plummeted, to 170th and 187th, respectively.
In the small sample size of five starts this year before the season was paused for 91 days because of the COVID-19 pandemic, things were even worse. Spieth's scoring for all four rounds was up and as a result he had just one top 10, three finishes outside the top 50 and a missed cut.
Yet at various points along the way, the three-time major champion who only a handful of years ago came this close to completing the Grand Slam, has talked about his game being this close.
For perspective's sake, the last time Spieth led or shared the lead after 36 holes of a PGA Tour event was in 2017, at the Northern Trust. That was also the same year that he last won, at the Open Championship at Royal Birkdale.
Is this finally the turning point? Early on, Spieth's round had promise.
Thanks to a deft combination of accuracy off the tee, solid ball-striking and good touch on and around the greens, he poured in a half-dozen birdies over his first 11 holes.
Now about that 20-minute hiccup …
It started on the par-4 third. The 474-yard dogleg left is the toughest hole at Colonial. Still, Spieth was in good shape, with just 27 feet between him and another birdie, or at least par.
Until he four-putted, with three of those putts coming from 3 feet, for double. Gulp.
Then, at the 244-yard par-3 fourth, Spieth missed the green right, chipped to just inside 10 feet and missed his par putt before tapping in for bogey.
But Spieth didn't stay down for long, bouncing back with birdies on each of the next two holes before parring out.
"I did a really good job of staying very neutral where I'd been kind of getting really negative or down on myself for a little while in the past," he said. "I felt that I gave myself some grace to say, look, I haven't really been practicing a ton of those kind of short-range putts. That's really all it was. [The fourth] is a hard hole. I just hit a not-so-great 240-yard shot, so that bogey I didn't think much of. I hit a good putt, good chip there. There wasn't a huge swing of emotions. I stayed calm."
Can he stay in contention?
Colonial seems like a good bet for where the drought could end. In seven starts there, Spieth has a win (in 2016), two runner-up finishes and two other other top-10s. Twenty-three of his 30 rounds there have been in the 60s.
Or will he tease us again?